Occoquan School Board Candidates Square Off on Funding, Teacher Pay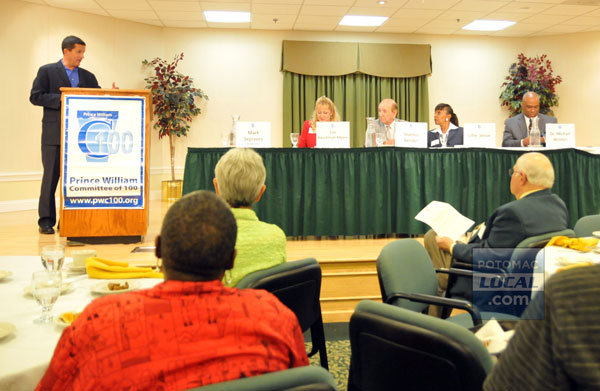 By URIAH KISER
LAKE RIDGE, Va. — In a room of just over 50 voters who came to hear School Board candidates debate, by a show of hands only five of them were undecided.
Four candidates looking to become the permanent Prince William County School Board member for the Occoquan District squared off at Westminster in Lake Ridge Tuesday. They tackled topics like per-pupil funding, teacher pay and performance, and whether Prince William County Public Schools still lives up to it's motto of a "world-class education."
This is an unexpected election for the School Board this year, coming after former Occoquan District representative Grant Lattin abruptly resigned from his post last spring to spend more time with family.
Dr. Michael Wooten is endorsed by the GOP and was appointed to the position shortly thereafter. Wooten touted his service as a U.S. Marine and as Vice Chairman of the Northern Virginia Community College Board, and laid out a three-point plan he said would ensure success in the county's schools.
"I call it the iron triangle…the first leg being teacher compensation… what is that value proposition that we give to those professionals that is so important to student learning," said Wooten.
Class size and the amount of taxes levied to fund schools make up the second and third legs of Wooten's plan. Schools are funded with 56 percent of monies transferred from Prince William County's overall budget. The School Board cannot levy taxes.
Wooten said current school funding is unsustainable, but said the School Board should not have taxing authority. More densely populated housing developments are putting more strain on local schools, and that could require the Board of Supervisors to step up funding, said Wooten.
Former elementary school principal and Democrat Lillie Jessie was the only candidate on the panel Tuesday to receive applause. When asked if Prince William County's allotted $9,852 per student spending cap – the lowest in the region — is enough, she said principals control their school's budget on a site-based management system, and that education is more than just money allotted to each student.
"Sometimes teacher-pupil ratio has nothing to do with the number of teachers. You could have the number of teachers and not have the [classroom space to house them] and you end up with two teachers in a room, and I've lived with that whole situation…moving people around to create the learning environment that we need," said Jessie.
Jessie added while the per-student spending cap may be low in Prince William, the jurisdiction outperforms some of the other better funded counties in the region.
Business owner and Prince William schools employee Lori Bauckman-Moore said she's running, in part, to better equip classrooms with the materials they need. She likened the school system's expansive headquarters, the Kelly Leadership Center near Manassas, to the Taj Mahal.
"I go to an open house and I hear a teacher say that a child cannot check out a school book to do homework because she only has one book for the entire classroom, or I go and I hear a teacher say there's not enough money to put her SmartBoard on the wall. Those are little budget things but they're perceptions…perception is everything… I would like to see some money going back to the classroom," said Bauckman-Moore.
When it comes to pay, Virginia teachers cannot strike as Chicago Public School employees did earlier this month. Jessie doesn't agree with a state mandate tying 40 percent of a teacher's evaluation to student performance, and said he would opt to give teachers raises rather than taking a wait and see approach.
Candidate Stanley Bender said more vocational and arts education is needed in the schools, and, in response to the school system blocking LGBT content from computers in 2011, he said students are very savvy when it comes to accessing information online, but they should not access this type of information at school.
Jessie agreed.
"We need to realize that we are in America and that there is gay and lesbian behavior. There is heterosexual behavior [on the web] they shouldn't have access to," said Jessie.
The candidates also addressed students leaving Prince William to attend Fairfax County's Thomas Jefferson High School for Science and Technology – a STEM program ranked number two in the country by U.S. News and World Report, behind New Jersey's High Technology High School.
"It's very difficult to tell a parent to go to in Prince William when you have a school down the road that is the best in the nation …[Prince William County Public Schools] are ranked as one of the best school systems in the nation… we need to create opportunities for students to participate in higher level thinking," said Jessie.
Post Your Email Notices, Press Releases, Event Fliers, and Photos
Subscribe to the weekday Breakfast Links email FREE!
Get
updates straight to your inbox.