Marumsco Hills Elem. Schooled on Healthy Eating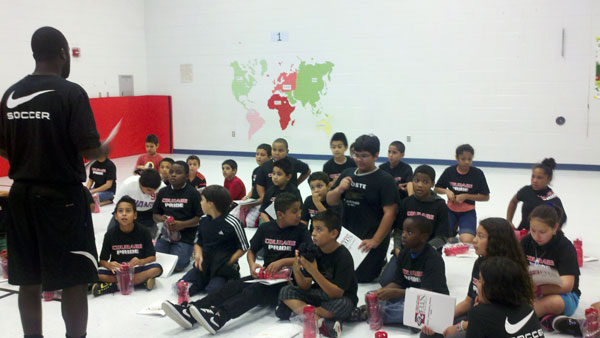 WOODBRIDGE, Va. — Tuesday, Sept. 17 was the first day of the Courage F.U.N. Project at Marumsco Hills Elementary School. This pilot program is a collaboration between Sentara Northern Virginia Medical Center, Prince William Courage, Sodexho, and Prince William County Schools as way to combat the childhood obesity epidemic, specifically in Prince William County.
Forty 4th and 5th graders participated in the event and received Sentara water bottles, Courage Pride t-shirts and their Courage F.U.N. Project workbooks. Sue Sweet, a registered dietician at Sentara Northern Virginia Medical Center, provided a lesson on the importance of eating a healthy breakfast.
The children were broken up into groups and while two groups participated in soccer drills with Prince William Courage coaches, the third was sent for height, weight and body fat measurements. These measurements, combined with fitness metrics, will be taken again during the final session, and will be used to measure the success of the program.
The children were incredibly excited and engaged, despite being stuck inside due to inclement weather. The program will continue for six more weeks, with a new soccer/fitness and wellness topic covered each week. Children are required to complete exercises in the workbooks and bring the workbooks with them to each session in hopes of reinforcing healthy behavior and encouraging parent participation at home.
The Courage F.U.N. partners are hopeful that this pilot program will result in the ability to expand to other schools in Prince William County.
-Submitted 
Post Your Email Notices, Press Releases, Event Fliers, and Photos
Subscribe to the weekday Breakfast Links email FREE!
Get
updates straight to your inbox.