Prince William Prepares Employees for Obama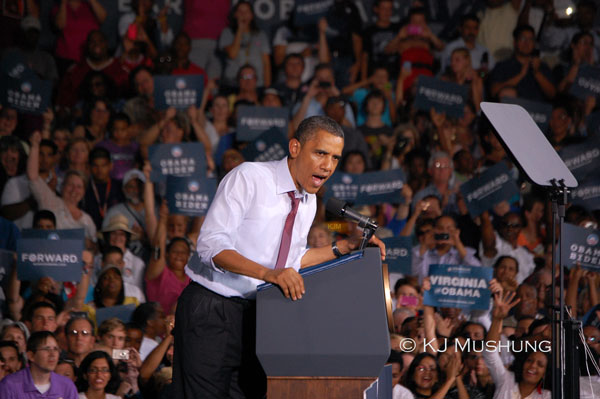 WOODBRIDGE, Va. – The national spotlight will be cast Friday onto the place many Prince William County Government do business. An email distributed to them, and obtained by PotomacLocal.com, states what county employees should expect when President Barack Obama comes to Richard G. Pfitzner Stadium to stump for his campaign.
The text of the entire email is below: 
I am sure most of you have heard that President Obama will be making a campaign stop at Pfitzner Stadium this Friday. Obviously, as with any presidential candidate visit, we anticipate a significant number of people, and there will be a high level of security in place. Due to the proximity of the stadium to the County Government Complex, this event will have some impact on our daily routines. This e-mail is intended to give you a heads-up and address some of the concerns that have already been raised.
Parking
• Parking in the main employee parking lot (adjacent to Ricter Lane) will be for employees only. No attendees to the event will be allowed to park there and the Police will be enforcing that, so please have your employee ID readily available.
• Parking in the front of the McCoart Building will remain open for customers only. Please note that employees should not be parking here anyway.
• Parking by the Owens Building will remain unchanged (open to employees, permitted vehicles and public safety vehicles as indicated by signage).
• Parking by DSB will remain primarily for employees and customers. However, the back three rows (nearest the gravel and the Stadium) will be closed-off. So, it may be necessary for some employees who ordinarily may park at DSB to park in the RICTER lot.
Timeline
• Media will begin arriving around 6:30 a.m. and set up by 10:00 a.m.
• Gates will open to the public at 9:00 a.m.
• Event will conclude approximately 1:30 p.m.
Traffic Flow
• All event traffic will be directed to County Complex Court
• Tickets will be checked at Ricter lane.
• Event traffic will proceed to Pfitzner Stadium for parking.
• There will be overflow parking sites with shuttle service identified in the next couple of days.
• Employees are encouraged to arrive early to avoid potential traffic delays.
• Employees are encouraged to enter through Great Bridge Road to access the parking lot off Ricter lane.
While this event will cause some delays and challenges with our work routine, let's make certain our customers continue to receive the service they deserve. Thanks for all you do every day.
Post Your Email Notices, Press Releases, Event Fliers, and Photos
Subscribe to the weekday Breakfast Links email FREE!
Get
updates straight to your inbox.