Potomac Shores Hinges on Hotel, Mixed Use Property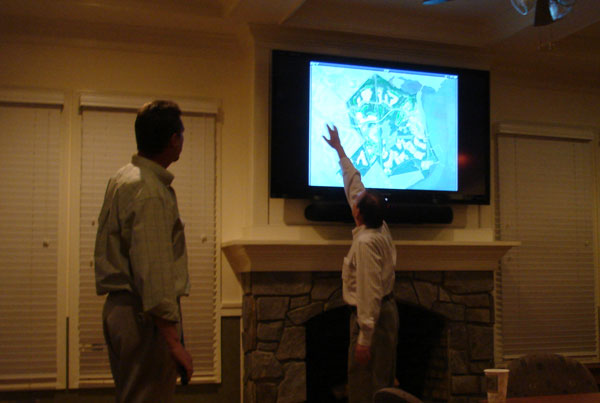 By URIAH KISER
SOUTHBRIDGE, Va. — Developers hope a storied past will help sell a town that doesn't exist yet.
California-based developer SunCal, which owns of what is now called Potomac Shores (once known until 2011 as the undeveloped Harbor Station property) presented their plans to the Southbridge Homeowners Association on Wednesday night.
Southbridge and the 2,000-acre Potomac Shores area will soon become neighbors.
Potomac Shores plans to bring with it a mix of 4,000 new homes and condominiums, a Jack Nicklaus-designed golf course, a Virginia Railway Express station, 3.7 million square feet of office and retail space, a movie theater, and a large hotel operated by a major chain — all nestled along the shores of the Potomac River near the popular Tim's Rivershore Restaurant.
"What we do want is to create a story that this small town found here is centered around hotel that served the Washington neighborhood for over 100 years, and that town, in turn, is the basis for this larger town center," said SunCal spokesman Stan Brown.
While there is no century-old hotel, this plot of land does have a history of different owners. The land has changed hands at least twice since the original Harbor Station development was proposed in 2006.
After developer Lee Carolina, LLC fell on hard financial times, the property in 2009 was sent into receivership until California-based SunCal bought it last year. Originally zoned in four phases, SunCal is now working with Prince William County officials to update special use permits for the planned town center and the already completed Jack Nicklaus golf course.
Roads
River Heritage Boulevard that connects with U.S. 1 has already replaced a portion of the old, curvy Cherry Hill Road, which once was a holiday highway for those headed to Tims Rivershore.
It connects with Harbor Station Parkway (which will aptly be renamed Potomac Shores Parkway) and will carry traffic directly to the planned town center.
The roadway will become part of a larger loop road that will carry traffic around the development. Southbridge HOA Treasurer Doug Thornton expressed concern after a map depicting the new street system lacked key connections to his Southbridge neighborhood.
Other residents said they were woeful about construction traffic impeding Southbridge's streets and interfering with students traveling to and from schools in the area – Pope John Paul The Great Catholic High School, and Swans Creek and River Oaks elementary schools.
Schools
At least two elementary schools are planned for Potomac Shores. SunCal is in talks with the Prince William County Public School system about replacing one of the elementary schools with a middle school, but Brown said those plans are not final.
Parks and golf course
Potomac Shores is slated to include a parks district that will include soccer fields and hiking trails. Brown said the parks will all be centralized in one area of the neighborhood to better attract large events like soccer tournaments.
A Jack Nicklaus Golf Course built as part of the original Harbor Station development now sits unused. SunCal will sink an additional $2 million into the course to make it playable once more and should open next summer, said Brown.
Potomac Shores residents will get discounted use of the course, and the markdown could be passed along to Southbridge residents. The course will be open to the public for a daily fee.
VRE
Surrounded by a mass of mixed-use development will be a Virginia Railway Express station that will allow commuters to take the train to and from Washington each weekday.
Brown's presentation didn't include information about how much commuter parking would be built for the new station, but he told PotomacLocal.com the area would include "adequate" commuter parking.
Brown also said commuters who would work in offices at the Potomac Shores town center area would be able to commute on VRE from Fredericksburg.
A new third rail to be built with $75 million allocated to VRE from the Federal Railroad Administration is the impetus for the new station, which could open by 2017 at the latest, said Brown.
Town center
At the center of these new homes are entertainment and employment campuses. One of SunCal's goals is to attract defense contractors or other viable commercial offices to its town center.
At the end of the workday, a mix of restaurants and a movie theater would be attractions for people to visit during the early evening hours.
"We anticipate this is where couples could come for date night. We'll have restaurants, we're programming a movie theatre there, and this area will begin supporting all sorts of activities," said Brown.
Southbrigde HOA President Jim Riley likened the area to the Georgetown Waterfront in Washington, D.C. Planners said streets within the town center will lead to a public green and a landscaped pond.
The area could also become home to farmers markets and festivals, according to SunCal.
Brown said it was too early to say what restaurants would come to the new area. Several new restaurants, including a Cheesecake Factory, Bahama Breeze, PF Chang's, and Toby Keith's I Love This Bar and Grill will open soon in the Potomac Mills mall and Potomac Town Center and Stonebridge developments.
The development should not affect Tim's Rivershore Restaurant, said Brown. 
Construction has begun
A northern phase of the Potomac Shores neighborhood that includes 371 homes is already under construction. SunCal said the first new homes in the neighborhood could be available early next year.
Originally, a portion of the old planned Harbor Station neighborhood included an age restriction that limited occupants to 55 years or older. SunCal is working to remove that provision because it's no longer feasible given the current real estate market, they said.
Post Your Email Notices, Press Releases, Event Fliers, and Photos
Subscribe to the weekday Breakfast Links email FREE!
Get
updates straight to your inbox.