Retrofits to Save PRTC $133,000 Annually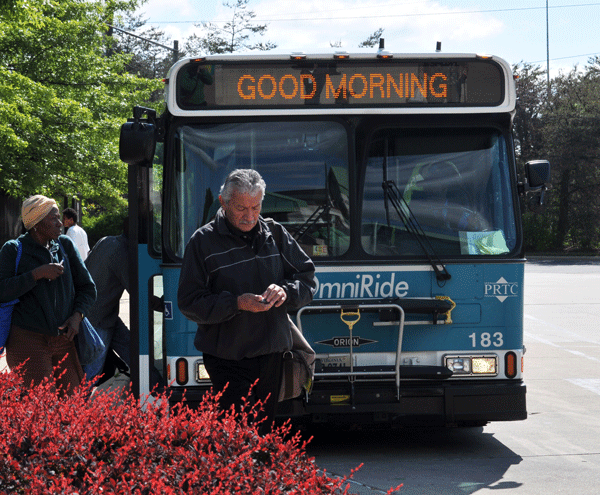 WOODBRIDGE, Va. — A pilot test designed to improve commuter bus fuel efficiency was so successful that the Potomac and Rappahannock Transportation Commission, PRTC, is now proceeding to retrofit more than two dozen buses with the technology.
Pilot testing began last fall, when PRTC agreed to partner with Engineered Machined Products Inc., EMP, on a first-ever test in which EMP engineered and installed its Mini-Hybrid radiator cooling equipment on one of PRTC's commuter buses. EMP's equipment was previously tested on conventional transit buses, (those that travel at relatively low speeds and make frequent stops), yielding such impressive fuel efficiency savings that the cooling system is now used by a number of transit systems that operate conventional transit buses, including PRTC. But the cooling system had never been tested on a motor coach that typically operates at higher speeds for longer distances, such as the buses that make up the majority of PRTC's fleet.
After the pilot cooling system was installed at EMP's expense, the bus was returned to PRTC and placed back into regular service. During the next several months, PRTC compared the bus's fuel efficiency with statistics for the same bus that were recorded before the equipment installation.
The test results, completed in July, showed that the retrofitted bus is now 15 percent more fuel efficient. By retrofitting 29 more buses, PRTC will save approximately $133,000 per year in fuel costs. With savings of that magnitude, the cost of the cooling system retrofit will be recovered in less than three years.
"All of the buses slated for the retrofit will remain in service for significantly longer than three years, thus yielding additional savings to benefit local taxpayers," said PRTC Executive Director Al Harf.
The retrofits will be done while the buses are undergoing already-scheduled mid-life overhauls. The on-going mid-life overhaul program rebuilds buses manufactured between 2002-2006, outfitting them with new engines, transmissions, suspension systems, brakes, seats and more. Only buses that have not yet been overhauled will be outfitted with the new fuel-efficiency equipment.
By the end of 2013, more than 1/3 of PRTC's fleet will have the Mini-Hybrid equipment either installed originally at the factory as part of a new bus manufacture or retrofitted under this program. Among the new buses are 13 funded by the U.S. Department of Transportation through its discretionary Transportation Investment Generating Economic Recovery (TIGER) program, six of which have already been delivered.
The Potomac and Rappahannock Transportation Commission, PRTC, provides commuter and local bus services as well as rideshare services in the Prince William County area of Northern Virginia, about 25 miles west of Washington, D.C.
-Press release
Post Your Email Notices, Press Releases, Event Fliers, and Photos
Subscribe to the weekday Breakfast Links email FREE!
Get
updates straight to your inbox.