Romney, Ryan Rocket Through Virginia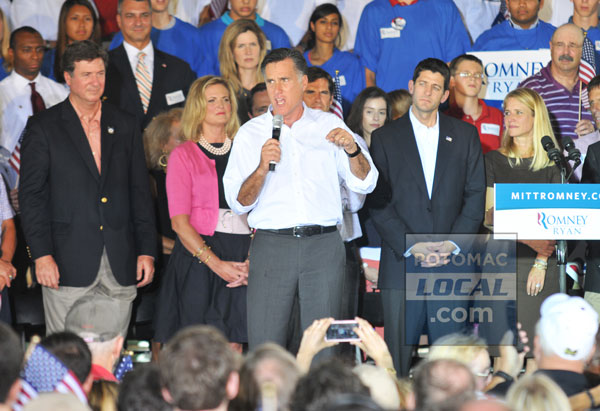 Romney and rival President Obama Hold Campaign Rallies in Multiple Cities
By KJ MUSHUNG
MANASSAS, Va. — It was another hot day on the campaign trail for presidential contender Mitt Romney, but that did not diminish his energy level. On the contrary, he was traveling through the battleground state of Virginia with news that guaranteed front-page media coverage – the announcement of his running mate. Romney bypassed what political analysts labeled the "safe picks" of Sen. Rob Portman and Minnesota Gov. Tim Pawlenty along with the blunt New Jersey Gov. Chris Christie for the outspoken intellect from Wisconsin, Congressman Paul Ryan.
Ryan is best-known for wanting to revamp Medicare and turn it into a voucher-type system. People are already weighing in on the plan, taking the spotlight away from the issue of the economy, which is by far the number-one voter concern.
Romney certainly had his reasons for picking Ryan. One of them may have been the rapport the two seem to have with one another. In contrast, it's been reported that previous Republican running mates Sen. John McCain and former Gov. Sarah Palin barely communicated with each other.
Billing themselves as "America's Comeback Team," Romney and Ryan held rallies in Norfolk, Ashland and Manassas on Saturday, Aug. 11.
In Manassas, Romney had a huge support team of elected officials by his side. Manassas Mayor Hal Parrish spoke first on Romney's behalf. He was followed by Del. Jackson Miller, Del. Barbara Comstock, Rep. Frank Wolf, former senator and governor George Allen (now a senatorial candidate), Lt. Gov. Bill Bolling, then Gov. Robert F. McDonnell and, of course, Ryan. Delegate Mark Dudenhefer and members of the Manassas City Council were also present but did not speak. It was like a who's who of Northern Virginia Republicans.
One can't help but feel invincible with that much support present, which may explain why Romney's energy level and enthusiasm were extremely high.
President Barack Obama's rally in Leesburg on Aug. 2 was smaller and billed as a grassroots event. Like Romney's Manassas rally, it was held outdoors on a stifling hot day with the usual invocation and pledge of allegiance. But Obama didn't have an assemblage of politicians present to give grand introductions. Instead, he was introduced by a local history teacher. The atmosphere was more down-to-earth than fired up and was aimed at middle-class voters.
According to the Romney campaign, approximately 8,000 people were present at the Romney-Ryan rally in Manassas.
The crowd count for Obama's visit to Leesburg was 3,200 according to Linda Hale, Chief Fire Marshall for Loudoun County.
Just last month Obama made appearances in Hampton, Virginia Beach, Roanoke, Glen Allen and Clifton.
Obama, Romney and Ryan all touched on the usual political talking points, so there's no need to recount them here. The question is: What resonated with the audience?
Alicia Woodson is a Fairfax mom of seven who used to work for Sen. Gordon Smith of Oregon. An important aspect about a Romney presidency to her would be the repealing of the Affordable Care Act. She said not everything in the healthcare bill is bad but that elected representatives need to work together and come up with something that benefits all people. "We're ready for a change for the next four years."
"They understand that government is not the solution, and we have to energize small business again," said Ron Clark of Washington, D.C., about the Romney-Ryan ticket.
What hit home for John Herweh of Ashburn was Romney's message on the economy and high gas prices. He said that both Romney and Ryan have the opportunity to change course and raise America's prominence back to what it used to be.
Several others mentioned in one way or another that they will vote for Romney simply because they want to get Obama out of the Oval Office.
After Obama's speech earlier this month, Cynthia and Kenneth Triplin of Leesburg weighed in. Kenneth remarked that keeping taxes low and having affordable housing matters the most with him, while Cynthia wants Obama to bring manufacturing jobs back to the U.S. They feel that by electing Obama for another term, it enables him to accomplish the goals that he set in his first term.
Scott Jackson of Prince William County noted that there's a fundamental difference in policies from one party to the next. Of the Democratic Party, he said, "It's more the party of the common people… So I think that's why more people seem to identify with Obama."
John Bauer of Reston brought his wife and three children to see the president speak because he felt it was a once in a lifetime opportunity. When he was 10 years old, he attended Richard Nixon's second inauguration, and the memory has stayed with him. He agrees with Obama's message of growing the middle class outward rather than from the top-down. "That seems to be the policy that works consistently."
Vice President Joe Biden has Virginia events scheduled this week in Danville, Wytheville and Blacksburg at Virginia Tech.
Post Your Email Notices, Press Releases, Event Fliers, and Photos
The FREE email packed with local news
The FREE email packed with local news
The FREE email packed with local news
Sign Up