Land Deals Underway as Falmouth Junction Expands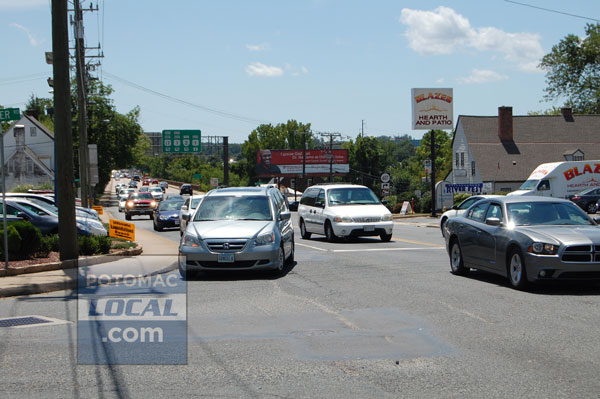 By JIM LAWRENCE
For PotomacLocal.com
STAFFORD COUNTY, Va. — George Schwartz represented the Falmouth District on the Stafford County Board of Supervisors from 2006 until 2009. One of his chief goals was to upgrade the spot where Cambridge Street (U.S. 1) Warrenton Road (U.S. 17), and Butler Road (Va. 218) converge.
It's known as the infamous Falmouth intersection just across the Rappahannock River from Fredericksburg in Stafford County.
"I persevered," he said, in talking with the Board, the Virginia Department of Transportation and the Commonwealth Transportation Board to make the project happen.
Now, the Virginia Department of Transportation is making that upgrade a reality.
"I am pleased that my number one goal as supervisor is coming to fruition," he said.
The project will see the addition of separate turn and through lanes at the intersection. It'll also increase vehicle capacity and give pedestrians new places to walk with the addition of new sidewalks.
Average wait times at a traffic light in the center of the intersection – notoriously known for backing up traffic during peak afternoon travel times, and when drivers exit a congested Interstate 95 to use U.S. 1 as an alternate route – will reduce from about four minutes down to 56 seconds when the project is completed.
According to Virginia Department of Transportation spokeswoman Kelly Hannon, discussions of the project have been ongoing since the 1990s. Having kicked around different ideas for a design of the project over the years, VDOT and the Federal Highway Administration approved an environmentally-friendly design plan in 2011.
From there VDOT went into the right-of-way acquisition phase, where they negotiate with landowners in the work zone for each parcel of property they will need to take to improve the road. Hannon says each negotiation is on a "very individual" basis, and that negotiations are underway right now.
All told, there are 26 parcels of land involved and offers have been made to 24 of the property owners. Buildings on each corner of the intersection will be demolished, said Hannon.
As the $24.8 million project moves forward, VDOT will request bids in December 2013 for a construction company to complete the improvements. The actual improvements will begin during the first half of 2014, and completion of the project is expected in 2016, said Hannon.
While a newly improved intersection means a better ride for drivers, it will result in some inconveniences for businesses in the neighborhood.
A.C. Glover
A.C. Glover sells hearth and patio products and is located at the intersection of U.S. 1 and U.S. 17. The business has been there about 35 years, according to employee Rich Morrison. The small wood building with no indoor plumbing the company calls home has been there much longer.
Morrison says the looming construction of the intersection has precluded any plan to install plumbing there. Harrison said a move to nearby Earl's Shopping Center, located at Butler and Chatham Heights roads in Falmouth, is likely.
But they cannot move until the VDOT finalizes land negotiations with them. Morrison said he's heard about the planned intersection improvements for years, and were originally told construction would begin this month. Now he'll have to wait a bit longer for the start of construction in 2014.
Moving the business to Earls Shopping Center has its upsides and downsides. A shopping center means more parking and an accessible location. It also means more overhead. The company owns the land and building for its present location.
However, until the deal for their land is finalized with VDOT, they will go nowhere.
Blazes
Sitting across from A.C. Glover is Blazes, another store specializing in hearth products at this location since 1990. Lance Foshee, a U.S. Marine, moved his business here from the Olde Forge neighborhood just right up the street at U.S. 17 and I-95 about six months after purchasing it.
"He wanted out," he said of the former owner. "I wanted in. It worked out."
He does not see the improvement of the intersection as necessary.
"Is it worth $30 million just to save commuters ten minutes?" he asked.
He realizes that construction of the intersection is to facilitate further development, but he questions its long term efficiency.
"Will it be obsolete before they extend it on down?" he asked.
His grandson, David, said uncertainty of when construction on the intersection would begin has impacted his business. Having previously been told construction was imminent they chose stock up on in-store items and have reduced their business to a special order operation. Without an inventory they lose the benefit of bulk discounts. They pay more for freight.
"It's hurt," said David Foshee. It's hard to run a business when you're told you have to move."
They too are in negotiations with VDOT for the property their business sits on. Once they move they will reopen from their present warehouse location in Baron Park, located near White Oak and Deacon roads in Stafford County.
"After the present location closes and I'll hang a sign on the door that said any more government help and I won't survive," said Lance Foshee.
Koons Auto
John Koons opened used his car dealership on a corner of Cambridge Street and Butler Road in 2007. Besides the dealership, he owns the building that houses it.
"It's a great location, said Koons. It's located at a traffic light so everyone sees it. It's a landmark and it's near the Falmouth bridge. It makes giving directions easy. Business has been great," he said.
He was aware of possible construction of the intersection and how it might affect his business when he moved in. But, he said, there had been talk of improving the intersection for five to 20 years, so there seemed a strong possibility that they might never do anything with it, he said.
Once the plan became reality, he discussed alternate plans with VDOT in an effort to get the transportation authority to leave his business alone while still improving the intersection. However, as they business was so close to the road, there were no alternatives.
Koons plans to stay in the area. "I love the people of Fredericksburg. I love the area," he said.
Koon employs 25 people at the dealership. Though he is disappointed at the thought of relocating, he is not bitter and is looking to move to another location in the area. He will be taking his employees with him.
"God has a purpose for everything,' he said. "We will keep moving forward and we are not leaving Fredericksburg."
Stafford Junction
Across Butler Road is and old bank building that once housed the Stafford County Republican Party, and has been home to Stafford Junction since 2005. Originally known as Olde Forge junction, the faith-based non-profit program that works with children started in 2003.
A 2002 assessment of the area cited "numerous challenges including poverty, domestic violence, substance abuse, unsupervised children, and an influx of non-English speaking Hispanic and refugee families," according to their website.
According to the website, crime in the Olde Forge neighborhood dropped 50 percent within two years of the program's inception. The program has since expanded throughout the county and helps with programs focusing on education, nutrition, and healthy living. It is looking to continue the expansion.
According to Linda A. Hill, executive director of Stafford Junction, the program works closely with Stafford County Public Schools and the sheriff's office. The program has occupied the building since 2005 and has done so rent free courtesy of local late philanthropist Carl D. Silver, who was responsible for Fredericksburg's mega Central Park shopping district.
Now they will have to move and start paying rent.
"Having the building has been a blessing," said Hill. "It's a huge issue that we have to relocate. The program will need to secure funding to pay for rent."
Post Your Email Notices, Press Releases, Event Fliers, and Photos
Subscribe to the weekday Breakfast Links email FREE!
Get
updates straight to your inbox.