Colonial Forge Students Sing with Foreigner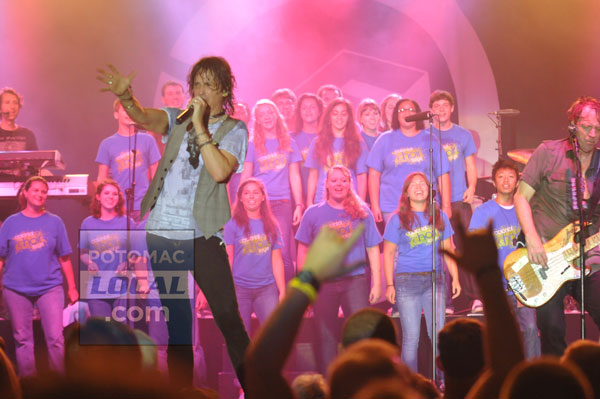 STAFFORD, Va. — Barbara Perry had been at home taking care of sick children when she got the call.
A choir teacher at Stafford County's Colonial Forge High School, telemarketers often ring her at home urging the school to plan their next big choir field trip with their respective agencies. She admits she really wasn't paying attention on the call until she heard the name of a favorite classic rock band.
"I really wasn't invested in the conversation, and they said 'we're looking for a group to perform with Foreigner,' and I was like 'what?'"
Not a travel agent, but rather an entertainment agent was on the other end of the line. They had gotten Perry's number from Mary Washington University in Fredericksburg after country music star Kenny Rodgers invited an local high school orchestra to perform with him at the University in April.
Perry accepted the invitation to perform and sprang into action. And two weeks later, last Friday night, 25 members of Colonial Forge's Chamber Choir sang back-up vocals on Foreigner's 1984 platinum hit, "I want to know what love is" at Celebrate Virginia Live.
"I sent out an email to students and I got back emails that said 'yes, yes, yes.' Some said 'who is Foreigner?' but they were all excited to sing in the show," said Perry.
The song wasn't a stretch for the choir because, uncannily, the students had performed the song during a spring choir show.
For this performance, the band sent a CD with the song and simply told Perry to teach the kids the lyrics and learn the harmony. She had about two weeks to prepare.
The show went off without a hitch on Friday. The choir joined the band on stage, and the audience also sang with them.
While there the students helped to sell Foreigner CDs – where proceeds of the sales went to benefit U.S. schools without music education programs.
"They got a big rearward out of doing this service project. Yes they sang, but it was about the whole experience," said Perry.
Afterward, Foreigner signed a commemorative CD for the choir which will be auctioned off to raise funds for the school's music program next year.
Post Your Email Notices, Press Releases, Event Fliers, and Photos
Subscribe to the weekday Breakfast Links email FREE!
Get
updates straight to your inbox.