Landslide Repairs to Top $500,000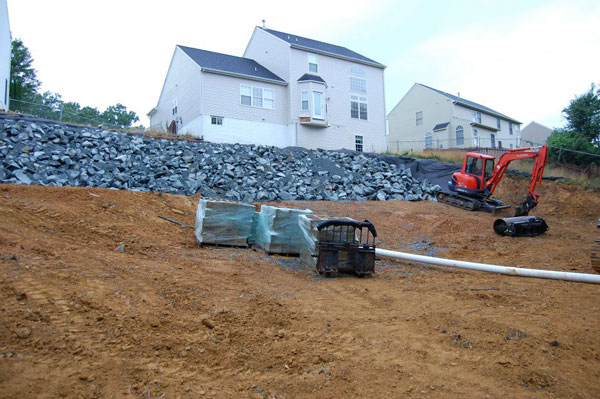 NORTH STAFFORD, Va. – The land at two homes deemed unlivable following a landslide will be repaired.
The affected homes are at 116 and 118 Brush Everard Court in North Stafford's Austin Ridge neighborhood where, following drenching rainstorms that hampered the area in September, the homes' backyards which sit on a slope began to fall away. County officials deemed the houses uninhabitable, unsuccessfully tried to bring the land developer into the repair process, and then this week announced $150,000 in funds that will be used to repair the damage.
The plan is to construct better drainage in the area and then bring in fill material to restore the failed slope. The repairs should be completed by September, and if the land doesn't move following completion of repairs, the families can once again return home, said Stafford County spokeswoman Cathy Vollbrecht.
About $50,000 of the $150,000 the county will give to the project is leftover funds from the nearly $75,000 raised by the community, and were collected at Ebenezer United Methodist Church in Stafford. The remaining $45,000 will be paid by the county through contingency funds from the developer prior to construction.
The estimated overall cost of repair will be $500,000, and the majority of the work will be donated by engineering, construction, and material supply companies that already do business in Stafford County. Members from Stafford County departments like Parks and Recreation, Public Works, the regional landfill, and Utilities, will also spend time on the project.
Vollbrecht said these are the only two houses known to be affected by the landslide, but warned residents that unexplained holes in the ground, a leaning fence, a tilted post, separation between the ground and foundation of the home could be signs of shifting ground. Residents are urged to call the county's non-emergency number at 540-658-4400 to report these problems.
Post Your Email Notices, Press Releases, Event Fliers, and Photos
Subscribe to the weekday Breakfast Links email FREE!
Get
updates straight to your inbox.
Readers also enjoyed...
A word from our sponsors...