I-95 HOT Lanes Construction Underway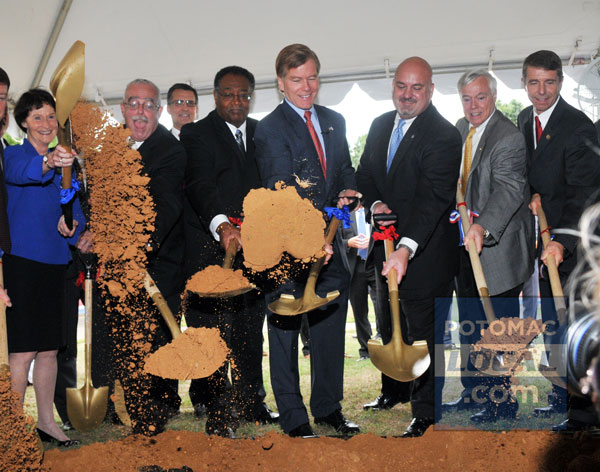 By URIAH KISER
DALE CITY, Va. — It's going to take two years and about $1 billon, but the effort to put toll lanes on Interstate 95 in Virginia is underway.
Virginia Gov. Robert F. McDonnell was in Dale City today for the kick off of the 95 Express Lanes project. The public-private effort between the state and road builder Transurban-Fluor will see the conversion of the High Occupancy Vehicle Lanes on I-95 between Dumfries and Edsall Road in Alexandria to toll lanes. The lanes will be extended an additional nine miles south to Va. 610 in North Stafford, and will include two new flyover ramps at Joplin Road in Triangle and Va. 610. The ramps should alleviate one of the the region's worst bottlenecks on I-95 at the HOV merge in Dumfries, officials said.
It'll cost about $5 per vehicle to use the lanes on the entire express lane span on I-95 once they're completed in 2014, and they'll be built in sections. The tolls single drivers will pay will change depending upon the amount of traffic in each section – the higher the traffic volume the higher the toll.
Drivers who enter the toll lanes at one price will be able to bail out of the express lanes if they later deem the posted price for the next section is set too high.
Buses and vehicles with three or more occupants will be able to use the lanes for free as they have on the HOV lanes for years, but when the new HOT lanes open, every vehicle will be required to have an E-Z Pass or E-Z Pass Flex in order to use them.
"We are one of the most business-friendly states in America and we've got challenges that we're trying to overcome, and transportation infrastructure is at the top of the list. If you can't move people and you can't move goods quickly to market you're not going to get the businesses to come here…and it's going to affect the quality of life for all of us," said McDonnell.
A toll lane network
Once completed in 2014, the 95 Express Lanes (High Occupancy Toll lanes or HOT lanes) will join HOT lanes on I-495 in Virginia that should open later this year. It'll be the first time carpoolers and bus riders will be able to travel on a dedicated span of express lanes from the Potomac Communities in Stafford and Woodbridge to Tysons Corner, said Virginia Transportation Secretary Sean T. Connaughton.
The first phase of construction, which Connaughton urged officials to begin today, will entail clearing brush and trees from the median at the current HOV merge at Dumfries south to Stafford County. That's where new asphalt will be laid to make way for two new lanes that will take drivers to Va. 610 in North Stafford.
The portion of HOT lanes between Dumfries and Prince William Parkway will remain two lanes, however, the section of lanes between Prince William Parkway and Edsall Road will be restriped to accommodate a third lane of traffic.
A 76-year operating agreement with Transurban-Fluor and the mandates vehicles must maintain a speed of 55 mph at all times in the lanes, said Connaughton.
Jobs
Officials said the new lanes will not only ensure employers will want to come to the area, the project to build the lanes will also create new jobs. Of the nearly 8,000 jobs expected to come as part of the project, 2,600 of them will be in Prince William County and 900 will come to Stafford County.
With these new lanes, toll lanes opening soon on I-495, and talk of adding new HOT lanes on I-64 in Hampton Roads, transportation crews from around the world have come to Virginia to learn more about these public-private partnerships.
"This is going to be the model for transportation projects all over the world," said Connaughton. "It's not just Hampton Roads that's considering adding HOT lanes, leaders from many international countries have come to Virginia to see what were doing with transportation."
Post Your Email Notices, Press Releases, Event Fliers, and Photos
The FREE email packed with local news
The FREE email packed with local news
The FREE email packed with local news
Sign Up
Dale City Local
,
Dumfries Local
,
Fort Belvoir
,
Lake Ridge
,
Lorton
,
Occoquan Local
,
Quantico
,
Stafford
,
Woodbridge Local
,
Prince William
,
Traffic & Transit