Sheriff Jett Donates $20,000 to Memorial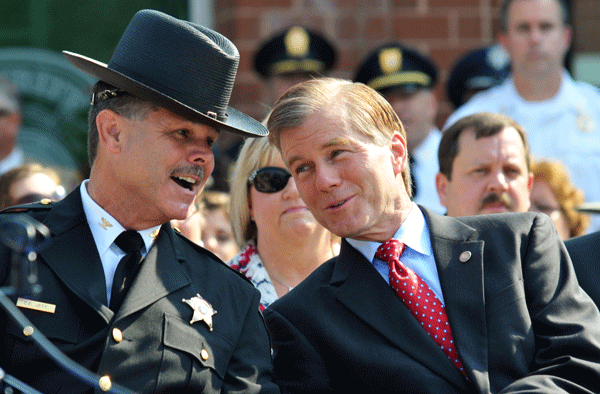 STAFFORD, Va. — With the pomp and circumstance normally reserved for a presidential campaign speech, Stafford County welcomed Virginia Gov. Robert F. McDonnell to its public safety center Wednesday.
Arriving about 9:30 a.m. in a black motorcade traveling on Va. 630, McDonnell was greeted by uniformed officers from the county's sheriff and fire agencies. A large U.S. flag was draped overhead from two ladder trucks from the fire department marking the spot where McDonnell would sign new bills into law that offer new protections for public safety workers, as well as expand their investigative powers.
The keynote piece of legislation signed Wednesday streamlines the process that allows drug monies and other funds seized in criminal investigations to be donated to Virginia's Public Safety Memorial being built at the State Capitol in Richmond. The first donor under the new law is Stafford Sheriff Charles Jett, who wrote a check for $20,000 and presented it to the governor.
Virginia is one of the five states without a memorial to honor fallen law enforcement officers, fire, and rescue personnel.
"The Public Safety Memorial will serve as hallowed ground forever honoring the respect of our heroes who paid the ultimate sacrifice. This memorial will give friends and family a place to forever remember loved ones, as well as provide all Virginians a place to offer their gratitude," said Jett.
Jett and McDonnell were also joined by several state and local leaders, who all sat under a hot sun with temperatures soaring well above 90 degrees.
"Being able to work with the governor and his staff on asset forfeiture legislation, to streamline and make it easier to take the profits and property and criminals, the ne'er-do-wells that gained these treasures through criminal means, that is a satisfying feeling," said Delegate Jackson Miller, R-Manassas.
Other legislation signed in Stafford on Wednesday will give expanded investigative powers to the Virginia State Police when investigating arson crimes, will provide police officers on state college campus the same recognition as municipal law enforcement officers, and a new law that will provide full death benefits for all police, fire, and rescue workers killed in the line of duty.
Post Your Email Notices, Press Releases, Event Fliers, and Photos
The FREE email packed with local news
The FREE email packed with local news
The FREE email packed with local news
Sign Up