Residents Jump from Burning Building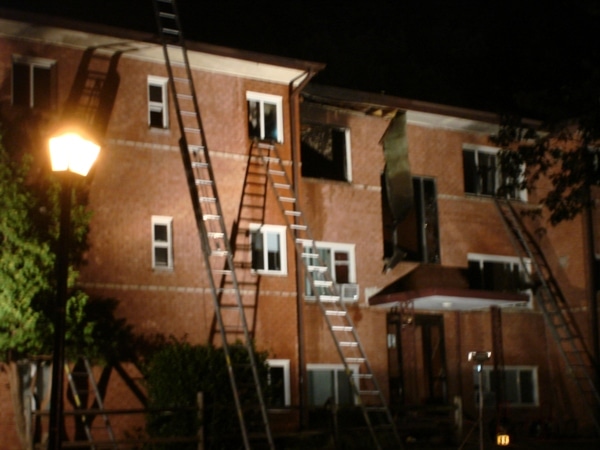 By URIAH KISER
WOODBRIDGE, Va. – There were victims in a fire that ripped through a Woodbridge apartment complex Monday night, but officials didn't immediately treat any of them.
The blaze broke out about 9:10 p.m. on Gemstone Way off U.S. 1 in Woodbridge. With flames bursting from windows and from the rooftop, neighbors said they helped many victims to safety.
Apartment complex residents William Lopez, Jorge Ranchos, and Bradley Runyon, said they helped two men and two women who became trapped on the burning building's second floor.
"I was taking out the trash and then I turned around and saw flames everywhere, so I went back to my house and told everyone to get out, and then I started helping the people who were trapped upstairs," said Ranchos.
Others became trapped inside by flames and jumped from windows, where Lopez was waiting to catch them, neighbors said.
"It was craziness everywhere. I just opened my arms and told them to jump," he said, as he described some people with burns and others who suffered injuries from the fall.
Once out of the burning building, the fire victims seemed to disappear. Fire officials on the scene said no one came forward for help, EMS crews were not able to identify any victims on their own, and no one was transported to a hospital.
One firefighter suffered a minor injury with a burn to his hand but is expected to recover, said OWL Volunteer Fire Department spokeswoman Rebecca Barnes.
A total of 43 adults and 13 children were displaced in the fire, and the Red Cross was called to offer assistance to these families. We don't know yet how many units are affected by the fire.
The blaze appears to have affected most of one of the two buildings that make up the Gemstone Way apartment complex. Fire crews were able to quickly douse the flames, and worked into the night putting out hot spots that flared up.
Windows were missing from many of the units, and fire officials were unable to determine early on just how many units are affected by the blaze and how many people are displaced.
Residents who live in the affected building told PotomacLocal.com fire broke out in the same building in two years ago.
Post Your Email Notices, Press Releases, Event Fliers, and Photos
Subscribe to the weekday Breakfast Links email FREE!
Get
updates straight to your inbox.