Police Issue Summonses to Mobile Home Holdouts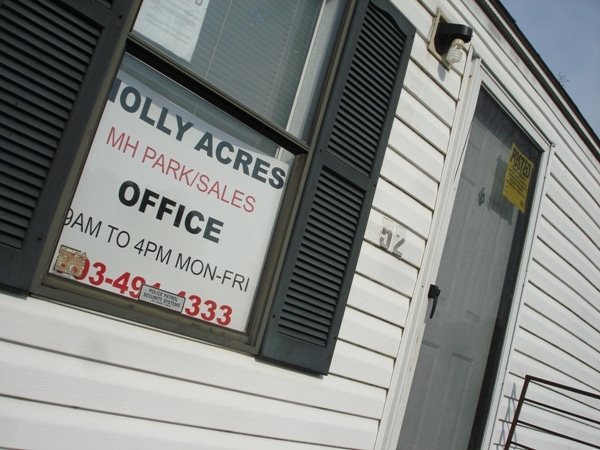 WOODBRIDGE, Va. — Gregg Reynolds stood in the Holly Acres Mobile Home Park Friday afternoon offering assistance to those who were told to leave trailer homes deemed unsafe by Prince William officials.
Reynolds said Prince William police on Thursday night issued summonses to those still living in eight trailers – many of which are being powered with extension cords run from other power sources, all of which were deemed unlivable after the remnants of Tropical Strom Lee flooded the trailer park in September – to be out no later than today.
Reynolds, and local business owner Carlos Castro, both said they spoke with Prince William Police Chief Charlie T. Deane about the summonses, and that Deane assured them no one who complied with the vacate order would be arrested.
"We were assured from Chief Deane, who I trust with my life, that the police really don't want to come in here and arrest anyone. One of the reasons is that they just don't want the bad publicity," said Reyonlds, who last night worked to find places to stay for displaced trailer park residents.
The summonses come as Mark Moorstein, the layer representing owner of the trailer park Hank Ridge, went to court Thursday to get a retaining order that would allow the occupants to remain in these homes. Moorestein told PotomacLocal.com the court told him they would "get back" to them when they make a determination.
The court also needs to set a date for a hearing decide whether or not to allow Ridge to replace about 10 of the 40 trailers in his park, said Moorstein. While the Prince William County Board of Zoning appeals has approved replacing the trailers near the Marumsco Creek, the county's Board of Supervisors challenged that decision citing residents in the entire county would not be allowed to participate in a federal flood insurance program in the trailers are allowed to be replaced in a flood way.
Post Your Email Notices, Press Releases, Event Fliers, and Photos
The FREE email packed with local news
The FREE email packed with local news
The FREE email packed with local news
Sign Up