Fire Officials: Propane Tank Caused Fire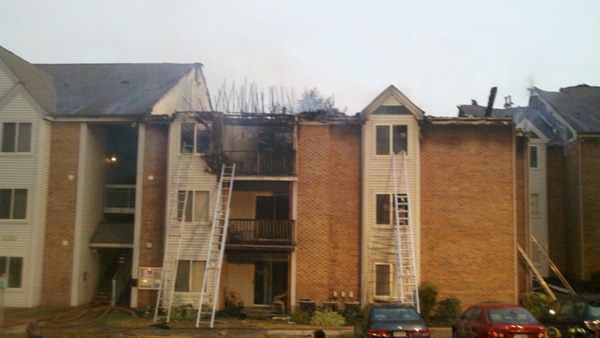 3:15 p.m. Friday 
The fire that gutted 24 apartment s and left about 100 people homeless was caused by a propane grill.
Fire officials pointed to the grill as the cause of the blaze this afternoon.
At the scene of the fire at Woodbridge Station Apartments today, clean-work has already begun. Two of the affected buildings that burned down have been cordoned off with chain link fence.
Prince William fire officials said propane grills are not allowed to be used in apartment complexes.
UPDATE
Three firefighters were taken toSentaraNorthernVirginiaMedicalCenterfor treatment following a massive blaze inWoodbridge.
Those firefighters were called to fight a four-alarm blaze that destroyed two buildings at the Woodbridge Station Apartments. Officials said two firefighters were treated for heat illness and another fell sick.
A total of 24 apartments were damaged or destroyed in the fire, leaving 94 people looking for a new place to live, statedPrinceWilliamCountyspokeswoman Nicole Brown. The Red Cross is assisting fire victims. 
11 p.m. Thursday 
About 100 people displaced from 100 apartment homes in tonight's fire, stated an official with OWL Volunteer Fire Department. 
WOODBRIDGE, Va. — A four-alarm fire claimed two apartment buildings Thursday night in Woodbridge.
It's not clear how many units were damaged by the blaze, how many people have been displaced, or what caused the fire at the Woodbridge Station Apartments.
We do know no one was injured, and that the fire is under investigation.
The blaze broke out about 6:45 p.m. on Eisenhower Circle in an apartment complex behind St. Thomas Aquinas Regional School. Dispatchers from Prince William County called in fire crews from Dale City and Manassas. When they arrived, crews said flames were shooting through the roof. Additional fire crews from Fairfax County were called to fight the blaze that by 8 p.m. had been brought under control.
With the majority of flames doused and smoke still rising, countless fire and rescue personele sat drenched in sweat gazing up at the burned out building. Support teams were handing out bottles of water to the fatigued firefighters.
Residents stood behind yellow tape, many wondering if it was there house that had went up in flames. The American Red Cross has been called to assist those who will be displaced by this fire.
Officials expect to update us when they know more about the actual number of people affected by the blaze, and if they have any idea what cause it.
Post Your Email Notices, Press Releases, Event Fliers, and Photos
Subscribe to the weekday Breakfast Links email FREE!
Get
updates straight to your inbox.