County Evicts Residents in Trailers Powered by Extension Cords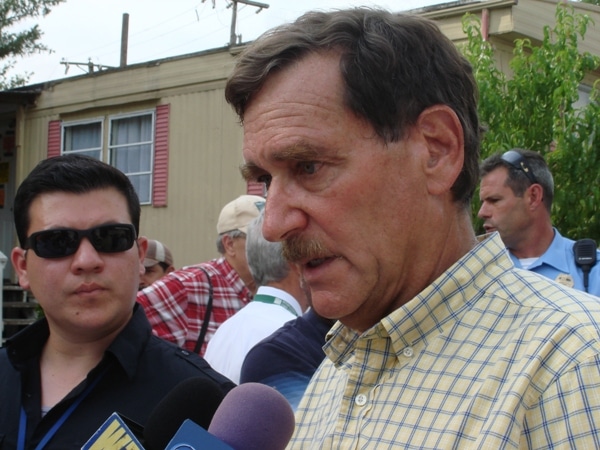 By URIAH KISER
WOODBRIDGE, Va. — Six families who live in mobile homes deemed unsafe by Prince William County officials were given their walking papers today.
No trespassing placards were reposted on trailers that sit in a floodway in the Holly Acres Mobile Home Park on U.S. 1 in Woodbridge. It's the same park that flooded out during Tropical Storm Lee in September.
Following the flood, several trailers were destroyed, and about 10 of the 40 mobile homes in the park were deemed uninhabitable.
Two weeks ago, officials got a phone call telling them families were living in six of the so-called unlivable trailers, that they were being powered by electric extension cords plugged into other homes in the neighborhood creating a fire hazard, and even more egregious, officials said, the occupants were paying rent to a landlord who for several months has been at odds with the county on rebuilding the homes that were lost in the flood.
Police descended on the trailer park Tuesday afternoon and, from what residents said, seemed to scale back their threats to force occupants out of their homes – at least for today.
"They threatened to arrest my wife," said Ovantol Cervantes, who lives with his wife and children ages 5 to 16 in one of the uninhabitable homes. "They won't kick me out because I have no place else to go. I'll have to go live under a bridge."
Cervantes added the landlord has not charged him rent to live in the trailer.
Mark Moorestein who represents the landlord, who was absent Tuesday afternoon, said the extension cords do not pose a fire threat, and said the trailers have working water and air conditioning. He said he's going to court on Thursday to seek a ruling that would allow these residents to remain in their homes at least until March. That's when an judge will hear a lawsuit filed by the Prince William County Board of Supervisors appealing a decision by the county's Board of Zoning Appeals which would allow the homes to be rebuilt.
Prince William spokesman Jason Grant said if the homes were rebuilt in the floodway, all of Prince William County could lose out on the option of participating in the federal flood insurance program.
Prince William Woodbridge District Supervisor Frank Principi in a statement late Tuesday stated "I am deeply saddened that these families were evicted, but I am also concerned for their safety,the safety of other Holly Acres residents and the safety of the men and women who would be called to respond to fire or medical emergencies in the area."
Post Your Email Notices, Press Releases, Event Fliers, and Photos
Subscribe to the weekday Breakfast Links email FREE!
Get
updates straight to your inbox.