Lingamfelter to Compete with Stewart?
WOODBRIDGE, Va. — Will he, or won't he? If the look of an email sent out by his campaign staffers late Tuesday afternoon is any indication, he probably will.
Delegate Scott Lingamfelter, R-Woodbridge, Fauquier, appears to be putting his name in the upcoming Virginia Lt. Governor's race for 2013. The staunch Republican who lives in Dale City is known for prodding reforms within the Virginia Department of Transportation, and recently made waves in the debate over now-defunct slush funds for Prince William County Supervisors.
Lingamfelter said he's received lots of calls asking if he'll run.
"I am very grateful and humbled by the positive response I have received. People are seeking proven conservative leadership and I believe my record as a movement conservative will be a rallying point for many Virginians. We will have more to say about this effort next week. You should expect a media advisory in the coming days," the email stated.
If Lingamfelter officially announces his bid for Lt. Governor, he'll join Prince William County Board of Supervisors At-large Chairman Corey Stewart who has been making his rounds across the state campaigning for that job.
There's been no response yet from the Stewart camp on what Lingamfelter's move might mean for their campaign. Stewart is scheduled to appear alongside other fellow Republicans this weekend for a fundraiser inFairfaxCounty.
The email distributed by Lingamfelter: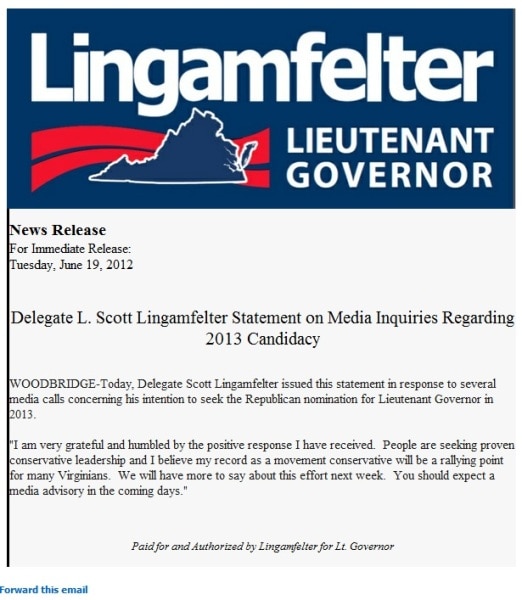 Post Your Email Notices, Press Releases, Event Fliers, and Photos
The FREE email packed with local news
The FREE email packed with local news
The FREE email packed with local news
Sign Up