New Restaurant Brings Chick-fil-A Mania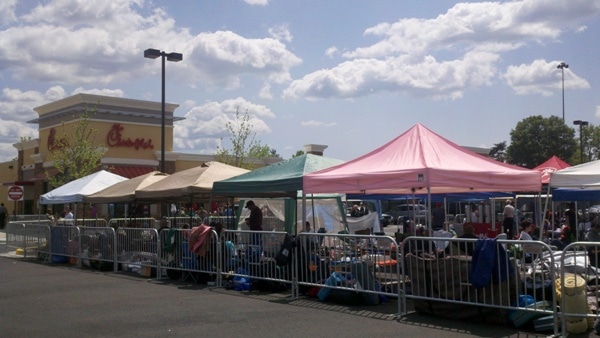 SPRINGFIELD, Va. — It's not what you would expect to see in the parking lot of a fast food restaurant.
A makeshift open canopy city sprung up early Wednesday in Springfield filled with fans of Chick-fil-A restaurants, the so-called inventor of the chicken sandwich.
They brought sleeping bags, propane tanks, and their appetites for free food, which the first 100 people camped out here will get for an entire year – 52 coupons for free number one chickens sandwich combo meals.
Northern Virginia's newest Chick-fil-A sits in a small shopping plaza on Backlick Road in Springfield. While it's not a standalone restaurant like ones in Woodbridge and Stafford, it does have a drive-through lane. And a lot of hungry chicken lovers who camped out, as well as Chick-fil-A fans in the area, are expected to use it.
"We've got a lot of folks doing this for the first time. They hear about it from friends and then decide to come out. But some do this all the time, almost like NASCAR fans, you just see them go race to race to race – people are raving fans and are so excited about Chick-fil-A and getting more free food," said restaurant spokeswoman Maggie Hammond.
Chick-fil-A preopening madness began in 2004 when the company began giving away free food to loyal fans. Hammond says $26,000 worth of free food will be given away at this grand opening event.
With the Springfield store included, the Atlanta-based company plans to open 96 new Chick-fil-A locations this year, creating more than 7,000 new jobs.
Kyle Warfield, number 99 of the first 100 in line that will win free food for a year, is no stranger to camping out for free Chick-fil-A. He came from Baltimore to wait Outside the Springfield store, but two weeks ago also camped for the grand opening of a Chick-fil-A in Maryland, where he was also awarded free food.
"I'm probably going to give some of [the chicken sandwiches] away. What am I going to do with 100 of these?"
Another waiting in line said his military background helped him prepare for sleeping outside for free chicken.
"I work nightshift anyway, and sleeping outside doesn't bother me coming from military," said Matthew Goldbitz of Fairfax.
The Springfield Chick-fil-A opened its doors for the first time at 6 a.m. today.
Post Your Email Notices, Press Releases, Event Fliers, and Photos
The FREE email packed with local news
The FREE email packed with local news
The FREE email packed with local news
Sign Up