Stafford Sports, Aquatic Center Approved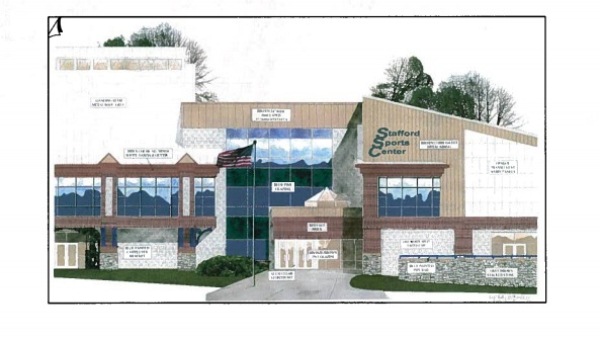 NORTH STAFFORD, Va. — A new indoor aquatics center will be built in North Stafford.
The planned two-story Stafford Sports Center will be a 196,000 square foot building built along Va. 610 between Parkway Boulevard and North Stafford High School. It'll include a 10-lane swimming pool for competitive activities aimed at attracting high school teams, while another portion of the 23-acre site will include an outdoor field house with four fields and stadium seating, according to county documents.
According to plans, the sports complex will also include retail pad sites for a fast food restaurant, a sit-down eatery, and a pharmacy  that will be built over two phases of construction. The second phase will include additional commercial space but will not be built until Va. 610 is widened to six lanes.
Stafford Garrisonville District Supervisor Ty Schieber voted with the Stafford Board of Supervisors to approve rezoning the land on Va. 610, clearing the way for development. With planned developments like Embery Mill coming, he said residents can expect more construction in the district.
"Folks who have enjoyed 10 years of relative peace are going to start seeing trees fall…so there's never a perfect answer. I have followed this imitative for a while and watched the great efforts to be a good neighbor and mitigate the concerns…" said Schieber.
Those comments were prompted by neighbors who spoke out against the facility at public Board hearing Tuesday night.
"Having a recreational facility that can enhance sporting events for kids – great idea. I just don't want it in my backyard," said Stafford resident Greg Miller.
A 50-foot wooded buffer will separate the new development from existing homes, as well as the high school and nearby Park Ridge Elementary School, but neighbors said that's not enough.
"This development is going to have an impact. It's a 55-foot tall building, 200 square feet, maybe 180 yards away. I purchased my house over eight years ago and the selling point was the woods behind me. I knew there was a chance it could be developed…but mostly I thought it would be another subdivision, houses, at worst an apartment complex because it abuts right next to the high school," said Stafford resident Robert Townsend.
The developer of the complex proffered to a allow the county's schools to use the 10-lane swimming facility at no charge for six years after it's built, as well as construct a lighted pedestrian path linking North Stafford High and Park Ridge Elementary schools.
Post Your Email Notices, Press Releases, Event Fliers, and Photos
Subscribe to the weekday Breakfast Links email FREE!
Get
updates straight to your inbox.