'The King and I' Coming to the Stage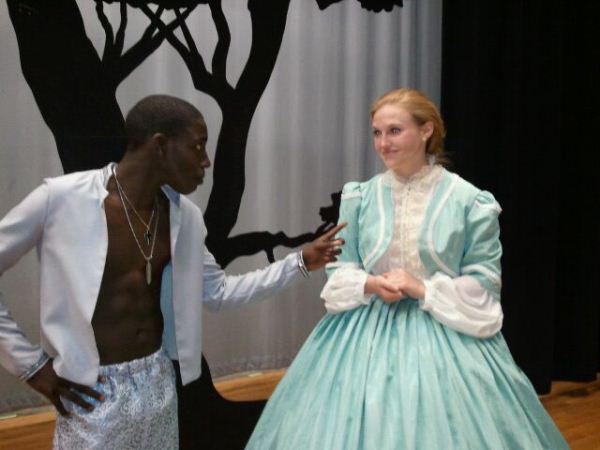 LAKE RIDGE, Va. –– Woodbridge Senior High School will open Rodgers and Hammerstein's classic musical The King and I, at Woodbridge Senior High School Main Stage Auditorium in Lake Ridge on April 19.
The King and I is based on the book Anna and the King of Siam by Magaret Landon. East versus West makes for a dramatic, richly textured and ultimately uplifting tale of enormous fascination.
It is 1862 in Siam when an English widow, Anna Leonowens, and her young son arrive at the Royal Palace in Bangkok, having been summoned by the King to serve as tutor to his many children and wives. The King is largely considered to be a barbarian by those in the West, and he seeks Anna's assistance in changing his image, if not his ways.
With both keeping a firm grip on their respective traditions and values, Anna and the King grow to understand and eventually, respect one another, in a truly unique love story. Along with the dazzling score, the incomparable Jerome Robbins ballet, "The Small House of Uncle Thomas," is one of the all-time marvels of the musical stage.
The story was derived from the memoirs of Anna Leonowens, who became school teacher to the children of King Mongkut of Siam in the early 1860s. Leonowens' book, The English Governess of the Siamese Court, was autobiographical, although its historical accuracy is questionable. The musical boasts familiar songs such as Whistle a Happy Tune, Getting to Know You, Something Wonderful and Shall We Dance? It also contains the ballet, Small House of Uncle Thomas, based upon Harriet Beecher Stowe's Uncle Tom's Cabin.
The musical originally opened on Broadway in 1951, and ran for 1,246 performances, winning the Tony Awards for Best Musical, Best Actor (Yul Brenner), and Best Actress (Gertrude Lawrence) along with other awards. The musical was made into a popular film in 1956, for which Yul Brenner won an Oscar for Best Actor. There were also numerous stage revivals including 1996, starring Lou Diamond Phillips as the King.
The Woodbridge Senior High School production features Bryson Jenkins as The King, and Jenna Grazzini as Mrs. Anna. Also appearing are Victoria Unterberger as Lady Thiang, Jay-Michael as The Kralahome, Tré Terry as Prince Chululongkhorn, Michael Goad as Louis. Anthony Frank plays Captain Orton and Austin Hurlbrink plays Lt. Edward Ramsey. Featured as the secret Burmese lovers, Renee Sogueco portrays Tuptim; with Greg Brown is Lun Tha. The cast also boasts of 18 Royal Children, several Royal Wives, Royal Dancers and Royal Guards. The cast totals 50 performers.
The production's Director is Carol Ann Rethmel. Musical Director is Monica Sobers, with Choreographer Nancy Gross. Mrs. Cathleen Albrecht is the production's Assistant Director, and Mrs. Terri Caretti is the Children's Director. Costumes are provided by Center Stage LLC of Occoquan. Sets are provided by Gary Kimberlin as Master Carpenter, with assistance from Bob Price.
Performances for The King and I will be April 19, 20, and 21 at 7:30 p.m., with matinee at 2 p.m. on April 22 in the auditorium at Woodbridge Senior High School. Tickets are $10 for general admission. Seniors and students with I.D. are $5. They can be purchased at the door, are reserved through the Choral Department by calling 703-497-8014.
-Press release 
Post Your Email Notices, Press Releases, Event Fliers, and Photos
Subscribe to the weekday Breakfast Links email FREE!
Get
updates straight to your inbox.