Camels, Actors Portray Live Nativity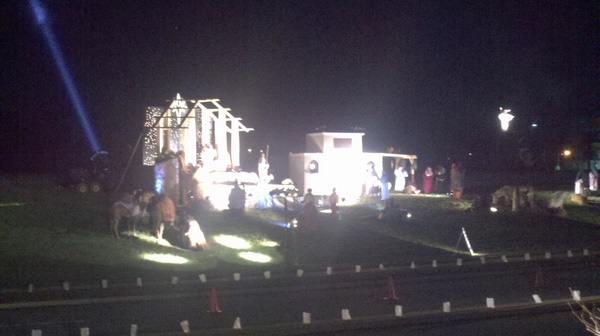 Woodbridge, Va. — The nativity came alive Friday night in Woodbridge.
Actors and live animals, such as goats, camels, and sheep, paraded on an open field on Golansky Boulevard next to Belvoir Federal Credit Union. The scene was complete with the nativity depicting the birth of Jesus Christ, the inn that, according to the story of the nativity, was too full to let Jesus' mother Mary and Joseph a room for a night, and a guardian angel to watch over the shepherds and the flock.
This is the third year the Worship Center of Woodbridge has presented the Joy to the World presents A Living Nativity, which takes place this year between Thursday, Dec. 8 through Saturday, Dec. 10. More than 100 people are involved in the production that costs about $30,000, said Worship Center congregation member Sharon Carol.
A search light was set up in the field to draw attention to the event, and drivers followed it almost as if they were following yonder star. Drivers headed west on Prince William Parkway and simply turned right onto Golansky Boulevard to view the nativity.
The scene was moved from adjacent Pond Way to better accommodate traffic flow, said Carol.
Onlookers who parked their cars stood on the sidewalk taking pictures of the nativity scene and listened to the Christmas songs being played as part of the scene.
"The first time I saw it was last year, I saw the light, got my daughter, got in the car and drove to find the light, parked and walked up. It was cold as the dickens outside but we had a wonderful time, and this is such a wonderful thing to have in the area," said Cheryl Wilson of Woodbridge.
The Worship Center of Woodbridge is located 14001 Crown Court.

View Living Nativity in a larger map
Post Your Email Notices, Press Releases, Event Fliers, and Photos
The FREE email packed with local news
The FREE email packed with local news
The FREE email packed with local news
Sign Up