Slugging Options Announced for Mark Center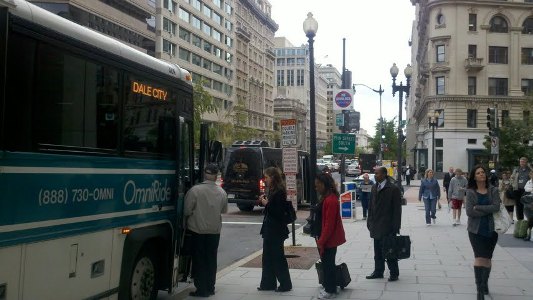 Slugging Options for The Mark Center

Now that the Mark Center is in use, what are the options for Slugs? The Mark Center Transportation Center (Transportation Center), is located on Mark Center Drive and is part of the BRAC 133/4800 Mark Center Drive North Garage facility. It is open each weekday between the hours of 5:00 am and 7:00 pm. There are five (5) bus bays. A slugging lane is also provided on the west side of the North Garage and will be used by taxis during non-rush hours.

However, because there is no HOV access to accompany the flow of traffic on I-395, the best slugging option for employees is to:

1. AM: Slug directly to the Pentagon and then take Metrobus 7M to the Mark Center.

2. PM: Take Metrobus 7M to the Pentagon and then slug from there.

Once HOV access to I-395 is built, slugging directly to/from the Mark Center will be available.

Tackett's Mill Lot Update

Back in July 2011, Prince William County leased 222 parking spaces next to the existing Lake Ridge Commuter lot (aka Tackett's Mill) on Minnieville Road. This newly leased commuter lot was intended to help commuters with the closing of the First Baptist Church commuter lot. The results? Outstanding! With the additional parking, commuters can find parking well after normal slugging hours. In addition, PWC created direct access to the new lot so both slugs and drivers can move between the main lot and expanded lot more easily.

Prince William County also has a long-term solution to the parking shortage in the I-95 corridor. The county is currently designing a new 600+ space commuter parking lot on Telegraph Road, opposite Horner Road. The lot is expected to be complete in fall 2012.
Post Your Email Notices, Press Releases, Event Fliers, and Photos
The FREE email packed with local news
The FREE email packed with local news
The FREE email packed with local news
Sign Up