Potomac Mills expansion to force out commuters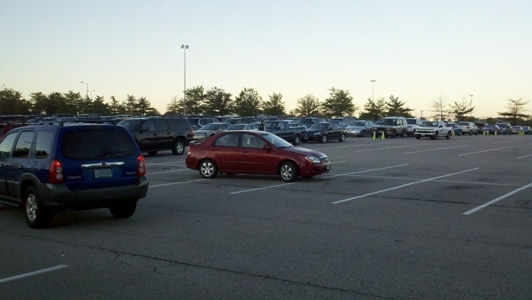 Update 5 p.m.
We now know a bit more about why Potomac Mills mall decided to drastically reduce the amount of commuter parking there.
In a statement issued by the mall, officials say an increased demand for employee and customer parking, as well as the anticipated addition of several new retailers and restaurants in the coming year has driven the need to reduce the number of parking spaces commuters use each weekday by 75 percent from when commuter parking there was at its peak.
Officials at the mall urged commuters to explore alternatives ways of getting to work, such as those provided by Potomac and Rappahannock Transportation Commission's OmniRide commuter bus.
PRTC officials say they are ready to meet what's expected to be increased demand for service.
"Last summer, PRTC evaluated the capacity of the area commuter lots. I can tell you that these lots were not at capacity and could absorb some of those who will be displaced from Potomac Mills: I-95 at Route 123; Dale City Commuter lot; Lindendale Commuter Lot; Kmart at Dale City Lot; Hillendale Lot. They might not be as convenient as Potomac Mills for some but they have available parking," PRTC spokeswoman Christine Rodrigo.
"We expect that if the parking is reduced at Potomac Mills, the earlier OmniRide trips will become even more popular than they are now because people will want to park before the lots fill up," she added.
—
Woodbridge, Va. –– It won't be a happy Valentine's Day for some Woodbridge commuters.
Potomac Mills mall in Woodbridge on February 14th will decrease the number of commuter parking spaces on its lot by 75 percent, from 1,000 spaces to just 250.
Woodbridge District Supervisor Frank Principi made the announcement today, and said the loss of the spaces is unfortunate but added the mall is allowed to reduce the number of spaces as part of their special use permit with Prince William County.
Many Slugs (those who ride in cars of three or more occupants on Interstate 95's High Occupancy Vehicle lanes) use the lot each morning.
Last fall, a mall spokeswoman said the mall had an agreement with Prince William to provide 275 spaces, but had been providing at least 975.
We are still waiting to hear back from Potomac Mills about this decision.
The next largest commuter lot available in the area is the Horner Road lot, off Prince William Parkway and Interstate 95. It's the largest commuter lot in Virginia and each space in the lot is usually filled each weekday by 7 a.m. or shortly thereafter.
This latest commuter set back comes as a new slug line from Woodbridge to Alexandria failed to gain traction last fall.
?
Post Your Email Notices, Press Releases, Event Fliers, and Photos
The FREE email packed with local news
The FREE email packed with local news
The FREE email packed with local news
Sign Up