Mall ramps up commuter parking enforcement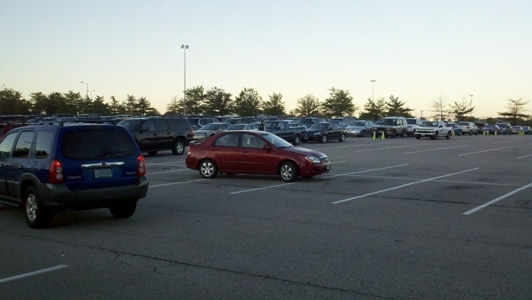 Woodbridge Va.  –– Those who arrived at the Potomac Mills mall commuter lot after 7:30 a.m. Tuesday were met with cones and barriers, and many were forced to park their cars elsewhere.
Members of the mall's security force were out Tuesday corralling commuters, whom in recent days have apparently taken up more spaces than the mall allows.
"While Potomac Mills has an agreement with Prince William County to provide 275 spaces for commuter parking, we have been providing at least 975 spaces for several years, more than any other private property owner in the county. Also for several years, each weekday morning our security team has been placing barricades to clearly identify the 975 designated parking spaces, making it easier for commuters to understand in which spaces they may park," said Potomac Mills spokeswoman Caroline Barry Green.
Barriers were used to close each lane of the parking lot as it filled up Tuesday morning. A blue line at the end of the parking lot – the area closest to the mall itself– seemed to mark where commuter parking ended and the parking spaces for mall customers and employees began.
The nearby Horner Road lot off Prince William Parkway– the largest commuter lot in Virginia ­– was also filled to the brim with vehicles about the same time Tuesday.
Green said security teams would remain in the parking lot to guide commuters to parking spaces, and to help regulate the number of commuters who use the lot.
The move comes as a new commuter slug line to Alexandria is getting ready to begin Oct. 19.
Commuters then will be able to use the Kiss 'N Ride lot at the Virginia Railway Express' Woodbridge station off of U.S. 1 to slug to either the Eisenhower Avenue or King Street Metro stations in Alexandria.
For the afternoon trip, commuters will be asked to gather at the Alexandria VRE station, next to the King Street station on Metro's Yellow line, where they will be able to slug back to Woodbridge.
Post Your Email Notices, Press Releases, Event Fliers, and Photos
The FREE email packed with local news
The FREE email packed with local news
The FREE email packed with local news
Sign Up