Diversion leads to theft at Exxon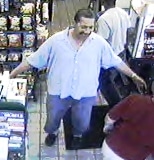 STAFFORD COUNTY, Va. – The first man distracted the clerk while the second broke into the manager's office.
That's how investigators think a July 7 breaking and entering went down at an Exxon gas station on Courthouse Road.
Two men entered the store in Stafford between 6:19 and 7:30 p.m., one of them wearing a blue uniform shirt baring a security guard logo on the left sleeve, and the other man wearing a light blue t-shirt with baggy shorts, both distracted the store employee, said Stafford sheriff's spokesman Bill Kennedy.
During the diversion, the man in the uniform shirt forced his way into a basement office and opened the safe, doing little damage to the lockbox, and took cash and some rolls of coins.
He then put the money in a trash bag, left the office and the two men fled the scene, said Kennedy.
The two men used a tractor trailer gas station that night. The truck could've had the words "farm fresh" scribed on the side, said Kennedy.
Both men were black, and in addition to the uniform shirt, the first man also had on a pair of sunglasses and a black hat.
Anyone with information is encouraged to call Stafford Crime Solvers at 540-659-2020.
Post Your Email Notices, Press Releases, Event Fliers, and Photos
The FREE email packed with local news
The FREE email packed with local news
The FREE email packed with local news
Sign Up