Stafford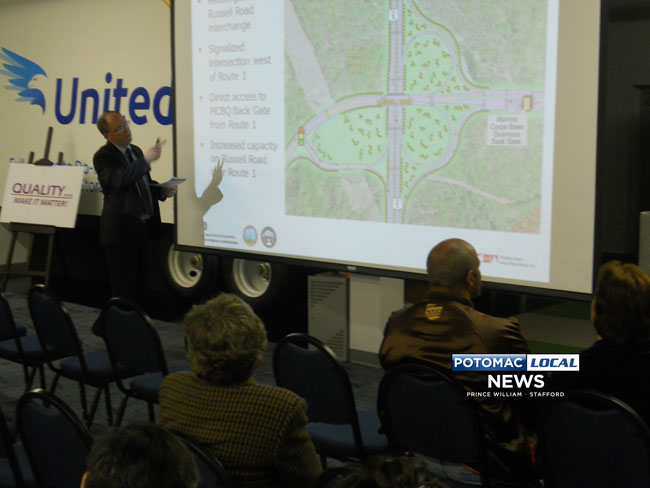 By KEITH WALKER
For Potomac Local News
NORTH STAFFORD, Va. – People are starting to look at future improvements to U.S. 1 between Joplin Road in Prince William County to Russell Road in Stafford County.
As can be imagined, a lot of factors would need consideration before starting the road-widening project.
Jack Van Dop, of the Federal Highway Administration, outlined some of those issues during a public hearing at Hilldrup Moving and Storage in Stafford County Tuesday night.
Costs of buying rights-of-way, cultural and social impacts as well as protecting streams and waterways all come into play in any road project, but right now, Van Dop the project is in its beginning phase.
"This is really a phase step one of a planning study versus the environmental design-construction schedule," Van Dop told the audience of about 40 people who attended the meeting.
Van Dop said that previous public meetings in May and October of 2012, showed that people along the corridor are most concerned about congestion at the Joplin Road entrance to Quantico Marine Corp Base, impacts on local businesses and residents, access to Interstate 95 and the need for safe bicycle and pedestrian walkways and paths.
In addition to widening U.S. 1 from four to six lanes to accommodate increasing congestion in Stafford's Bowell's Corner area Telegraph Road, there is also discussion about how to improve nearby Russell Road that leads to the back entrance to Quantico.
Several improvements are under consideration:
1. Place two signal lights on Russell Road – one where traffic accesses southbound U.S. 1 and the other near the gate where traffic accesses northbound U.S. 1.
2. Construct a cloverleaf interchange at U.S. 1 and Russell Road
3. Construct a half cloverleaf on the northbound side of U.S. 1 and place a signal light on Russell Road where drivers access southbound U.S. 1.
Terry Heilman, of Widewater, attended the meeting and said he found it informative.
"I just wanted to see what was proposed," said the retired U.S. Army Master Sgt.
Heilman went on to say that he thought the project, which Van Dop said has yet to be funded, will eventually come about.
"In the long run, I'm sure it needs to be done. It'll be somewhat painful for a while," Heilman said.
Rebecca Dixon, a nurse who works at Fort Belvoir, said she hopes that protecting the environment gets due consideration.
"I worry about the wetlands," said Dixon, who lives in Stafford County.
Still she recognizes the project needs to move forward.
"I think it's necessary because … it's already very congested at the peak times," she said
Dixon said she favored including walkways and paths along the highway, but wasn't optimistic they would be included in any future road widening project.
"I feel that we really need to be concerned about the homes here and pedestrians and bicyclists. I think we really do need to incorporate some things to accommodate the public in a safe way. I think it's a low priority from what I'm seeing," she said.
Doug Hecox, a spokesman for the U.S. Department of Transportation's Office of Public Affairs, said the state would ultimately be in charge of allocating any money to the project since federal funds go through the states.
"They're always in charge of deciding which project will get acted upon," Hecox said.
Van Dop told people who attended the meeting that the next steps would include aerial mapping and trying to find money for design and construction.
For now though, the feasibility study only shows only what might happen if the project proceeds, Hecox said.
"This purely an analysis on 'what if.'" It's if they decide do it, what would it take to do it?" he said.
Posted in: Dumfries News Prince William QuanticoStaffordTraffic & Transit