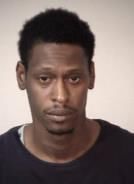 From Stafford County Sheriff's Office:
On April 22, 2017, at 11:17 p.m, Deputy C. N. Mireles was traveling southbound on Warrenton Road behind a light-colored sedan. As both vehicles approached the intersection at Sanford Drive, Deputy Mireles observed the sedan travel through a red traffic light. Deputy Mireles activated his emergency equipment to initiate a traffic stop.
The driver of the sedan continued onto the southbound ramp of Interstate 95, eluding the deputy. Deputy A.S. Smith joined Deputy Mireles as they kept pace with the vehicle. The sedan cut off several lanes of traffic as it maneuvered to exit 133-B from the center lane, and exited onto Carl D. Silver Parkway. Once in Central Park, the driver slowed the vehicle to make a U-Turn. At that time the suspect's face was clearly illuminated by Deputy Mireles' spotlight. (more…)
Subscribe Now for Free!
Get
updates straight to your inbox.