Subscribe Now for Free!
Get
updates straight to your inbox.
The Latest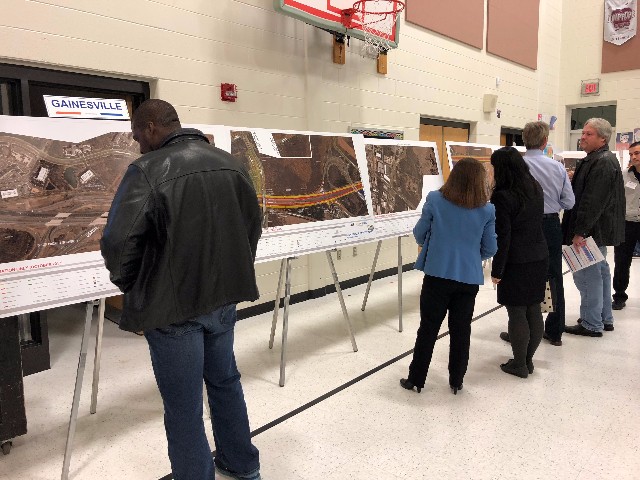 BRISTOW — If all goes as planned, Interstate 66 will expand to help alleviate Northern Virginia's crushing traffic volume and boost public transportation by the end of 2022, according to Virginia traffic officials.
Dozens of area residents turned out Thursday for a public hearing on plans for widening I-66 to include tolled express lanes outside the Capital Beltway. Three regular lanes and two express lanes will run in both directions from Haymarket in Prince William County to Dunn Loring in Fairfax County.
In addition to the 22.5 miles of new E-ZPass Express Lanes, the project includes additional and expanded park-and-ride lots, bus service and transit routes, interchange improvements and bike trails.
"We're looking at this as a multi-modal project," Susan Shaw, the Virginia Department of Transportation's Northern Virginia megaprojects director, told the crowd. Once the project is completed, she said, the upgraded system will be able to move 2,000 to 4,000 more people per hour than it currently can.
The overflowing parking lot at Piney Branch Elementary School off Linton Hall Road underscored the need for traffic solutions in an area that typically ranks among the worst in the nation for commuting.
The meeting was the third and final public hearing on the project's design, and it focused specifically on the segment of the project from Gainesville to Route 29 in Centreville. About a dozen members of the public addressed concerns with the project, including the lack of bike trails in Prince William County, the cost of tolls for commuters and the aesthetics of the proposed sound walls. Public comments will continue to be accepted through Nov. 29.
The I-66 "Outside the Beltway Project" is a public-private partnership between VDOT, the Department of Rail and Public Transportation and a private partner, I-66 Express Mobility Partners, which is a consortium of Cintra, Meridiam, Ferrovial Agroman US and Allan Myers VA Inc. It's expected to bring $3.5 billion in new construction to the region.
At the meeting, officials unveiled a video overview of the project showing what the completed project would look like. Planning for the massive expansion project began in 2011. The timeline calls for construction and right-of-way acquisition to begin in late 2017. That's followed by additional parking spaces near Gainesville to be completed by summer 2019, and four traffic signals to be removed from Route 28 by summer 2020. The entire project is scheduled to be completed and tolling to begin by December 2022.
Groundbreaking is set for today, near the 1-66 and Route 28 interchange, with Gov. Terry McAuliffe and transportation officials expected to be on hand.
Once construction is underway, it will take place as needed throughout the corridor. Shaw said there would be no lane closures during peak traffic periods.
When they're completed, the I-66 E-ZPass Express Lanes will use the same kind of "dynamic pricing," which changes depending on the volume of traffic, that's currently used on the E-ZPass Express Lanes on I-495 and I-95. Roadway sensors monitor traffic volumes, and toll prices adjust to manage demand for the lanes and keep traffic flowing. When there's more traffic, prices will be higher. When there's less traffic, prices will be lower.
Drivers with three or more occupants would be considered high occupancy vehicles and could use the express lanes free anytime with an E-ZPass Flex.
On the stretch of the I-66 project Inside the Beltway, tolling will begin in December. All lanes of I-66, from I-495 to U.S. Route 29 in Rosslyn, will become express lanes with tolls on weekdays during expanded rush hours in the peak direction — from 5:30 to 9:30 a.m. on eastbound lanes and from 3 to 7 p.m. on westbound lanes. Carpoolers with two or more passengers can travel toll-free with an E-ZPass Flex, although that requirement will change to three passengers when the express lanes open outside the Beltway. The lanes inside the Beltway will remain free with no toll or HOV requirements at all other times.
Copies of the proposed designs for the project outside the Beltway are available at Transform66.org. They also are available for viewing at various locations throughout the area, including Prince William County government offices and regional libraries.
VDOT will be accepting additional public comment about the plan through Nov. 29. Email comments to Transform66@VDOT.Virginia.gov and include "Transform 66 Outside the Beltway" in the subject line.
Comments also can be mailed to VDOT Northern Virginia District, Attention: Susan Shaw, P.E., Megaprojects Director, 4975 Alliance Dr., Fairfax, VA 22030.
"We want to continue the dialogue we've started with the community, both the traveling public and the neighboring communities," Shaw said.
At FreshySites, we're dedicated to taking our clients' online presence to the next level through the creation of beautiful, clean and user-friendly websites.
With that mission front and center, we recently harnessed our commitment and passion to partner with WorldWide Sport Supply and create a website for a globally recognized brand and organization – USA Volleyball.
FreshySites was approached to create an E-Commerce website platform that would provide a scaleable solution for order management and fulfillment for the United States Volleyball Team.
Creating an E-Commerce website platform that can handle the high demand and order influx for a national brand has many moving parts.
One of the biggest hurdles we had to overcome was that this was to be the first E-Commerce site for USA Volleyball – ever.
Our team spent hours carefully planning and collaborating – internally and with our client – on the USA Volleyball site, mapping out its many components to ensure flawless functionality and launch.
After months of hard work, we created the USA Volleyball Shop – a modern and fully responsive E-Commerce website, allowing members and fans alike to easily purchase USA Volleyball swag on a beautiful, simple user interface for both desktop and mobile devices.
Explore the site's different features, like the swatch zoom, which allows users to easily check out various color options for different products, or the sort options, allowing users to shop based on a product's popularity, price, and rating.
From T-shirts to jackets to hats, there are loads of quality apparel products featured for men, women, and children – all sponsored by Adidas.
With the start of the Winter 2018 Olympics right around the corner, now is the time to explore this brand new site for any USA Volleyball fans you may know!
FreshySites is a regionally-focused company with national reach and operations.
FreshySites is a fast-growing website design firm dedicated to creating beautiful websites, while consistently delivering best-in-industry customer service and support. Founded in 2011, FreshySites has quickly expanded into the largest in-house WordPress web design shop on the East Coast.
Our Washington D.C. office was founded in 2012 by Vincent Consumano. With additional offices, we have the team, resources and tools to serve our local – and national – clients through website mockups, creative briefs, revision rounds, and Search Engine Optimization audits. FreshySites is determined to take our regional clients' online presence to the next level, ultimately helping them to grow and thrive. Explore our website to learn more about us, see our portfolio of work and become a part of our client family today!