Restaurants
Top Stories
OCCOQUAN, Va. – The Blue Arbor Café has spent 10 years in Occoquan, and after all of that time the Keep Reading...
DUMFRIES, Va. – Since coming to the U.S. more than 15 years ago, owning his own restaurant is something Francesco Keep Reading...
LAKE RIDGE, Va. – A Mexican restaurant in Lake Ridge is under new management and has a new colorful way Keep Reading...
DAKS restaurant on Minnieville Road will close today.
The stone facade of the house and wooded surroundings denotes the uniqueness of the venue.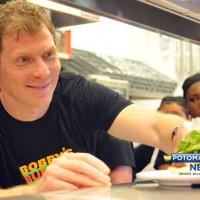 A long line circled the Potomac Mills parking lot Tuesday, waiting in anticipation for the opening of Bobby Flay's 15th Bobby's Burger Palace in Woodbridge.
The restaurants in and around Lake Ridge are tasty, and the organizers of the annual "Taste of Lake Ridge" want you to come out and take in what community has to offer.
When you hear "Jimmy the Greek" you may be picturing the renowned sports commentator, but instead think tasty and affordable authentic Greek dishes.