Lifestyle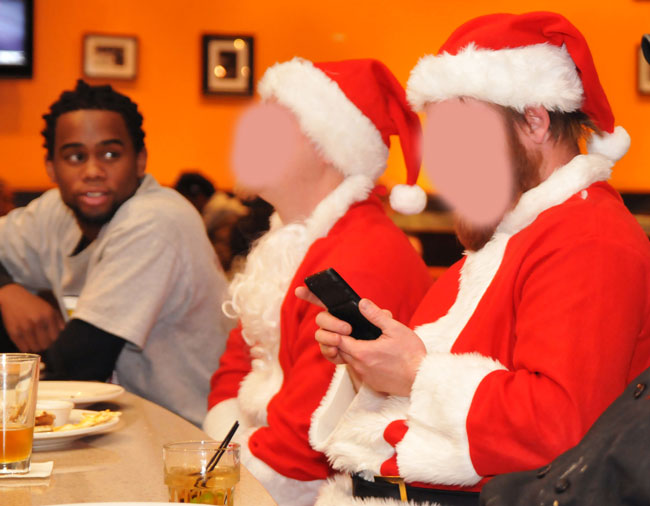 By URIAH KISER
Yes, Virginia, we've found the two most unjolly old elves in our area.
Their plan was to don a Santa suit and hat, meet at Brixx Wood Fired Pizza in Woodbridge, and later head over to nearby Occoquan and do a little bar hopping. The event was appropriately titled "Santa-Quan," and I got an invite to attend the shindig on Facebook.
I thought to myself, "what a fun and great idea to spread some joy around town while making a Christmas spectacle of yourself. This would make a great story for our site."
When I worked in TV news, a group of Santas would gather annually in Washington, walk around from bar to bar, and wish everyone a Merry Christmas. I was ever wrong to think that kind of urban cheer had made its way to Prince William County.
The Santa imposters (I'm told the real Santa Claus doesn't go out for a night of drinking and revelry so close to Christmas Eve) were going to gather in Woodbridge between 3 and 4 p.m. Our photographer, who always works well with people, met the men in red suits about 5 p.m.
There were just two of them, she said. Both were at a bar with drinks and they had apparently not been there that long. She greeted them and asked to take their photos for a fun story for this community news website.
What she got back was an unexpected, unjolly answer.
"We don't want to have our picture taken, and Santa doesn't talk to press," one replied.
OK, it's true, you don't have to talk to "press" if you don't want to (I had no idea that a meeting of red-suit wearing, beer drinking, santa imposters was such a secret affair).
But the whole part about not having your picture taken? Newsflash: you're out in public wearing a red Santa suit drinking alcohol. Chances are you're going to cause a stir, prompt some questions, and yes — whether you wanted them to or not — someone took out their cell phone and snapped a photo of you.
This could have been a great opportunity to showcase the Christmas spirit of those in our area and those who show it in a fun, and albeit unusual way. That didn't happen this time, so I guess we'll have to look to our neighbors in Washington who have no problem donning Santa suits and smiling for for cameras all in good fun.
Posted in: LifestylePrince WilliamWants You to Know