FREDERICKSBURG. Va. — The two major-party candidates in Virginia's 1st Congressional District wasted no time Monday night highlighting how they...
Keep Reading
More News »
Subscribe Now for Free!
Get
updates straight to your inbox.
Promoted Posts
Dr. Daniel Hampton at Sentara OrthoJoint Center at Sentara Northern Virginia Medical Center in Woodbridge reserves surgery as a last...
Keep Reading
Here are photos of Team Home Instead Senior Care of Manassas that participated in the Walk to End Alzheimer's in Manassas....
Keep Reading
Prince William County is home to many amazing historical sites, each with their own unique stories. Some of these stories...
Keep Reading
This is the third of six stories in our series that will examine the unique assignments within the Prince William County...
Keep Reading
After seven years in business, and having to turn away hundreds of tourists due to space limitations, the Manassas Junction...
Keep Reading
Diners in search of fast, novel, and delicious meals may soon have more choices as new rules enable food trucks...
Keep Reading
More Promoted Posts »
Submitted by the Virginia Lottery: 
It was the day after the July 22 Mega Millions drawing, and Kevin Young was online checking the winning numbers. If the Bristow man had looked carefully, he would have seen he'd matched all six numbers, but that didn't immediately happen.

Fortunately, he went back and rechecked. That's when the retired engineer realized all six of the numbers on his ticket matched.

This ticket was one of two nationwide to match all six numbers in that drawing, so those two tickets split the $15 million jackpot. The other ticket was bought in Georgia. The winning numbers were 8-24-25-26-30, and the Mega Ball number was 7.

Mr. Young bought the ticket at the 7-Eleven at 7489 Limestone Drive in Gainesville. On October 24, he returned to the store to receive his check from the Virginia Lottery. He had the choice of taking the full $7.5 million over 30 years or a one-time cash option of $5,140,507 before taxes. He chose the cash option. 7-Eleven received a $50,000 bonus from the Lottery for selling the winning ticket. This is Virginia's ninth Mega Millions jackpot win.

Mr. Young waited three months after the drawing to claim his prize. He said he used the time to meet with financial experts and make plans for his winnings.
Keeping Reading...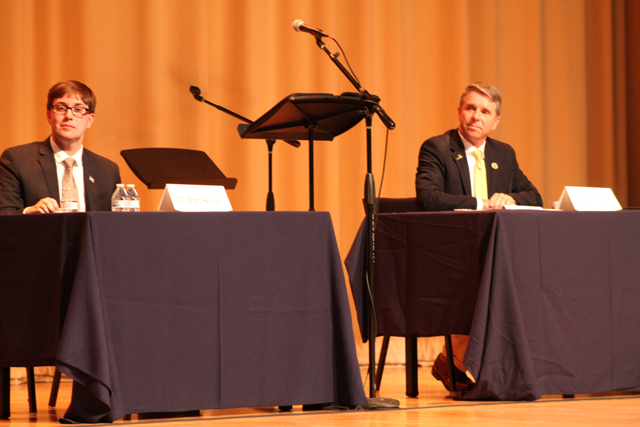 FREDERICKSBURG. Va. — The two major-party candidates in Virginia's 1st Congressional District wasted no time Monday night highlighting how they differ on the issues.
Robert J. Wittman, the incumbent Republican representing residents from Prince William County, Fredericksburg, to Williamsburg slammed the federal healthcare mandate calling for its repeal and replacement with a new program.
"I think the problems with Obamacare speak for themselves," said the Republican, just hours after double-digit increases were reported in insurance premiums for the coming year.
Increasing costs, increasing financial burdens on small businesses and the structure of the federal health care plan were all reasons Wittman said the measure must be repealed.
"Any time you have a [healthcare company] in charge you are not going to find a system that works in the best interest of the patient," he added.
Rowe was quick to fire back saying Republicans have taken ineffective, "symbolic" votes to repeal the federal healthcare mandate, but offered no acceptable replacement plan.
"Republicans say they are going to repeal and replace Obamacare. They've got the repeal side down pretty good," said Rowe "Symbolic votes to repeal healthcare won't get anything done."
Green Party Candidate Gail Parker was also on stage for the debate at The University of Mary Washington in Fredericksburg and said she would like to see a healthcare system that focused more on preventative and alternative measures so that fewer residents would rely on federal healthcare.
The audience inside Dodd Auditorium was partisan, with Democrats on one side and Republicans on the other. Each faction cheered when their candidate catered to their base. Rowe garnered applause when he called for a debt-free college education.
"I'm 35 years old and still paying student loans, on top of payments that we're making while we have three kids and paying a mortgage," said Rowe.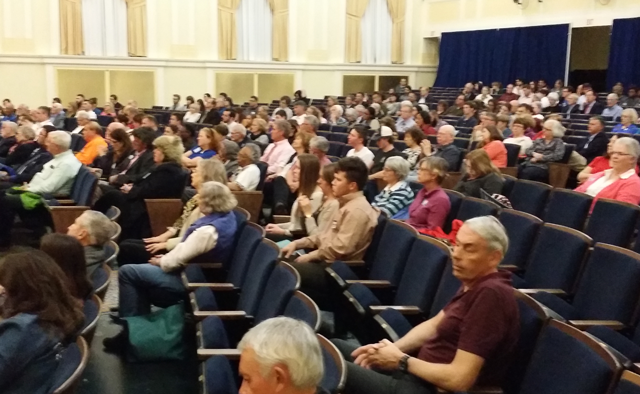 He also called for lowering the overall cost of tuition, and for schools to help students identify their options early on for entrances to a four-year college, a vocational school, or access to military service.
Wittman called for creating more courses aligned with the needs of businesses, and more online courses to reduce college costs.
"It can't be all bricks and mortar. That's the expensive part of it," he said.
Parker noted Green Party Presidential Candidate Jill Stein has advocated for giving students struggling to pay back college loan debt a bailout.
"Instead of a bailout for Wall Street, it's a bailout for students," she said. 
Parker also aligned herself with Donald Trump, who has called the federal election process "rigged" for Democrat Hillary Clinton.
"When you have four political parties, and only two are allowed in the debates, I have to agree with Mr. Trump," she said.
Wittman called for more oversight of voter fraud in the state, but "overall, is the system rigged? I don't think it is at that level." said Wittman.
Rowe quickly dismissed his voter fraud claims as GOP scare tactics. He also took Wittman — who said he doesn't agree with all of Donald Trump's statements — to task over his support of Donald Trump as the party's Presidential nominee, citing recent claims by multiple women of sexual abuse by the millionaire.
"I'd like to hear you talk more about what you don't agree with Trump about," Rowe told Wittman.
The Republican never directly engaged his opponents on stage and replied Trump is the nominee of his party and that he was chosen by a primary process.
"I have not asked my opponents to disagree with their nominee…Mr. Trump was chosen by the voters, and I think this election is about what the voters in the 1st District want," said Wittman.
Wittman seeks his fifth term in office. Elected in 2007, he's served as Mayor of Montross, and was elected to the Westmoreland County Board of Supervisors before serving in Congress. He will make a bid for Virginia Governor in 2017.
Rowe has served on the Bowling Green Town Council since 2015. He works as a mapmaker for the Stafford County Government.
Gail Parker spent 34 years as a federal employee, and 22 years as an Air Force Reservist. She's sought election to the 1st District seat multiple times, each time running on a platform of railroad expansion to spur economic development.
Keeping Reading...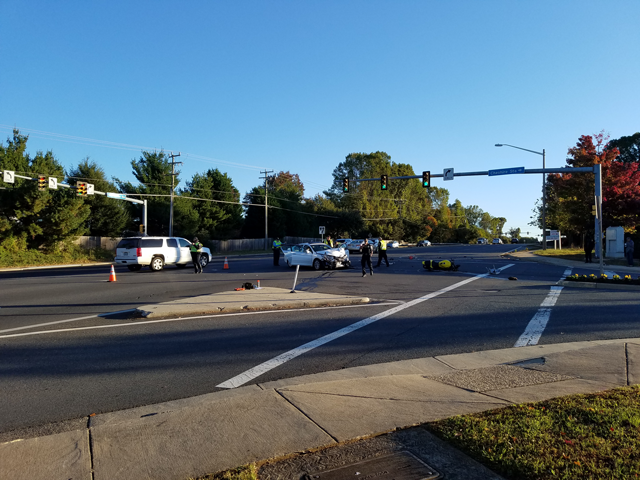 DALE CITY, Va. — A motorcycle and another vehicle were involved in a crash near the intersection of Minnieville Road and Dale Boulevard. 
Police closed multiple lanes Minnieville Road near Cheshire Station shopping center following the crash that occurred about 8 a.m. Tuesday. At least one person was taken to a hospital.
Traffic headed north on Minnieville Road was reduced to one lane about 8:15 a.m. 
Keeping Reading...
PRINCE WILLIAM COUNTY, Va. — A portion of Rugby Road is closed after fire crews were called to investigate an appliance fire. 
Crews were called to a home near the intersection of Rugby Road and Pine Street just after 8 a.m. for the report of a fire. Crews found a white haze inside a laundry room when they entered the house.
Fire crews asked police to close a portion of Rugby Road to traffic while they investigate the fire. 
Crews found a small fire inside a faulty water heater. 
No injuries have were reported.
Keeping Reading...
A contractor working in the area of Hope Road and Summerwood Drive struck a TV cable causing to fall onto the street. 
Stafford sheriff's deputies were called to the scene for traffic control about 3:15 p.m. 
Emergency crews from the county's fire and rescue service called for the owner of the line to be notified so reparis could be made.
Keeping Reading...
From Prince William police: 
Armed Robbery – On October 22 at 6:19PM, officers were advised of a robbery which was reported to have occurred in a room at the Best Western located at 14619 Potomac Mills Rd in Woodbridge (22192) on October 21 around 8:30PM. The victim, a 33-year-old man of Woodbridge, reported to police that he made arrangements to meet an unknown woman at the above hotel. When the woman arrived, she was accompanied by a female acquaintance. Once inside the room, the female acquaintance pulled out a "stun gun" type weapon and demanded the victim's property. The suspects took the victim's wallet, computer and money before fleeing. No injuries were reported.

Suspect Descriptions:

White female, between 20 & 25 years of age, 5'7", 150lbs with a medium build, light complexion and brown hair

Last seen wearing long, tan coat similar to a trench coat

               

Black female, unknown age, 5'10", 130lbs with a thin build and hazel eyes

No clothing description reported
Keeping Reading...
Connie Gilman said the Prince William County Public Library System is in better shape today than when she inherited it nearly 30 years ago.
Since 1990, the library system has opened four new branches, added programs for children and seniors, and has worked hard, so residents never ask the question: "do we need a library?"
Gilman spent the last month touring some of the county's 11 libraries to say goodbye to the people who she says she'll miss the most — library staff. Gilman will retire at the end of the month. Her last day is Monday, October 31.
Board of Supervisors Chairman At-large Corey Stewart recognized Gilman for her service to the county at a public meeting on Oct. 18.
"She's done a phenomenal job," said Stewart. 
Delegate Rich Anderson, his wife Occoquan District Supervisor Ruth Anderson, county executives, and staff attended a brunch in Gilman's honor earlier that morning,
Gilman leaves the library system on the heels of unprecedented expansion. Two new branch libraries — the Haymarket-Gainesville Community Library, and the Montclair Community Library — opened just weeks apart from each other last year.
The opening of the new centers came at a time when many jurisdictions across the U.S. are choosing not to open new libraries due to the proliferation of access to information on the web.
"I've heard 'lucky you' a lot from people across the state. [The opening of the new libraries] makes our library system look great across the Commonwealth of Virginia because we are growing, and the citizenry supports us, and that is something that other jurisdictions are envious of," explained Gilman.
The goal of the new libraries and all libraries in the county is to bridge gaps between the affluent and poor, to provide everyone access to the same information. Access to trusted sources of information — both in hardcover books and online — will continue to make libraries valuable no matter how many new websites are created, said Gilman.
She took the job as she was finishing her Ph.D. at UVA. Upon arriving at the library, Gilman said she made it her goal to develop employees and promote from within.
"I hired a part-time Sunday librarian, and then developed her into a branch administrator," explained Gilman. She went through the ranks and paid dues, while I mentored her, and I am very proud of her success."
She also developed the worked with the Virginia Library Association and developed a leadership program that held its first conference in 2010, and subsequent conferences in 2014, and again this year.
Gilman lives in Manassas and has been asked to serve on the city's Historic Resources Board after she retires. "That would be a good way to give back to my city," she said.
First, Gilman plans to travel to Topsail Island in North Carolina to spend time with family, and to spend time with her grandsons, ages four and six.
"I want to spend more time with them and be involved in their lives," she said.
Keeping Reading...
Fire and rescue crews found a small gas leak inside a building at the Youth for Tomorrow complex.
Fire crews were called to Hazel Circle just off Bristow Road in Bristow about noon on Monday. Crews reported smelling a slight odor of gas. They later found a small leak at a gas meter, according to initial reports.
Crews called Washington Gas to dispatch a work crew to fix the problem. Afterward, a majority of the firefighters called to the scene were released.
Keeping Reading...
PRINCE WILLIAM COUNTY, Va. — Prince William County Police Chief Barry Barnard will host the first in a series of community conversations in the county.
The first event to be held at Westgate Elementary School near Manassas will be an open forum where Barnard will answer question on any topic, according to the police department:
Chief Barry Barnard of the Prince William County Police Department will be hosting a "Conversation with the Chief" on Wednesday, October 26, 2016 at Westgate Elementary School located at 8031 Urbanna Road in Manassas starting at 7:00PM. We would like to extend an invitation to those who live in the community to come out and meet the new chief and engage in conversation. Chief Barnard will personally answer questions and discuss any topics of concern from community members and residents. The Police Department plans to hold additional community conversations at other locations across Prince William County in the future.
We asked 1st Sgt. Jonathan Perok about the upcoming series of community talks:
PL: Is this the first such event like this?
Perok: This is the first meeting the department is hosting; however, the Chief has attended and spoken with numerous other groups by invitation over the last year.
PL: Can you tell us what prompted the department to begin a series of these events? The Chief remains committed to community engagement and wants to continue having and building upon meetings with the community to discuss issues.
Perok: The Chief remains committed to community engagement and wants to continue having and building upon meetings with the community to discuss issues.
PL: Any specific dates / times / locations on any future events in the series?
Perok: Not at this time. The plan is to host them at varying locations across the county so that it's geographically convenient for community members to attend.
PL: It is envisioned that each event will be an open forum, or will each event focus on a specific topic relative to the area in which the event is held? It will depend on the location and audience participation. The Chief may open with a topic and defer to the audience for further conversation. These events are going to be somewhat informal.
Perok: It will depend on the location and audience participation. The Chief may open with a topic and defer to the audience for further conversation. These events are going to be somewhat informal.
Keeping Reading...
Frank Jones  is seeking another term as Mayor of Manassas Park. It's a seat he's held for the past 12 years. 
He's running against Jeanette Rishell, who has served on the Manassas Park Governing Body.
We sent a questionnaire to Jones and Rishell. Jones' responses are below: 
PL: What are the top three major issues facing Manassas residents?

Jones: The city must diversify its tax base. This is the single biggest issue facing our city, as all we do is based upon available tax revenue. Our schools, police, fire, and public works department depend on city resources to accomplish their respective missions.

PL: What concrete solutions do you propose to address these issues?
Jones: Smart development. The city should engage the business community to develop available real estate in the city in such a way that increases and diversifies our tax base, while not increasing demand for city services. This is action the city is already undertaking. The city has a great opportunity to work with private industry to develop the land into both commercial property and age-restricted housing, neither of which increase demand on our school system, our single biggest city expense, while both increase tax revenue.
PL: From your perspective, what is the job description of the office you're seeking?

Jones: The Mayor is first and foremost the city and all its departments' leadership in and out of Manassas Park. In addition to that, the Mayor is to be an advocate and ambassador for the city when working with other locales, state and federal officials.

PL: What expertise will you bring to the office?

Jones: I have over 25 years experience serving Manassas Park residents. In addition to my service in the U.S. Navy and as the current Mayor I have served in a variety of positions: Member and former Chairman of Manassas Park School Board Vice-Chairman of the Potomac and Rappahannock Transportation Committee Member of Flory Center Small Business Council Commissioner on Northern Virginia Regional Commission Human Resources and Facilities Director for a Defense Agency with offices across the nation.
PL: Do you feel that the average citizen is well informed and understands the workings of city government? If not, how do you intend on improving communication with your constituency? 
Jones: I think most citizens Local government affects our daily lives more than any other level of government. I think it crucial citizens take an active interest in what local government is doing. We have made the business of the Governing Body, as well as our school system, public works, and public safety as accessible as possible via the internet, cable TV, and social media. In addition to this, I have recently tried several telephone town halls, where citizens can get a brief city update from me, as well as ask questions and voice concerns. As we have seen a good response to these, I plan to hold more of these in the future.
PL: Have you ever made any mistakes in your public life? How have they affected you?
Jones: Yes, I have made mistakes. Each created a learning opportunity and an experience to improve personally moving forward.
PL: Our readers want leaders in local government. Why should they vote for you?
Jones: I have three things to offer Manassas Park: a record, a plan, and a vision for the city. During my tenure as Mayor, I led the city through the toughest economic period in the city's history. On my watch, the city's credit rating was upgraded from "BBB" to "A+" and city valuation has increased over $330 million in the last four years.
I led the efforts to rebuild our crumbling schools, community center, police and fire stations. Through our work, our city's first responders have some of the best facilities, vehicles, equipment, and training of any other jurisdiction in Northern Virginia; our state of the art police station is the envy of other departments in Virginia. Through all of this, we have made our city the 7th safest in the Commonwealth. We not only have a safe city to raise our children, but we have great schools to educate them. 
Now, I will tell you I didn't do any of this by myself, but rather by bringing people together to achieve a common goal. Leadership is the ability to work across political divides, personalities, and differing viewpoints to get the job done–this is the kind of leadership I offer Manassas Park.
Keeping Reading...