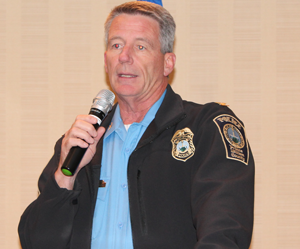 Two murders back to back, less than a week apart, has some Prince William County residents talking about safety.
On Nov. 10, a Woodbridge Senior High School student was shot and killed on a walking path just outside the school. Police said the victim was killed in a drug-related robbery. Five people, including a 16-year-old girl, were arrested and charged in connection to Williams' death.
In the early hours of Nov. 16, Christopher Nathaniel Weaver, 19, and a 15-year-old boy were shot in Dale City. Both were taken to a hospital where Weaver died, and a 15-year-old suffered injuries that did not appear to be life threatening.
One shooting suspect was arrested the following day in Arlington, and the second was taken into custody last night in Manassas.
The two shootings were not related.
In an interview with Potomac Local, Prince William Police Department Chief Stephan Hudson says the county has seen some troubling incidents in recent days, but says crime in the community continues to be at historically low levels.
"Even with two recent murders that have occurred within five or six days of each other, we still are at a total of six murders for the entire year. Historically, over the past 30 plus years, [the number of] our murders vary every single year. They've gone from lows of one and two to a high of 16. So, I am not overly concerned that this represents some kind of a trend that we need to be concerned about," said Hudson.
Statistically, Prince William is on par with having the same number of murders this year as last. A total of 16 people were murdered in Prince William in 2006, and 12 people were murder in the county in 2008. Those two years, out of the past 10, saw the most murders in the county.
The department's policy of directing a massive amount of resources to the county's most violent crimes immediately after they occur is what helped detectives to quickly track down suspects in the two most recent murders.
"The department has worked exceeding hard, and the folks in our criminal investigations division, as well as many others, have worked tireless hours to try and make sure we resolve these cases quickly. One of our primary focuses is on serious violent crimes is that we pour every resource on to those as quickly as we possibly can to make sure we bring those responsible to justice," said Hudson.
The police department is "always recruiting," said Hudson. The budget passed by county leaders this year funds hiring 25 new police officers. A new cadet class will begin in January.
"Up until the crash in the real estate market, we had a staffing plan of adding 25 new officers every year going back to the late 90s. We've always been in the hiring mode. As the county continues to grow and as the population continues to explode around us, the department needs to grow to keep pace with that," said Hudson.
Will adding more officers continue to keep crime low?
"Absolutely. We feel that being able to add more officers to the force and more officers onto the street, we're going to be able to keep this community safe. If we are not able to keep pace with population growth, I would be concerned about the impact that could create, however, if we are able to maintain the staffing plan of being able to add 20 to 25 officers per year, on top of our current contingent of staff, I'm confident we will continue to maintain a safe community as we have been doing," said Hudson.
Hudson recently returned to the U.S. after attending terrorism training in Israel.
Posted in: Crime Dale City Dumfries Gainesville Haymarket Lake Ridge NewsOccoquanWoodbridge
Traffic on a portion of Route 1 in Woodbridge will shift on Friday morning, said Prince William County Director of Keep Reading...
Posted in: News