From police: Murder Investigation *ARREST – On December 2, members of the U.S. Marshal led Capital Area Regional Fugitive Task...
Keep Reading
More News »
Subscribe Now for Free!
Get
updates straight to your inbox.
Promoted Posts
The Christmas spirit is alive and well in Manassas, as the town gears up for its annual festivities to be...
Keep Reading
This is the fourth of six stories in our series that will examine the unique assignments within the Prince William County...
Keep Reading
The first Saturday of December will be something special, as it has been for the past 70 years: Crowds will...
Keep Reading
The bright red, orange, and yellow leaves are falling off the trees, and the days are growing shorter and shorter....
Keep Reading
Karlene Matthes leads an active life. A personal trainer and massage therapist, she teaches boxing, cardio kickboxing and is committed...
Keep Reading
As you begin planning for your corporate holiday party, you ask yourself several questions: Will there be a dress code?...
Keep Reading
More Promoted Posts »
From police:
Murder Investigation *ARREST – On December 2, members of the U.S. Marshal led Capital Area Regional Fugitive Task Force arrested the suspect involved in the murder of Cordrey Douglas Jackson which occurred at the Food Lion located at 6306 Hoadly Rd in [near Dale City] on November 29. The suspect, Roberta Edlina BRANDON, was located at a residence on Addison Rd in Capitol Heights, Maryland where she was arrested without incident. The accused will remain in custody in Maryland until extradited back to Virginia.

Arrested on December 2: [No photo available]

Roberta Edlina BRANDON, 23, of the 2800 block of Bixley Hill Ct in Woodbridge

Charged with murder and use of a firearm in commission of a felony

Court Date: Pending | Status: Awaiting Extradition
Keeping Reading...
From: United States Attorney Dana J. Boente, Eastern District of Virginia
"Francis Joseph Douglas, 33, of Dumfries, was sentenced today to 120 months in prison for conspiracy to distribute 500 grams or more of cocaine and the use and carry of a firearm during a drug trafficking crime.

Douglas pleaded guilty on September 7. According to court documents, Douglas sold cocaine from October 2014 until his initial arrest in August 2015. During this time, Douglas made bi-weekly trips to New York to obtain between $5,000 and $8,000 worth of cocaine, which Douglas redistributed in Prince William County. While distributing cocaine, Douglas was regularly armed with a Glock .40 caliber pistol with an extended magazine. Further, despite being convicted of multiple felonies, Douglas aided and abetted his wife in providing false statements during the purchase of four firearms for him, including an AK-47 and AR-15 rifle. On Nov. 12, 2015, Douglas also aided and abetted McGary Dean Williams in providing false statements during the purchase of two firearms from a federal firearms dealer located in Woodbridge."
Keeping Reading...
From police:
Murder Investigation *ARRESTS – On December 1, detectives from the Homicide Unit identified the suspects involved in the murder of Jose Moises GARCIA FLORES which occurred in the on October 8. The preliminary investigation into the incident alleged that the suspects, identified as Robert Ellis ROBINSON and Terrell Lejuan HARRIS, attempted to rob the victim. During the encounter, the victim was shot and killed. The victim and the suspects were not known to one another. Following the investigation, detectives obtained warrants for ROBINSON and HARRIS. Both suspects were previously in custody at the Adult Detention Center on unrelated charges.

Arrested on December 1:

Robert Ellis ROBINSON, 47, of 1055 Gardenview Lp, Apt 204, in Woodbridge

Terrell Lejuan HARRIS, 21, of 1312 Bayside Ave #12 in Woodbridge [No Photo Available]

Both were charged with murder and use of a firearm in commission of a felony

Court Date: January 23, 2017 | Bond: Held WITHOUT Bond
Keeping Reading...
Do you have a pothole on your street that has been ignored for some time? How about a dirty playground in your neighborhood that is no longer a safe place for children to play?
Maybe you have some good news, like an amazing friend who organized as successful neighborhood watch program. Or, maybe you have a teacher who went the extra mile to help her students learn.
These are all great stories, and I want to hear about them, and any others you want to share.
I'll be at the One Degree Room in Occoquan on Tuesday, December 6, from 10 a.m. to noon. Sit down, grab a cup of coffee, and chat with me about whatever is going on in your neighborhood.
As your community news publisher, I'll be sure to listen to your story ideas, compliments, complaints, and constructive criticism.
There's no charge to meet with me, so come over and grab the publisher's ear.
The One Degree Room is located at 204 Commerce Street in Occoquan, on the lower level of the One Degree Capital building.
Keeping Reading...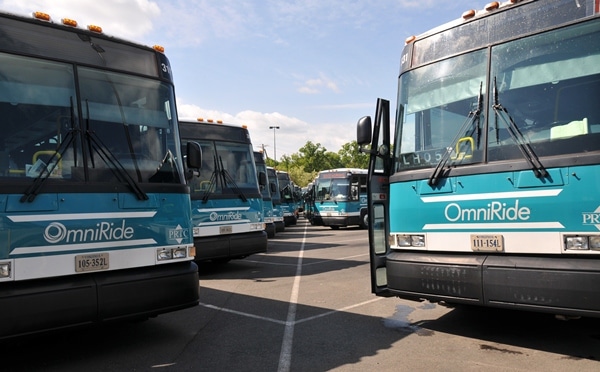 GAINESVILLE, Va. — The state will fund a new bus route for commuters in Gainesville.
From PRTC:
"A new state-funded commuter bus route linking Gainesville directly with the Pentagon will start operating on Monday, December 12, encouraging western Prince William County residents to share their commutes as plans proceed to build Express Lanes on I- 66.

The new Gainesville-Pentagon OmniRide route will be offered by the Potomac and Rappahannock Transportation Commission (PRTC), which provides commuter and local bus services and encourages ridesharing in Prince William County and the Cities of Manassas and Manassas Park. All funding for the new route is being provided by the Northern Virginia Transportation Commission (NVTC) as part of its efforts to move more people and reduce traffic congestion on I-66 Inside the Beltway.

Also starting on December 12, PRTC's existing Manassas OmniRide commuter bus service will be split into two separate routes – one serving Washington, D.C., and the other serving the Pentagon. The split will benefit all Manassas OmniRide passengers by providing:

— More reliable on-time performance;

— Shorter travel times to and from D.C.;

— Increased rider capacity without higher operating costs; and

— A better chance of having a seat on afternoon/evening trips leaving the Pentagon because buses will be starting the route at that point.

In addition, the Manassas-Washington route will offer service to a new destination: L'Enfant Plaza.

PRTC updates its schedules twice annually to reflect current running times and changes in routing. Once the December 12 service change takes effect, PRTC will have a total of 18 commuter bus routes and seven local bus routes in the Prince William County area. Updated maps and timetables for all PRTC routes will be available in early December.'
Keeping Reading...
HAYMARKET, Va. — State transportation officials want you to know how to use the new diverging diamond interchange opening this month. 
From VDOT:
The Virginia Department of Transportation invites local residents and drivers to attend one of two upcoming meetings to learn about the opening of northern Virginia's first Diverging Diamond Interchange (DDI) at Interstate 66 and Route 15.

Wednesday, Dec. 7 and Tuesday, Dec.13 – Bull Run Middle School cafeteria, 6308 Catharpin Road, Gainesville, VA. Both meetings start at 6:30 p.m. and feature a brief presentation at 7 p.m. and an interactive DDI walk-through.

Although construction on the overall project is ongoing until summer 2017, the new DDI alignment is scheduled to open on Saturday, Dec. 17, weather permitting. The interchange will be closed the night before for final lane striping.

The DDI's innovative bow-tie design shifts vehicles to the opposite side of the road and eliminates left turns that cross oncoming traffic. Two-phase traffic signals at each end of the interchange reduce time spent at red lights and move twice the number of vehicles as a traditional diamond interchange. VDOT recently completed its first two DDIs in Louisa and Roanoke, and has two more in the works in Blacksburg and Stafford.
Keeping Reading...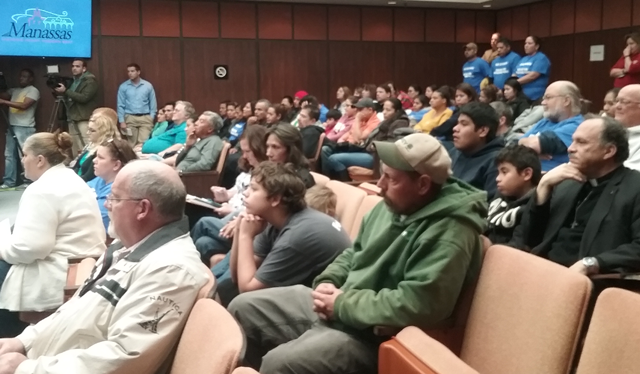 MANASSAS, Va. — February 28 looms large for residents of the East End Mobile Home Park.
That's the date a property management firm which manages the park told them to be out of the homes. Afterward, the Manassas City is on track to forward with a deal to purchase the property for $1.9 million.
That would leave some families in about 58 trailers homeless and city residents the proud owners of a property where, since at least 2008, raw sewage has been seeping up from a failed sewer system. Multiple orders from the city to repair the system since 2008 and bring it into compliance have went ignored by the property owner Tim Cope.
If the sale goes to closing, Cope must see that all residents are gone, and all trailers removed before any money changes hands. Repairs could cost as much as $700,000, and that's money Cope doesn't have, according to multiple sources familiar with the city's proposal to buy the land.
Cope, nor the firm that manages the property Platinum Property Managment, spoke during a citizen comment time during a City Council meeting Monday night. Many residents of the trailer park, which sits near the intersection of Liberia Avenue and Route 28, did speak out.
Melissa Watson told city leaders that it would be difficult to move her and her family out of the only home they've known for the past 14 years, in the dead of winter, in the middle of her son's school year.
"Moving in February will have an impact on his education and his SOL scores," she said. "There's a real possibility that many of our neighbors will become homeless, and many of us will not be able to reside in Manassas City once we leave because there is not enough affordable housing."
City leaders are concerned about the health and safety of those living a trailer park with a failed sewer system. They're also concerned that sewage is mixing with storm water which is treated and sent back to city residents for use.
Another city leader, Councilman Marc Aveni who voted against the deal to purchase the park, is concerned that the city is now involved in a firestorm of controversy surrounding the park. Aveni said the city should not become, as some have suggested, a landlord by purchasing the property and letting residents stay beyond February, and perhaps until the problem is fixed.
He does suggest other options.
"The city could cancel the deal… we're not the owners yet. We could work with the owner, and find out what repairs need to be made? Then we could work with different groups to make the repairs," said Aveni. "But no one is talking about them. Everyone is saying 'just get out."
John Steinbach has worked with groups to help people living in trailers. When the Holly Acres Mobile Home Park flooded in 2011, his Woodbridge Workers Committee secured nearly $1 million in state and federal grants to help residents afford repairs to their trailers and to purchase new appliances from HH Gregg.
Some of those grants were leftover monies awarded to the state following an earthquake in August of that year which shook Virginia and the rest of the east coast. It's unlikely that similar grants will be available for East End Mobile Home Park residents, Steinbach said.
Residents were notified in August that they would need to vacate their properties by the end of February. In the end, some residents plead with city leaders for more time while others said their mobile homes are in such poor condition they could not be moved, which is a violation of city zoning laws that require mobile homes must retain the ability to be moved.
Keeping Reading...
An 18-year-old man was stabbed outside a 7-Eleven store near Dumfries on Sunday.
From police: 
Malicious Wounding | Stabbing Investigation [Previously Released] – On November 27 at 8:00PM, officers responded to the 7-Eleven located at 16806 Jefferson Davis Hwy in Dumfries (22026) to investigate a stabbing. The investigation revealed that the victim, identified as an 18-year-old man of Dumfries, was involved in a verbal altercation with several unknown men in the parking lot of the 7-Eleven. During the encounter, the victim was stabbed. The suspects fled the area and the police were contacted. The victim was flown to an area hospital with life threatening injuries and is expected to survive. This incident does not appear to be random. The investigation continues.
Two days later, police arrested a 17-year-old girl, an 18-year-old man, and a 53-year-old man in connection to the case: 
Malicious Wounding | Stabbing Investigation *ARRESTS – On November 29, detectives from the Robbery Unit, Gang Unit, and officers from the School Resource Unit identified four of the suspects involved in the stabbing which occurred in the 7-Eleven parking lot located at 16806 Jefferson Davis Hwy in Dumfries on November 27. Following the investigation, detectives obtained warrants for the arrest of these suspects. A search warrant was subsequently executed at 3417 Belleplain Ct where three of the suspects were apprehended without incident. A knife was recovered. 

 

Kevin HOWARD, 53, of 2513 Pembrook Ct in Woodbridge

Raekwon Malik BRYANT, 18, of 3417 Belleplain Ct in Dumfries [No Photo Available]

Charged with malicious wounding by mob

Court Date: January 17, 2017 | Bond: Held WITHOUT Bond

 

A 17-year-old female juvenile of Dumfries [Juvenile]

Charged with malicious wounding by mob

Court Date: Pending | Bond: Held at the Juvenile Detention Center
Today, police arrested a third suspect in the case, 19-year-old Darrlye Clemons.
Malicious Wounding | Stabbing Investigation *ADDITIONAL ARREST – On November 29, detectives from the Street Crimes Unit located and arrested the fourth suspect, identified as Darrlye Amontae CLEMONS, who was wanted in connection to a stabbing which occurred in the 7-Eleven parking lot located at 16806 Jefferson Davis Hwy in Dumfries on November 27. CLEMONS was arrested later that evening while leaving his residence in Dumfries.

Arrested on November 29: [No Photo Available]

Darrlye Amontae CLEMONS, 19, of 3385 Vineland Pl in Dumfries

Charged with malicious wounding by mob

Court Date: January 17, 2017 | Bond: Held WITHOUT Bond
Keeping Reading...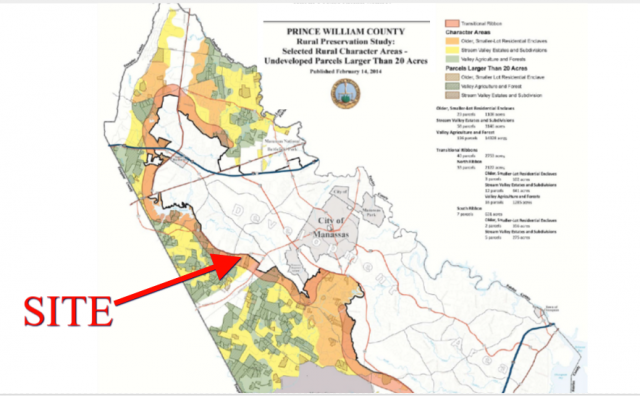 BRISTOW, Va. — A decision to support or deny the construction of a mosque in Bristow could be made on December 7.
The Prince William County Planning Commission deferred a decision on the All Dulles Area Muslim Society's (ADAMS) proposal to build a 22,000 square foot mosque at the corner of Vint Hill Road and Schaeffer Lane.
If built, the mosque would sit inside the coveted Rural Crescent — land set aside for preservation. County leaders have allowed other churches to be built inside the preservation area.
The ADAMS mosque would be located in the Brenstville Magisterial District. Brentsville District Supervisor Jeanine Lawson had this to say about the proposed mosque:
"I have concerns about the ADAMS proposal as did my predecessor, Supervisor Covington. The Vint Hill Road site is particularly challenging for a religious institution of this size. The transportation impacts to the local community, and the request for public sewer in the Rural Crescent makes support of the application even more challenging. In my initial meeting with the ADAMS representatives last year, I encouraged them to look for land in the development area where they would not face as many obstacles. As a strong defender of the rural area, the fact that they have chosen to proceed to pursue the Schaeffer location is disappointing."
Editor's note: We contacted ADAMS Center on Saturday for a comment for this post. We'll add to the post once we have it. 
Keeping Reading...