Subscribe Now for Free!
Get
updates straight to your inbox.
More News
How many ways can you tell your mother how much she means to you and pamper her at the same time? It is not as hard as you may think. All you need to do is to enter your mom in the Manassas Park Community Center (MPCC) Mother's Day Makeover Contest! The winning mother will receive the following gifts and services:
•Transportation to participating vendors courtesy of Yellow Cab Company
•Expert hair styling by Jaisyn Markley at PR at Partners
•Expert makeup by Niki Kalfamanolis at PR at Partners
•Manicure and pedicure from Pretty Nails in Manassas Park
•A clothing item of her choice from DeeDee of LulaRoe
•A balloon sculpture from Nani's
•Flowers by Montejo's Florist
•Digital photos from Carol Fleurette Photography
•A catered meal from Heart 2 Heart Catering
•Cookies from Bijou's Sweet Treats
•A jewelry item of her choice from Lisa Briones of Paparazzi
•A gift basket by Lisa Marie
•3 free months of membership toward an annual membership at the Manassas Park Community Center
Each of these generous business owners is donating either their time or their products to help the Manassas Park Community Center (MPCC) staff truly make your mother feel extra special this Mother's Day!
Then on May 13, from 12:30 pm. – 2 p.m., join us for the big reveal and the announcement of the contest winner at the MPCC! There will be fun for everyone and activities for the kids!
There will also be a photo booth! For $5 per photo, you can capture a great photo of mom and her family. Then, after you have your photo taken at the photo booth, you can decorate a free picture frame! What a great complement to that photo booth portrait!
The kids will love the clowns Safari Bingo and Sweet Pickle the Ballonatic Clown as they make giant bubbles, create balloon figures, and play with puppets! Kids can have their faces painted by Elaine Jenkins of Dabbledy Doo, and can make a free Mother's Day card at our cardmaking station!
Keeping Reading...
We first tipped you last week that U.S. Education Secretary Betsy Devos will visit a Prince William County Public School on Tuesday.
Today, we learn that school is Ashland Elementary near Manassas, located at 15300 Bowman's Folly Drive.
Here's more in a statement from Prince William County Public Schools:
U.S. Education Secretary of Education Betsy DeVos will tour Prince William County Public Schools' Ashland Elementary to see the amazing work being done to educate every child, and especially to aid military-connected families during this "Month of the Military Child."
"A tour by Principal Andy Jacks will allow the Secretary to join in classroom activities with teachers and students. The Secretary will also meet with military-connected students, parents, and staff members to learn of the outstanding ongoing efforts to serve this important part of the Ashland Elementary community."
The tour is expected to last between 9:30 and 11 a.m. A total of 830 children attend Ashland Elementary School.
Keeping Reading...
Sponsored Posts
From Prince William police:
Indecent Exposure – On April 22 at 8:00AM, officers responded to the area of Rippon Blvd and Old Coach Rd in Woodbridge (22191) to investigate an indecent exposure. The victim, a 63-year-old woman of Woodbridge, reported to police that she was walking her dog in the above area when she observed an unknown man standing in a nearby wood line exposing himself and making an obscene gesture. The suspect then followed the victim as she walked back toward her residence. The suspect eventually fled area and was not located by responding officers. No physical or verbal contact was made between the two parties. The investigation continues.
Suspect Description:
Black male, approximately 35 years of age, 5'11", 150lbs with a thin build and a dark complexion
Last seen wearing a dark blue hoodie, jean shorts, and construction boots
Keeping Reading...
From Prince William police:
Fatal Crash Investigation – On April 11 at 5:54AM, investigators from the Crash Investigation Unit responded the 7500 block of Centreville Rd in Manassas (20111) to investigate a two vehicle crash involving a motorcycle. The investigation revealed that the driver of a 2015 Jeep Patriot was traveling northbound in the center shared turning lane on Centreville Rd in the above area when he collided head-on with the operator of a 2003 Yamaha XVS1100 who was stopped southbound in the center lane attempting a left turn into a local business.
The operator of the Yamaha SVS1100 was transported to an area hospital where he died as a result of his injuries on April 23. The driver of the 2015 Jeep Patriot was also transported to a local hospital with minor injuries. Speed, alcohol and drugs are not factors in this crash. The victim was wearing a helmet at the time of the crash. Charges are pending. The investigation continues.
Identified:
The driver of the 2003 Yamaha XVS1100 motorcycle was identified Timothy Warren FLEMING, 55, of Manassas.
The driver of the 2015 Jeep Patriot was identified was identified as 40-year-old man of Manassas.
Keeping Reading...
Every Obituary in Prince William County by:

Cecelia Kathryn Rauss, age 95, of Manassas, VA passed away Friday, April 21, 2017 at her home.
She was born on December 18, 1921 in Jersey City, NJ the daughter of the late Ignatius and Sofi (Tomaszewski) Kwiatkowski. She is preceded in death by her husband, Arnold Rauss, and five siblings Helen Zaccardi, Jean Jados, Stella Kwiatkowski, Adam Kay and Ted Kay.
Survivors include her children, Arthur Rauss and partner Matthew Frie of Philadelphia, PA and Carol Butler and husband Ardell of Manassas, VA; two grandchildren, Matthew Butler and partner Anna Shwedel of New York, NY and Elisabeth Butler of Manassas VA.
The family will receive friends from 4:00-8:00PM Thursday, April 27, 2017 at Pierce Funeral Home, 9609 Center Street, Manassas, VA a second visitation will be held on Friday, April 28, 2017 at Sacred Heart Catholic Church, 12975 Purcell Rd, Manassas, VA from 10:00 AM -11:00 AM with a Mass of Christian Burial following at 11:00 AM. Interment will be held Saturday, April 29, 2017 at 10:00 AM at Gate of Heaven Cemetery, 13801 Georgia Ave., Silver Spring, MD.
In lieu of flowers, the family asks that donations to be made to St. Jude Children's Research Hospital or the Catholic Charities.
Keeping Reading...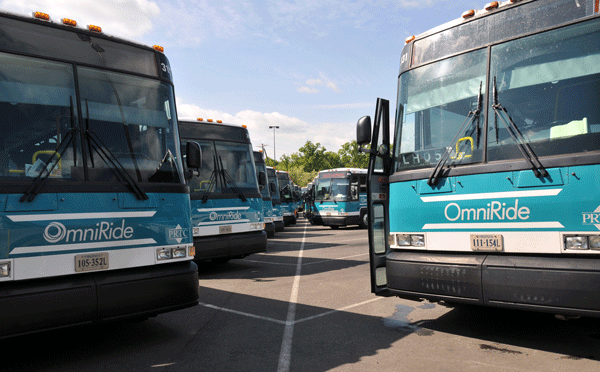 From PRTC:
This is a reminder that PRTC has scheduled two public hearings to present its proposed FY 2018 budget in the amount of $60,252,600 and invite public review/comment. The proposed FY 2018 budget has virtually no locally-funded service expansion except for state-sponsored services associated with the I-95/395 and I-66 transit/TDM plans. The proposed budget also calls for a fare increase, as detailed in the budget presentation.
PRTC is the federal grant applicant for federally participating projects that PRTC and Virginia Railway Express envision applying for in FY 2018. Public comment is invited on all those projects as proposed.
Public Hearings are scheduled at 7:00 PM as follows, with question/answer periods thereafter:
Monday, April 24, 2017
PRTC Transit Center
14700 Potomac Mills Road
Woodbridge, VA 22192
Wednesday, April 26, 2017
Manassas City Hall
9027 Center St.
Manassas, VA 20110
The budget presentation is available for viewing and download. Print copies are available upon request by emailing publichearing@omniride.com. Comments may be made in person at one of the Public Hearings, via email (to publichearing@omniride.com), or in writing no later than May 1, 2017. Comments in writing that are not furnished at one of the Public Hearings should be directed to:
PRTC Attn: Public Hearing
14700 Potomac Mills Road
Woodbridge, VA 22192
Keeping Reading...
United Bank today completed the acquisition of Cardinal Bank, rebranding multiple Cardinal Bank branches in our region to include Manassas, Woodbridge, and Stafford.
From a press release:
United Bankshares, Inc. ("United") (NASDAQ: UBSI) announced the completion of its acquisition of Cardinal Financial Corporation ("Cardinal"), a financial services holding company, with $4.3 billion in assets, headquartered in Tysons Corner, Virginia. This transaction marks the 31st acquisition United has completed under the current administration and the tenth acquisition in the D.C. Metro region.
Today, United Bank, United's Virginia chartered bank, added 22 newly acquired banking locations to its Greater Washington footprint. United Bank is the largest locally headquartered community bank and holds the #1 deposit market share among community banks in the Washington, D.C. MSA. In addition, United welcomed George Mason Mortgage, LLC, the largest locally headquartered home mortgage lender in the D.C. Metro region, to its family of companies.
United now has over $19 billion in assets with 145 full-service offices in Virginia, West Virginia, Pennsylvania, Maryland, Ohio, and Washington, D.C. United is the 38th largest banking company in the country based on market capitalization. In 2016, United increased dividends to shareholders for the 43rd consecutive year. This is a record only one other major banking company in the nation has been able to achieve. For more information, visit www.ubsi-inc.com.
Keeping Reading...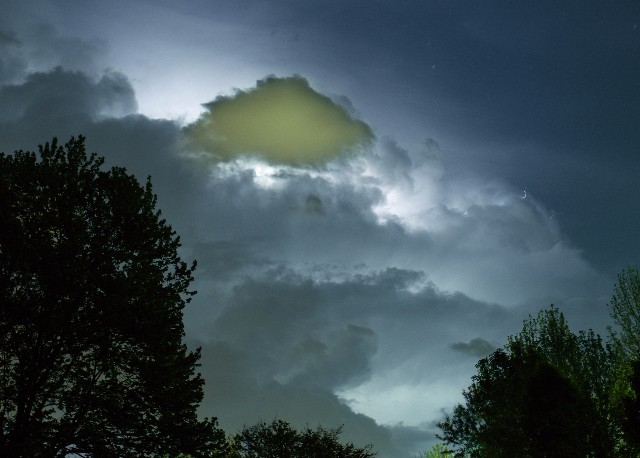 After thunderstorms rolled through our region Friday night, there was quite the light show.
This photo was taken of storm cloud packed with lightning over North Stafford at 11:50 p.m., long after the thunderstorms that fired up earlier in the afternoon had rolled out.
The storms were not severe enough to produce major damage in our region, but storms intensified by the time they reached Virginia's Northern Neck Penninsula.
The town of Colonial Beach on the Potomac River sustained $1 million in damage after a storm wreaked havoc on the small town. A curfew was set up to stop people from walking or driving into the most damaged areas of the small town.
There's more rain in store for our areas as forecasters at the National Weather Service say 1 to 2 inches of rain is possible Monday and Tuesday. However, the storms are not forecasted to be severe.
It's been a busy weather month so far this April as seven tornadoes touched down Virginia and Washington, D.C. April 7. A rarity for Washington, one of the tornadoes hit Arlington before crossing the Potomac River and blowing a roof off of a church.
Do you have photos to share? Post them to our Flickr page.
Keeping Reading...
WOODBRIDGE, Va. — Power lines along Route 1 in Woodbridge are coming down.
A portion of the highway between Mary's Way and Occoquan Road is being widened to six lanes. The utilities that used to run above ground are being buried as part of the project.
There's also a lot more happening here during this $168 million effort.
"The project is continuing to install underground utilities, water, sewer, and drainages pipes and structures. This phase will continue for several months. In addition, retaining walls and stage 1 of the new bridge are underway," said VDOT spokeswoman Ellen Kamilakis.
The project began about a year ago and is expected to wrap up in fall 2019. When it's finished, here's a full list of improvements VDOT says drivers can expect to see:
–Enhanced access to the Woodbridge VRE kiss-and-ride facility
–A new Route 1 bridge at Marumsco Creek
–Improvements to Occoquan Road, including a median and turn lanes from U.S. 1 to south of Horner Road
–Additional through and turn lanes on Route 1 and Occoquan Road to improve traffic operations
–A ten-foot shared-use path and six-foot sidewalk
–Demolition of several vacant buildings along the corridor
Route 1 currently carries about 35,000 vehicles per day and will carry 75,000 by 2036, according to VDOT.
It cost about $12 million to bury the utility lines for the project. That's money Prince William County leaders ultimately approved in 2015.
But it wasn't without a fight. Originally approved in 2013 by the Prince William County Board of Supervisors, two members of the Board — Peter Candland, of Gainesville and Jeanine Lawson, of Nokesville — attempted to get the Board to reverse its decision.
At the time, Candland argued the money could have been better spent on the county's school division.
Keeping Reading...
Every Obituary in Prince William County by:

Patricia Ann Paul, age 75, passed away peacefully on April 21, 2017 at Mary Washington Hospital in Fredericksburg, VA.
She was born on June 16, 1941 in St. Albans, West Virginia to the late Earl E. Cundiff, Sr. and Macil Emma (Pring) Cundiff. Patricia enjoyed the simple things in life; playing BINGO and going to the Charlestown Casinos. She also enjoyed cooking, reading books, puzzles, flowers, tending to her bird feeders, watching her Humming birds and gardening. Her day wasn't complete if she hadn't watched "The Wheel" or fed "one eyed Pete" her special squirrel.
She is predeceased by her parents and her sister: Earla Elaine Cundiff and her husband, Clifford L. Paul Sr.
Survivors include her son: Clifford Paul, Jr. of Fredericksburg, VA; daughter: Christina Jarrett; two brothers: Mickey Cundiff of Fredericksburg, VA and Earl Cundiff, Jr. of Manassas, VA; two sisters: Gloria Walker and husband Quinton of Front Royal, VA and Sue Paulson of Manassas, VA; a special niece Valerie Luevano and husband Javier,who was more of a daughter, her beloved GrandPups: LuLu and Sugar; and numerous other special nieces, nephews and extended family who simply called her "Mom or Nana Pat.
Funeral services will be held at 12:00 Noon on Thursday, April 27, 2017 at Pierce Funeral Home, 9609 Center Street, Manassas, VA with the family receiving friends from 11:00 AM – 12:00 Noon. Entombment will follow at Stonewall Memory Gardens, Manassas, VA.
Expressions of sympathy may take the form of donations to: St. Jude Children's Research Hospital, 501 St. Jude Place, Memphis, TN 38105 in loving memory of Patricia A. Paul. Condolences may be sent to: www.piercefh.com
Keeping Reading...