News

City leaders want input on alternative fire station site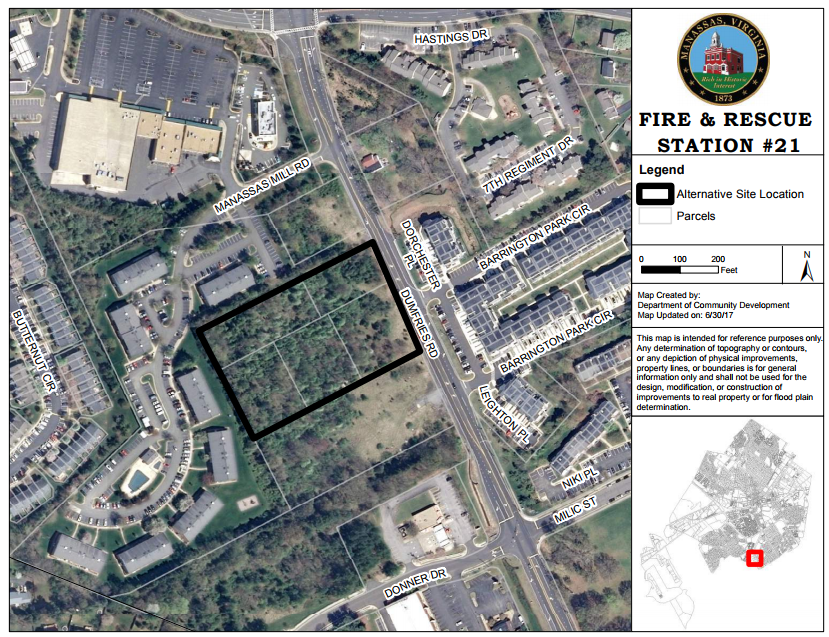 MANASSAS — Officials know they need to build a new fire station on the south side of the city.
The question: Where to put it?
City leaders had first considered a site next to George C. Round Elementary School on Shannon Lane, just off Hastings Drive. The station would have replaced Lee Manor Park.
Residents complained, and city leaders when back to the drawing board to find a new site and they think they have one. Manassas Fire Chief Rob Clemons said the alternative site is on Dumfries Road, near a shopping center anchored by the Habitat for Humanity Prince William ReStore.
Located at the Dumfries Road and Barrington Park Circle, the station — which will be between 18,000 and 20,000 square feet — would be built at the cost of $8.6 million, and be operational by 2019. It would be the first station ever built funded solely by city tax funds.
The new station would allow to better meet national standards of responding to a 911 call within four minutes, something the department did 95% of the time in or better in 2015 and 2016, according to city documents (page 213).
Like a new public safety center planned for Grant Avenue, the city anticipates continued population growth and demand for services, and Clemons says this new Fire Station 21 is needed. Fire crews were called to about 1,400 calls on the city's southside last year, added Clemons.
A fire station on Church Street built in 1956, and a rescue station on Nokesville Road built 10 years later, both sit less a mile apart downtown.
A public meeting on the new site will be held on Wednesday. Here's the city's announcement about that upcoming meeting:
On Wednesday, July 19, at 7 p.m. at City Hall, the City of Manassas is asking residents for their thoughts and attendance at a community meeting on an alternate location for the new City of Manassas Fire & Rescue Station 21. Previously, the site under consideration was on Shannon Lane. This new, alternative site is located on Dumfries Road between Donner Drive and Manassas Mill Road.

Over the last 20 years, public safety studies have determined the need for a new fire and rescue station on the southwest side of the City. This new station will reduce the response time for life-saving personnel to arrive on scene in this part of the City of Manassas. According to the National Fire Protection Association, a four-minute response time for the first arriving unit is considered optimal.
Send news and photos to Potomac Local
Subscribe Now for Free!
Get
updates straight to your inbox.
A word from our sponsors...