News

Driver arrested after Stafford sheriff's volunteer spots expired tags, flat tire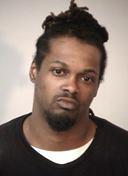 From the Stafford County Sheriff's Office:
On March 7, 2017, at approximately 12:40 PM, Sheriff's Office Volunteer Mark Seymour was investigating an abandoned vehicle on Thomas Jefferson Place. At the scene, he observed a white Volkswagen displaying expired Virginia tags and a flat tire. While documenting the information, three males approached Mr. Seymour and asked him what he would be doing about the vehicle. One of the males identified himself as the vehicle's owner.
Deputy W.D. Betush responded to the scene and requested the male subject's identification. The subject stated he did not have identification with him, but provided a name, date of birth and social security number. The information provided did not return as valid. When confronted with this information, the subject became increasingly agitated. He was advised by Deputy Betush that he would be detained until his true identity was determined. As Deputy Betush began to handcuff the subject, he broke free and fled on foot.
Deputy Betush pursued the subject, commanded him to stop, and announced that he was under arrest. The deputy lost sight of the fleeing subject as he ran through the woods between Thomas Jefferson Place and James Madison Drive. Multiple patrol units responded to the pursuit. Subsequently, Deputy Betush observed the male in a backyard, behind a privacy fence, sitting on a lawn chair. When he saw Deputy Betush, he again ran, jumping the privacy fence to escape. The subject entered the basement of a townhome and exited the front door. A resident inside the home was startled by the intruder and screamed at him to get out of the residence.
In a short while, the male subject was detained by law enforcement in the 1200 block of Thomas Jefferson Place, near the location where the pursuit began. He was taken into custody, identified, and medically evaluated by Emergency Medical Services.

Antonio Ronald Scott, age 31 of Thomas Jefferson Place, was charged with Obstruction of Justice, False Identification to Law Enforcement, Resisting Arrest and Breaking and Entering. He was incarcerated at the Rappahannock Regional Jail on no bond.
Send news and photos to Potomac Local
Subscribe Now for Free!
Get
updates straight to your inbox.
A word from our sponsors...