News

Updated: 2-alarm fire at Lorton incinerator was 'deep-seated and will take multiple days to extinguish'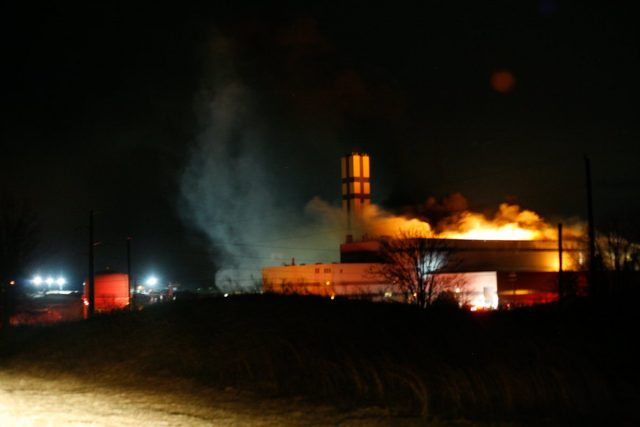 Photo Tweeted by @ffxfirerescue by @mountainstwin1
We're working to get more on this story from Fairfax County fire and rescue officials. Here's what we know now.
Battalion Chief Rodriguez gives on update on the fire at the @fairfaxcounty recycling and disposal center on Furnace Rd in Lorton. pic.twitter.com/y8Zi28GKNN

— Fairfax Fire/Rescue (@ffxfirerescue) February 3, 2017
FCFRD is working a 2 alarm fire in 9800 block of Furnace Rd in the Lorton area of @fairfaxcounty. More info will be released as available. pic.twitter.com/oC0BtT7gOo

— Fairfax Fire/Rescue (@ffxfirerescue) February 3, 2017
From Covanta:
The I-95 Energy/Resource Recovery Facility, operating as Covanta Fairfax, Inc., began commercial operation in June 1990. The facility processes more than 3,000 tons per day of municipal solid waste for a population of more than 900,000 in the Washington, D.C. suburbs of Fairfax County, Virginia. The 22.9-acre facility in Lorton, VA, sells more than 80 megawatts of renewable energy – enough energy to meet the needs of over 80,000 homes. It is the first Covanta facility to have a system to recover very small particles of non-ferrous metal for recycling.
Update
From Fairfax County fire and rescue:
On Thursday, February 2, at approximately 9:09 p.m., units were dispatched for a reported fire in a building located in the 9800 block of Furnace Road in the Lorton section of Fairfax County. Units from Fire Station 19, Lorton, were first on scene and observed a significant amount of fire and smoke coming from the rear and roof of a four-story building. Due to the size of the building and the amount of fire, a second alarm was immediately requested. Firefighters worked to contain the fire and prevent further damage. Once the fire was contained units began an aggressive attack to extinguish the fire.

The building is the Covanta Fairfax Waste to Energy Facility. It was occupied at the time of the fire. All employees were able to safely exit the building. At this time, there are no reported civilian or firefighter injuries.

Fire investigators have determined that the fire originated on the tipping floor of the building and extended to the holding pit which was filled to capacity. The cause of the fire remains under investigation.

Units are currently operating on the scene. The fire is under control. However, it is deep-seated and will take multiple days to extinguish. Fire Chief Bowers and command staff are planning for multiple operational periods to safely and effectively deploy firefighters and resources to extinguish the fire.
Update 1:30 p.m.
From Covanta spokesman James F. Regan:
"As of this morning, the fire is under control and contained to the cement waste pit. No injuries have been reported and fire fighters remain on site. The cause of the fire is under investigation. The plant was shut down in a controlled manner and early assessments show the primary plant systems are intact, with damage contained to the tipping hall and roof."
Send news and photos to Potomac Local
Subscribe Now for Free!
Get
updates straight to your inbox.
A word from our sponsors...