Sponsored Post

Competitive Edge gives girls in sports an edge

Competitive Edge Athletic Performance Center
Address: 14849 Persistence Dr. – Featherstone Industrial Park Woodbridge, VA 22191
Phone: 571-398-2813
Website: http://www.competitiveedgeva.com/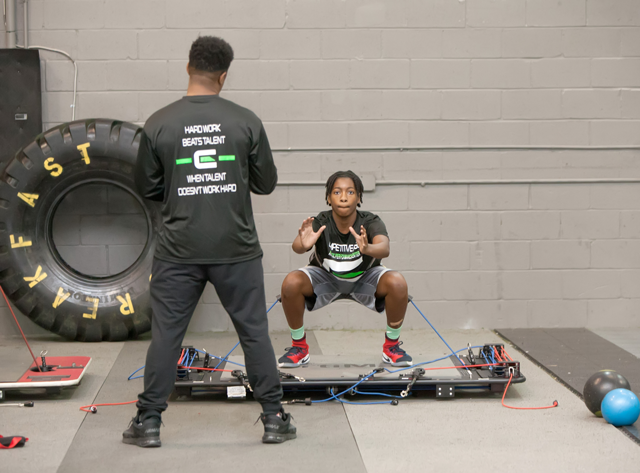 Laila Jewett may only be an 8th grader, but she has big plans. Jewett wants to be a professional basketball player in the Women's National Basketball Association (WNBA).
Jewett's hard work and dedication has landed her on Christ Chapel Academy's high school varsity team. In addition, Jewett plays for an AAU travel basketball team that competes locally and nationally. These teams are incredibly competitive, with college scouts watching the progress of these players. Jewett recently played in the Next Sports Phenom's She Got Game Middle School Classic and received the "Most Outstanding Player Award." Jewett said "You always have to play your best." She does exactly that, with help from her training sessions at Competitive Edge Athletic Performance Center.
Sports Performance Training
Jewett has been a member of Competitive Edge for approximately 11 months. Competitive Edge believes in developing the complete athlete. Their mission is to encourage youth to keep their edge strong in both athletics and academics. Competitive Edge athletes see benefits in enhanced speed, strength, increased endurance, as well as improved flexibility and coordination.
Jewett takes part in their Sports Performance Training program. She works on perfecting fluidity in her movements through drills developed specifically for her age and skill level. Sessions can include agility ladder footwork, speed endurance drills and working with resistance bands to build strength and explosiveness, i.e Vertimax jump training. Jewett also attends Competitive Edge's Sports Flex sessions, which is their version of Yoga where they encourage the athletes to partake in to increase flexibility and injury prevention.
The training sessions consist of both boys and girls. The performance trainers demonstrate drills for the groups, showing them the correct form to use. Once the athletes begin their work out, the trainers encourage them to complete all the drills.
"You can start again if you make mistakes," Jewett said. "The coaches are really nice. They make sure I'm doing the moves right so I don't injure myself, even if that means going slow." When Jewett was asked about working out in a mixed group, she said, "I don't think there's much difference between boys and girls in sports, except boys are more physical. They are faster and stronger." Jewett gives girls in sports simple advice. "Be in the gym as much as you possibly can, because that's how you get better."
Girls and Sports
Competitive Edge creates a supportive environment in which young women can be in training and work on their sports goals next to young men. In 1972, Title IX was enacted, changing the landscape of women's sports, especially in high schools and universities, throughout the United States.
Mother Jones reported in 2012 that at the time Title IX was enacted, just under 295,000 girls participated in high school sports. In 40 years, this number has increased dramatically, to nearly 3.2 million. Yet the opportunities afforded boys for sports still top the number of girl's opportunities. MotherJones.com also reports that, despite this, there are more women playing collegiate sports than ever before. NCAA schools have increased female sports participation from less than 30,000 to over 193,000 since 1972.
Girls with big sports goals like Lailah Jewett are reaping the benefits. She is growing up with boys and girls being equal in sports, making it, as she said, "no big deal." Competitive Edge knows it is a big deal. They know that providing training that benefits the success of both boys and girls can help build positive attitudes and other life habits that are essential to the development of youth athletes, such as fostering new friendships and encouraging academic success and improved self-esteem.
For more information on Competitive Edge, visit www.competitiveedgeva.com.
Send news and photos to Potomac Local
Subscribe Now for Free!
Get
updates straight to your inbox.
A word from our sponsors...