Sponsored Press Release

City Residents Getting New Trash Cans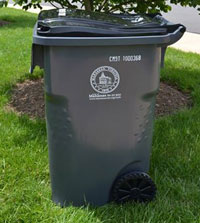 Beginning the week of June 16, City of Manassas residents will receive brand new trash carts for their household trash needs. These carts will be used in conjunction with existing recycling carts that City residents currently use. Delivering these new carts to City residents is in an effort to beautify City of Manassas neighborhoods with uniform containers for waste and recycling.
Single-family homeowners should expect the delivery of a 96-gallon cart and townhome owners will receive a 65-gallon cart over the next few weeks. Residents will still be able to use their own trash containers with these carts as long as they are hard sided and have tight fitting lids attached. Carts should be set out curbside no earlier than 6 p.m. the day before trash pick up and should be taken in no later than 9 p.m. the day of trash pick up.
For more information on this program or to read the City Ordinance on refuse and recycling, visit www.manassascity.org/trash.
Send news and photos to Potomac Local
Subscribe Now for Free!
Get
updates straight to your inbox.
A word from our sponsors...