Moser: As 2013 Leaves, Here's to Hoping Cancer Doesn't Return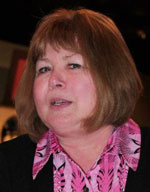 Opinion 
Have you ever said, "Whew! I'm glad this year is over?" I think that phrase has been uttered by most adults at one time or another. After a string of bad luck, medical crisis or financial meltdown, maybe you were relieved when that hateful year ended. Perhaps you lost a friend or a family member or maybe one of your parents died and you consider that whole year as a devastating loss in your own "Book of Life."
I imagine you have also experienced wonderful years, filled with promotions and great grades, maybe a wedding or the birth of a new baby. That's when you look forward to another year and hopes of more of the same grand events.
There are probably some years (more likely if you are middle age or past) that are not really memorable at all. Nothing spectacular occurred to fix that year in your mind good or bad enough to designate a year described as "good" or "bad".
I have had cancer twice, but both times the treatment was excision, so was spared the more horrible treatment methods used to combat the disease.
One thing cancer breeds is the dread the disease will return. We survivors are continually beset by the knowledge we were lucky once or twice, but maybe three times is too many.
When my mammogram came back last month with "inconclusive results," I was asked to reschedule for another look. That mammogram showed a "shadow" and the lab requested I return yet again for a sonogram.
As I sat in the cubicle, waiting for results, I remembered being in that dressing room before. There are many curtained "closets" for women to change from their street clothes to a gown, then wait for a technician to bring them the news. I recall hearing women sobbing and the out of control sensation that your entire life is suddenly in the hands of some unknown, unseen force.
After an interminable wait, I had the sonogram and the technician was able to see the "shadow". It is a cyst, not a tumor and my relief was nearly embarrassing. I hugged this woman, whom I'd only just met and thanked her for her effort.
She was nearly in tears, too, as she said, "Last month, I told my husband I was thinking I should retire. I began this position as an x-ray technician and migrated to sonogram when they were first put to use in cancer detection. In November, nearly every procedure I administered showed cancer. I got into this field because I wanted to help, but I seldom have any good news to report."
 I went back, got dressed and as I stepped out, I was eager to get the heck out of there, but there was a young woman, seated in the "holding pen" quietly weeping. I sat down to ask her and she told me "I've had cancer once…."
Please take a few minutes to watch this video. I shared it with a friend who faced his own struggle with cancer, but it applies to all of us.