Storm Could Pack Longer, Icy Punch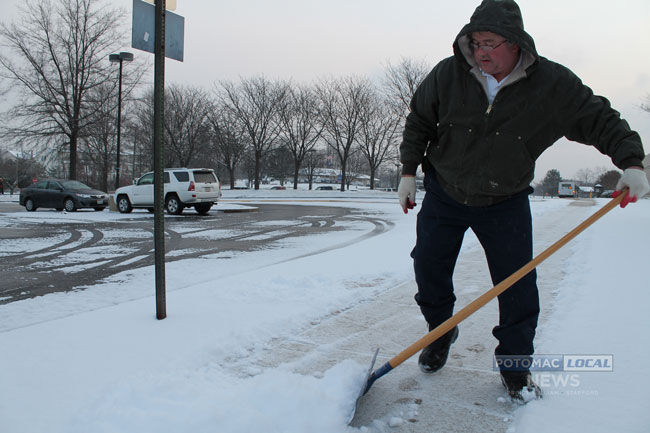 STAFFORD, Va. – With the potential for the region to pick up some serious snow and ice Sunday into Monday, area emergency officials urge you to take this storm seriously.
With ice comes the possibility of power outages, so here are the numbers to the utility companies that provide service to the region:
Dominion Virginia Power: 1-866-DOM-HELP (366-4357) or www.dom.com
NOVEC: 1-888-335-0500 Rappahannock Electric Cooperative: 1-800-552-3904
Northern Neck Electric Cooperative: 1-866-NNEC-OUT (663-2688)
Drivers should always watch out for dangerous road conditions, according to a press release from Stafford County Fire and Rescue Dept. Asst. Chief Mark Doyle:
If possible, delay travel to allow VDOT crews to clear the roads and call 511 or visit www.511Virginia.org for current road conditions.

If you must travel allow extra time and get where you need to be before the weather gets bad.

Whether you are traveling or staying close to home always monitor local weather forecasts so you know how the storm will affect your community.

Make sure you have essential supplies on hand: at least three days of food that does not require refrigeration or electricity to prepare; at least three days of water (one gallon per person per day); a battery-powered and/or hand-crank radio to get information from local media; a family emergency plan. www.ReadyVirginia.gov; bring pets inside during the storm.
When using portable generators, always adhere to the operating guidelines and never use them indoors, added Doyle.
The latest forecast for the storm calls into question just how cold temperatures will be Sunday night into early Monday. Initially, it appeared temperatures would warm up after sunset Sunday allowing all the frozen perception to turn over to rain. New forecast models indicate temperatures could be cold enough for the region to continue to see ice accumulation into Monday morning.
According to NOVEC, ice is some of the worst kind of weather for power crews:
"Wet snow and ice are the worst for power lines and trees, but we'll be ready for them," says Larry Shaffer, vice president, System Operations. "All NOVEC and contract crews are preparing to work around the clock to restore electric service if the storm causes trees and branches to fall on power lines and knock out power."

Shaffer says crews are fueling utility trucks and loading them with extra equipment. Damage assessors are preparing to work with tree crews to locate trees and branches that fall on power lines. And NOVEC's System Operations Center will have all hands on deck.

Shaffer warns customers to never go anywhere near a downed power line: "If you see a line that's down, assume it's energized and deadly. Keep others far away and report it to us immediately at 703-335-0500 or 1-888-335-0500."

One Response to "Storm Could Pack Longer, Icy Punch" (Leave a Comment)
Have Something to Say?
You must be logged in to post a comment.