Winter Storm Warning Canceled, Snow Totals Varied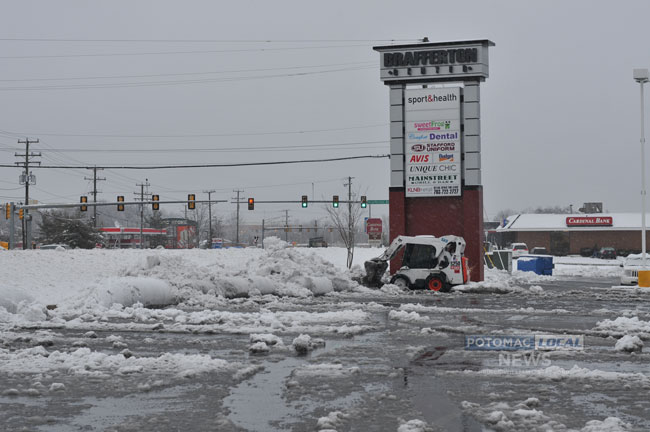 View Closings and Cancellations
Update 4:15 p.m. 
The winter storm warning is canceled for the area and worst of the storm has passed. But now transportation officials warn of freezing roadways.
More in a statement from VDOT:
As slushy, wet roads could become icy overnight and through tomorrow morning, northern Virginia crews will continue treating roads through the morning rush, according to the Virginia Department of Transportation.

"Our biggest concern tonight is freezing and motorists need to use plenty of caution if out on the roads. Tomorrow morning commuters should monitor forecasts and check road conditions before heading out," said Branco Vlacich, VDOT's maintenance engineer for northern Virginia. "Once rush hour has ended we will begin to demobilize."
Throughout the day snow turned to rain and then back to snow. The setup for the storm placed our region on the ever-important freezing line, which helped to cut back on forecast snow totals.
But for our area, this is the largest snowfall seen all winter. Here's a look at more snow totals from the National Weather Service:
Prince William County – 6 inches
Stafford County – 7.1 inches
Fauquier County – 12.4 inches
Fairfax County – 6 inches
Dulles Airport – 3 inches
Regan Washington National Airport – 0.2 inches
Update 2 p.m. 
Prince William officials report problems are two roadways in the county:
Healthcote Boulevard

Heathcote shut down between Old Carolina Rd  and James Madison due to downed powerlines.  Novec notified/enroute at 13:07

Aden Road at Colvin Lane

Aden blocked between Fitzwater and Marstellar for tree / live wires down.  Va power notified at 12:25
Update 1 p.m.
Latest snow totals, according to the National Weather Service
Augusta County (near Charlottesville) 20 inches
Fairfax County
Clifton 4.5 inches
Herndon 4 inches
Prince William County
Gainesville 4.8 inches
Dumfries 2.8 inches
Independent Hill 5.8 inches
Stafford County 5 inches
Spotsylvania County 7 inches
11:45 a.m. 
Stafford County officials declared a state of emergency due to the snow storm. The declaration will help make it easier for officials to obtain federal assistance if it's offered after the storm.
More in a press release:
• Citizens can dial 311 or (540) 658-HELP (4357) for non-emergency questions. If anyone has a life-threatening emergency, they need to call 911 immediately.

• Generator Safety – If residents lose power and are using generators, they should be extremely cautious and not use the generator inside their home or garage because of the risk of carbon monoxide poisoning. They should also use flashlights rather than candles because of the risk of fires.

• Downed Power Lines – Stay away from downed power lines. Call 911 to report downed power lines. Do not touch them.

• Power Outages – If you lose power, do not open freezers and refrigerators unless necessary to preserve the cold air.

• Disaster Supplies Kit – Assemble a disaster supplies kit with the following items: water, non-perishable food, can opener, flashlight and extra batteries, first aid kit, whistle to signal for help, most towelettes, garbage bags and plastic ties for personal sanitation, wrench or pliers to turn off utilities, local maps, cell phone with chargers. Also pack prescription medication.

• Medication and/or Special Needs – Individuals with prescription medication and/or special needs should make provisions for medications that require refrigeration in case they lose power. They should also keep specialized items ready including wheelchair batteries, oxygen, catheters, medication, food for service animals and any other items they might need.

• Fallen Trees – Call VDOT at 1-800-367-ROAD (1-800-367-7623).

Update 10 a.m.
Snow has dramatically increased acorss the area from Stafford to Prince William County. Fatter flakes are falling faster and more frequently than they were about 8:30 a.m.
Traffic across the area is light as many drivers apparently headed warnings to stay off roads. Plow trains are working to keep highways and main arteries clear from snow.
Police and rescue crews are on the scene of a crash on I-95 south just before the exit for Va. 610 in Garrisonville, said Stafford sheriff's spokesman Bill Kennedy. The crash involves a tractor trailer, but no lanes are reported closed.
In Prince William County, police said they will no respond to single vehicle crashes with property damage only.
See their statement below:
The police department has suspended the accident policy throughout the county. This means officers will NOT be responding to minor property damage crashes. Drivers are asked to move their vehicles from the roadway to exchange information.

Officers will continue to respond to all crashes resulting in injury. We want to encourage everyone to remain off the roadway unless necessary. If the power goes out to traffic lights at intersections, drivers MUST treat the intersection as a four way stop.

If traffic lights are flashing, proceed with caution as drivers with the flashing yellow have the right of way.
Police said, on a normal day, it's their policy to respond to all crashes regardless of injury.
Checking in with the National Weather Service – they've increased snowfall estimates for Prince William and Stafford counties and now said our area could pick up 10 to 14 inches of snow. Here's a look at the latest actual snowfall totals posted by the weather service:
FREDERICKSBURG 4.0 8:20 AM
BLUEMONT (Loudoun County) 8.0 7:49 AM
GAINESVILLE 3.8 500 AM
CHANCELLORSVILE (Spotsylvania County) 5.8 8:00 AM
Reported power outages
–NOVEC
Prince William County 706
Stafford County 7
Fauquier County 490
–Dominion Virginia Power
Prince William County 290
Stafford County 369
Update 8 a.m.
Don't be surprised to see police officers in PrinceWilliamCounty driving different vehicles today due to the storm.
More in a statement from police:
Due to the expected inclement weather, some Prince William County police officers will be utilizing county public works vehicles. These vehicles have been outfitted with temporary police decals and a mini red & blue light bar. These vehicles should be treated as emergency vehicles – slow down and move over if you encounter these vehicles or other emergency vehicles on the roadway.
On the roads, VDOT announced all work on the I-95 Express Lanes Project has been canceled today. 
Update 7 a.m.
Snow is falling in and around the Stafford and Frederickburg areas right now. VDOT reports mostly we conditions farther south and east along the Northern Neck Peninsula.
Update 6 a.m.
Snow continues to fall outside and streets are becoming covered with the white stuff. There are several closings and cancellations for the region as this late season snowstorm continues to impact the area, and conditions continue to get worse.
Here's an update from Potomac Local News reader Susan Billings posted to our Facebook page:
3:30 a.m. Wednesday morning; the storm is really loading down the tree limbs. The power companies should spend money on regular tree maintenance instead of doing a few just before a storm and hiring all kinds of linemen help from out of state when the tree limbs take down the wires.

Growing up, we didn't have constant power outages due to storms because any given day we would see power company crews on the various roadsides, trimming tree limbs away from the lines.
11:30 p.m.
Forecasted Snow Totals Rise 
Projected snow totals have increased for the area, as the National Weather Service has gone "all in" with a forecast of eight to 10 inches of snow for Prince William and Stafford counties.
It's been somewhat of a rollercoaster ride today as forecasted totals early this morning showed anywhere between six to eight inches of snowfall for the area. This afternoon, forecasters lowered expectations for snow totals, but raised them once more about 11 p.m.
Areas to the west of Washington, especially in Loudoun County and out toward the Blue Ridge Mountains, have been expecting at least a foot of snow to fall all day long.
And with the snow comes transportation crews who will be out clearing the roadways before the storm.
More in a press release from the Virginia Department of Transportation in Northern Virginia:
By 4 a.m. Wednesday, the Virginia Department of Transportation (VDOT) will deploy more than 4,000 salt trucks and plows throughout northern Virginia in preparation for up to a foot of wet, heavy snow. Emergency tree contractors are on standby as strong winds could bring down trees and power lines. 

"We are urging commuters to stay off the road on Wednesday and let our crews clear the roads," said VDOT maintenance engineer Branco Vlacich. "Roads likely will be treacherous at times."

Major routes are treated with chemicals and plowed once two inches have fallen.  In subdivisions and other low volume roads hills and other trouble spots are treated with sand and plowed when two inches have accumulated.

 In northern Virginia, VDOT has one snow removal program for high volume roads such has Interstates 66, 95, 395, 495, Routes 1, 7, 15, 28, 50, Fairfax County Parkway, Prince William Parkway, etc.), and another snow removal program for subdivisions (main thoroughfares in neighborhoods, residential streets and cul de sacs).  Therefore, crews will be working on high volume roads and in subdivisions concurrently. Within each of these programs, roads with the highest traffic volumes are cleared first.
VDOT is responsible for 17,679 lane miles in Fairfax, Loudoun, Prince William and Arlington counties (Arlington County maintains its own secondary roads). 
VDOT reminds motorists to use caution when driving during wintry weather. Drivers should:
·         Check current weather, road conditions and traffic before traveling at www.511Virginia.org or by calling 511
·         Slow down and allow for extra time to reach your destination
·         Be aware of potentially icy areas such as shady spots and bridges
·         Keep a safe distance of at least five seconds behind other vehicles and trucks that are plowing the road
In VDOT's Fredericksburg District, which includes Stafford County, it's more of the same:
Crews will begin 24-hour emergency operations at 8 p.m. Tuesday in the Fredericksburg area. VDOT has 462 pieces of state and hired equipment ready to deploy in the region, including 50 trucks dedicated to clearing and treating Interstate 95 and the interstate ramps, bridges and overpasses. Salt, sand and chemical supplies are fully stocked.
Still in the forecast for this storm are high winds and power outages, and crews with the Northern Virginia Electric Cooperative say they have crews on standby, and they've provided customers on what to do if the power goes out:
Prepare for outages

Shaffer urges customers to make sure NOVEC has their current phone numbers. The Co-op's system can now accommodate two phone numbers. The correct numbers will expedite outage reporting and power restoration. Customers who use cellphones and have not registered their numbers should call 703-335-0500 or 1-888-335-0500 to associate their numbers with their accounts.

Charge cellphones. Cordless phones don't work when power is out.

Develop a plan for elderly or disabled family members.

Have an emergency kit with non-perishable food, water, flashlights with fresh batteries, battery-operated radio, lanterns, canned fuel, matches, and first aid. If applicable, have enough prescription drugs, pet food, and baby-care items.

Stock up on firewood for a wood-burning fireplace or stove. Cover wood with a tarp or stack some in a carport or garage to keep it from being buried by snow. 

Before a storm hits, unplug TVs, DVD/ VCR players, microwave oven, and computers to protect them from power surges that can occur from trees and limbs contacting power lines.

What to do if power goes out

"If a customer loses power, he or she should call NOVEC to report it," instructs Shaffer. "Customer service representatives may answer the phone, but our automated interactive voice response system works even faster because it sends a message to us immediately that an outage has occurred. The automated system will also provide updates."

Customers with access to the Internet can report outages at www.novec.com on computers andwww.novec.com/mobile on smartphones. They can also use NOVEC's smartphone application available athttp://www.novec.com/contact_us/apps.cfm.

"Customers can follow what's happening on Facebook and Twitter," Shaffer notes, "but they must not report outages via social media because those sites aren't connected to our reporting system. Call us or go online instead."

Open freezers and refrigerators only when necessary.

Open exterior doors only when necessary.

Run portable generators, camp stoves, or grills only outdoors to avoid carbon-monoxide poisoning. Alternatively, heat food in a chafing dish or fondue pot over canned fuel.
3:30 p.m. 
Update: More Rain Expected to Mix with Snow at Onset of Storm
Most of the Washington, D.C. region, including Prince William and Stafford counties, is now under a winter storm warning starting at midnight through 3 a.m .Thursday. That's an upgrade from the previous winter storm watch that is no longer in effect – but there has been some forecast changes in the storm.
National Weather Service forecasters now state the storm will bring in more rain on the onset, meaning you'll wake up to find the area pretty wet but not a lot of snow on the group by sunrise. It's during the day Wednesday that the bulk of the snow will fall, forecasters said.
This latest development has also shifted the larger projected accumulation totals further west of Interstate 95. Where this morning maps from the weather service showed placed like Woodbridge being in the 8 to 10 inches zone, those totals have been reduced to between four to eight inches due to rain that expected to mix in with snow during the day.
Those who in the Blue Ridge Mountains may still pick up nearly two feet of snow from this storm.
Temperatures for the storm are expected to hover in the 30s, and high winds with gusts up to 35 mph will make travel treacherous across the region, the weather service states.
The storm is expected to clear the area on Thursday.
7 a.m. 
Winter Storm Watch Goes Into Effect for Pr. William, Stafford
For snow lovers who have been disappointed over the past few years with the lack of snow, the storm coming over the next 48 hours looks like it's going to the big one.
According to the National Weather Service, eight to 10 inches of snow could fall west of Interstate 95. From Manassas, Gainesville, and points west: 10 or more inches of snow are possible.
Winter storm watches are posted for both Prince William and Stafford counties, and winter storm warnings are posted for Fauquier, Loudoun, and Culpeper counties where snow totals are expected to be higher.
This monster winter storm has winter weather hazard warnings stretching back in to state like Ohio, Michigan, North Dakota, and Indiana.
The timing of the storm will bring it into our area tonight with a mix of rain and snow that should begin falling about 10 p.m. By 2 a.m., it'll changeover to all snow with two to four inches possible, according to the weather service.
More snow will fall Wednesday, adding another three to five inches on top of what began falling Tuesday night, the weather service predicts.
There's also a chance for snow on Thursday and accumulations of about a tenth of an inch.
So far, we've not heard of any closings are cancelations due to the impending storm. We'll list them here if and when we do hear about them.
With a lack of snow and overall cold temperatures last winter, this could be the largest snowstorm to impact our area since the Blizzard of 2010.