Traffic

Bus Ridership Down in 2012; More Turn to Slugging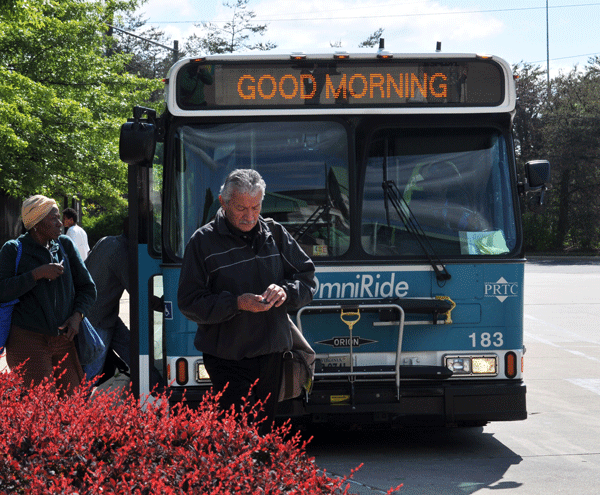 PRINCE WILLIAM COUNTY, Va. — The overall number of bus passengers on Potomac and Rappahannock Transportation Commission services fell by 2 percent in 2012.
Transit officials at PRTC – which provides OmniRide commuter, OmniLink local, and Metro Direct bus services for Prince William, Manassas, and Manassas Park – compared ridership numbers with those logged in 2011 and found the decrease.
Fewer people are using the Metro Direct and OmniLink services, which saw decreases of 2 and 3 percent, respectively.
More in a press release from PRTC:
PRTC provides commuter and local bus services for residents of Prince William County, Manassas and Manassas Park. In 2012, PRTC's OmniRide and Metro Direct commuter bus services carried more than 2.2 million passengers, a 3% decrease compared with 2011. Its OmniLink and Cross County Connector local bus services transported 985,000 passengers, a 2% decrease compared with 2011.

PRTC management attributes the decline to two factors: Congress's decision as 2011 drew to a close to reduce the maximum allowable federal commuter transit benefit from $230 to $125 per month as of January 1, 2012; and a significant reduction in gas prices that occurred on the heels of the benefit reduction.

The commuter transit benefit allows employers to financially encourage the use of transit and vanpools. The incentive is pre-tax money that an employee sets aside and/or a tax-free fringe benefit provided by the employer. While private employers can choose to provide this benefit, it is required for federal employers.

From March 2009 through December 2011, commuters could apply a maximum of $230 monthly toward their commute if they used public transportation or a vanpool. When the maximum monthly benefit was decreased to $125, approximately two-thirds of PRTC's commuter customers faced a significant increase in bus fare. Ironically, the drop in the transit benefit coincided with an increase in the monthly parking benefit from $230 to $240. Transit agencies around the country criticized the disparity saying it would encourage people to drive. In PRTC's service area the disparity also encouraged more slugging, since many commuters have the discretion to slug or ride transit and often do both in a single day.
An encouraging note for commuters who do use the bus: PRTC Director Alfred Harf said congress this month restored the federal commuting transit and parking benefit to $245 per month. The benefit remains in effect until the end of the year.
Also this month, PRTC announced new a Board of Directors to lead the agency that is comprised of members from Prince William, Stafford, and Spotsylvania counties, as well as the cities of Manassas, Manassas Park, and Fredericksburg.
A listing of the new Board members is below:
• Chairman Michael C. May, a member of the Prince William Board of County Supervisors;

• Vice Chairman Francis C. Jones, Mayor of Manassas Park;

• Secretary Robert Thomas, a member of the Stafford County Board of Supervisors;

• Treasurer Matthew Kelly, a member of the Fredericksburg City Council;

• Immediate Past Chairman John D. Jenkins, a member of the Prince William Board of County Supervisors;

• At Large Member Jonathan L. Way, a member of the Manassas City Council; and

• At Large Member Gary F. Skinner, a member of the Spotsylvania County Board of Supervisors.
Send news and photos to Potomac Local
Subscribe Now for Free!
Get
updates straight to your inbox.
A word from our sponsors...