Potomac River Cardboard Boat Races a Favorite
News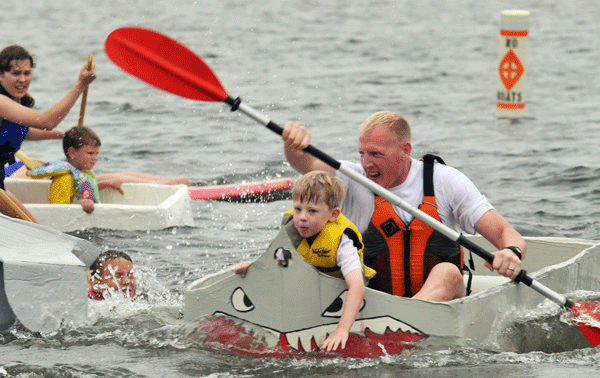 By URIAH KISER
One of the most unique and fun-to-watch events we cover all year is the Stafford Cardboard Boat Regatta.
It's where families test their cardboard boat-making skills to the test by gluing together sheets of cardboard and tubes to make life-sized boats that hold multiple people. Wooden oars are then used to propel the boats and their crews through the water in a series of races that begin on the river shore beach, out to a buoy, and then back to the beach. 
Winners of these races pick up ribbons, trophies, and coupons to fast food pizza restaurants – a favorite of the young competitors.
Put on each year by North Stafford's Rock Hill Ruitan Club, proceeds raised during the event go to benefit local schools. Since we started PotomacLocal.com in 2010, we've covered the event at Aquia Landing Park on the Potomac River each year.
In addition to races, boats are also judged on their creativity.  This year's Pride of the Regatta winners built a boat that looked like a jail cell and named it "Juvenile Block." Its standard flat bottom boat design allowed it to perform well while on the river, but a series of cardboard posts made to look like iron bars gave it distinctive edge. The boat's eight-year-old old skipper had a plan for his crew to win the race.
"When we're paddling, I intend to yell at everybody. And if that doesn't work I intend to throw the roof off into the water make it a normal boat," said Nicholas, of Stafford.
This year's Titanic award – the boat voted most likely to sink – went to "The Brick," a small, sturdy boat that was glued together about four days before the race, painted to look like a red Lego block. It sank as soon as it went into the water.
Oh we went down," said Shawn Mullen, of Quantico. "Me and 9 year old daughter worked on the boat and we wanted keep it simple. It's a very simple craft and works except when you have a 200-pound man throwing off the center of gravity."
He and his daughter plan to come back next year, and, this time, plan to start working on their boat six months in advance.
Boat Awards:
Pride of the Regatta
1st Alcatraz Jailhouse Boat – Thomas Gerke
2nd Bad Scuffy – Anthony, John and Luke Strickland
Best Design / Crew Costumes
1st HMS Extra Crispy – Amy Crim
2nd MS Speed racer – Jacob, Sydney & Samantha Ritenour
Best Team Spirit
1st Robert E. Lee – Jacob, Caralyn, Melanie & Tristan Wiedeman
2nd Noah's Ark – Mount Ararat 3rd Grade Quest Class
Best Creativity
1st Moby Dick the Whale – Matthew Beagle
2nd Speedy – Jason Jennings
Most Sea-worthy
1st PT Boat – Elias Breinenbach
2nd The Flying Tiger – Iain Nicol
Titanic (Most Likely to Sink)
1st The Brick – Nora & Shannen Mullen
2nd Troop 847 – Michael Baldwin
Race winners were:
7-14 Yr Old Race
1st Moby Dick the Whale – Matthew Beagle & Jarrod Bloom
2nd Ms Speed Racer – Jacob, Sydney & Samantha Ritenour
Parent & Child
1st Flying Tigers – Iain Nicol & Family
2nd Ms Speed Racer – Jacob, Sydney & Samantha Ritenour
Clubs & Groups
1st Moby Dick the Whale – Matthew Beagle & Jarrod Bloom
2nd Gopherwood – Tommy & Lizzie Krebs
15-50 Yr Old Race
1st – Flying Tigers – Iain Nicol
2nd – Ms Speed racer – Jacob, Sydney & Samantha Ritenour
51+ Race
1st Alcatraz – Tom Gerke & Family
2nd Great White – BG Fizgerald & Tom Parker
Additional 7-14 Race
1st Flying Tigers – Iain Nicol & Family
2nd Alcatraz – Thomas Gerke Family
Luxury Liner
1st Ms Speed Racer – Jacob, Sydney & Samantha Ritenour
2nd Noah's Ark – Caleb Bloom, Maria Graham, Elias Brienenbach, Tommy & Lizzie Krebs, Matthew Beagle
Grand Finale
1st Bad Scuffy – Anthony, John and Luke Strickland
2nd Flying Tiger – Iain Nicol & Family
Send news and photos to Potomac Local
3 Responses to "Potomac River Cardboard Boat Races a Favorite" (Leave a Comment)