News

1783 Courthouse Unearthed in Stafford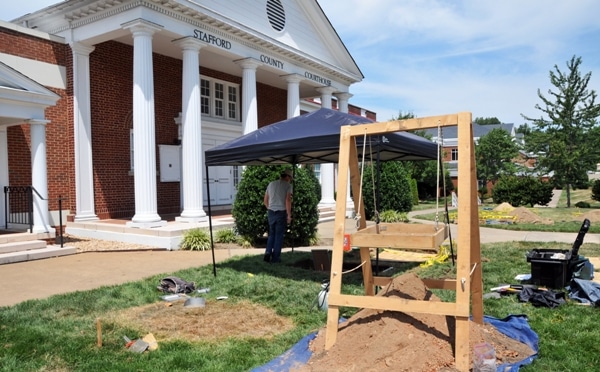 REDEVELOPING STAFFORD'S COURTHOUSE AREA 
By URIAH KISER
STAFFORD, Va. — A historical dig has uncovered Stafford's original courthouse built in 1783.
What appears to be the foundation of the old courthouse, which was torn down in 1910, has been unearthed at the steps of where today's courthouse stands. Traces of mortar, brick fragments, creamware and pearlware – what George Washington and Civil War soldiers ate of off, respectively – have also been unearthed at the site, feet from where thousands of commuters travel at the intersection of U.S. 1 and Va. 630 (Courthouse Road).
The five-week dig is about to wrap up, and comes prior to the start of a larger effort to transform Stafford's courthouse area into a more pedestrian-friendly downtown.
"This is the location of the 1783 courthouse. Not in the vicinity. Not a few miles from here. There is no ambiguity here. As an historical resource, this is an important piece of Stafford's history," said Dominion Engineering Associates Principal Archeologist Clifton A. Huston.
Houston's team since June 14 has led the excavation, which is actually the second phase of a dig that began in November. Last fall, Huston's team was tasked by Stafford County officials to explore the area for historical elements before construction begins on a new pedestrian plaza outside the courthouse. New road improvements on U.S. 1 and Va. 630 are also coming, clearing the way for construction of a new cluster of retail, office, and hotel space, and new homes.
Stafford's current courthouse was built in 1922, and the well that sits at the courthouse steps was a part of the original courthouse. Archeologists used photos of the old courthouse taken in the early 1900's, noted positioning of the well, and used it as a guide to determine where the old courthouse stood. It's believed the old courthouse was about 32-feet long.
By 1900, the courthouse was in disarray after it had been used during the Civil War to quarter federal troops, and the well used for their horses to drink from.
"If you build a courthouse, the people who come to courthouse are riding horses, you need to water horses," said Huston.
Huston's team also pinpointed the location of the original office of the clerk of the court. It sits nearby and, and the office was raided by federal troops who took original deeds and documents that tell the early history of Stafford County. One of those documents – a 220-year-old court ledger – was returned to the county late last year after a Civil War soldier took it to New Jersey.
Huston said it's hard to know how much of the old courthouse remains, and they won't be able to find out unless a another dig is approved. Developers could avoid building in the area for now until more excavation is complete, or they could simply place colored bricks into the design of the new courthouse plaza to denote where the old courthouse once stood, said Huston.
Send news and photos to Potomac Local
Subscribe Now for Free!
Get
updates straight to your inbox.
A word from our sponsors...