News

Officials Provide Safe Food Tips, Water Boil Unnecessary

  JUNE 29 -30, 2012 STORM COVERAGE 

8 p.m. Power repairs: It could take a while

Power crews told Prince William County officials today the work to restore power knocked out by last night's storm will be a "multiple-day operation."

Dominion Virginia Power crews are still dealing with outages throughout the region, with 831,912 customers still without power (see map below).

The Northern Virginia Electric Cooperative reports 4,005 customers without power in Prince William County and 406 in Stafford County.

7:30 p.m. Tall Oaks Pool cleaned up

A tree that fell and damaged canopies, a spray ground, and a fence at Lake Ridge's Tall Oaks Pool was no match for those who volunteered to clean it up.

The Lake Ridge Parks and Recreation Authority stated many came to the damaged community swimming hole this morning after the tree fell during last night's storm and helped clear debris from the area.

From the looks of photos posted the organization's Facebook page, the tree was chopped and shredded.

The community park authority stated the pool will reopen Sunday.

7:15 p.m. Shelter remains open in Stafford

The number of residents still without power in Stafford County sits at 25,000. While that's a big number, it's down by half since this morning as crews worked throughout the day to restore power to neighborhoods hit hard by last night's Derecho storm.

A cooling shelter remains in place at Rodney Thompson Middle School on Wapole Street, just off Va. 630 in Stafford, where residents can come with medications, blankets, and other necessities they need to sleep through the night, according to county officials.

All water treatment plants in the county remain operational, and residents do not have to boil water before drinking it. Since power has been out for hours, county officials passed along the following food safety tips from the Virginia Department of Health:

 • If power has been out for more than four hours, all food such as meat, poultry, eggs, and any leftovers, should not be eaten and disposed of immediately.

• Also, if any food appears to have changed in texture and odor, it should be thrown out.

 If the power is out for longer than two hours, follow the guidelines provided by the Centers for Disease Control below:

• For the freezer section: A freezer that is half full will hold food safely for up to 24 hours. A full freezer will hold food safely for 48 hours. Do not open the freezer door if you can avoid it.

• For the refrigerated section: Pack milk, other dairy products, meat, fish, eggs, gravy, and spoilable leftovers into a cooler surrounded by ice.

• Use a food thermometer to check the temperature of your food right before you cook or eat it. Throw away any food that has a temperature of more than 40 degrees Fahrenheit.

• To keep food items as cold as possible for as long as possible, keep refrigerator and freezer doors closed.

5 p.m. Dominion restores 275,000 of 900,000 without power

Dominion Virginia Power officials said they have restored power to 275,000 of the 900,000 customers statewide that lost power during last night's wind storm.

Company officials admit the hot temperature makes conditions less favorable for repair crews, but the utility and their spokespeople have been out in front Saturday working to relay their message, informing customers what they're doing to get the lights back on.

The utility just released a video produced about two-hours ago. In this video update from the company, Dominion notes Northern Virginia as being the hardest-hit area in state in terms of storm damage.

Dominion says it's working first to restore power to hospitals, fire stations, and other public safety buildings. They've asked that those with air conditioning check on friends, family, and neighbors, and have asked callers with issues not storm related to hold their calls until next week.

Those who are still affected by power outages can continue to call 1-866-DOM-HELP (1-866-366-4357), and to keep tying if the line is busy. Customers can also follow this link for updates from the utility.

4:40 p.m. Heat warning canceled for Stafford County

It's getting cooler in Stafford County after the National Weather Service canceled a heat warning that had been in effect for most of the day. Stafford now joins Prince William County, and others, who remain under a heat advisory until 9 p.m.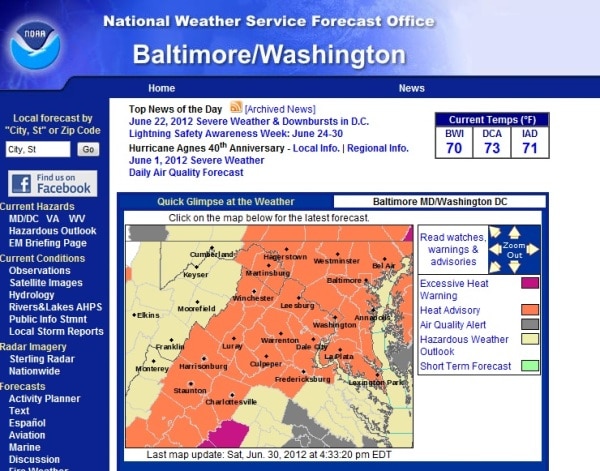 4:15 p.m. 
Need to beat the heat? AMC Theaters 18 Potomac Mills is open regular business hours today. Last showing is at 11:25 p.m. In Manassas,Manassas Cinemas 4 is open regular hours. Their last showing is at 11 p.m. tonight. We could not reach theaters in Stafford County or Frederickburg. 
4 p.m. 
Dominion Virginia Power releases video describing what to expect during power restoration process: 
3:15 p.m. Cooling shelter announced, 911 working intermittently in Prince William County
Freedom High School in Woodbridge open as cooling shelter from 4 to 7 p.m. Pets brought to shelter will be taken to county animal shelter on off Va. 234 at Independent Hill, where officials said they will be kept out of the heat.
County reports 9-1-1 working intermittently. "Residents of PWC are asked to try 911 first, and if it does not work then to dial the non-emergency number 703-792-6500 or visit their local fire department/hospital."
3 p.m. Update on power outages for Dominion Virginia Power and Northern Virginia Electric Cooperative
Dominion
Prince William: 16, 236
Stafford: 444
Northern Virginia: 408,716
NOVEC
Prince William: 6,530 – 91 percent restored
Stafford: 1,494 – 69 percent restored
Northern Virginia: 18,284 – 87 percent restored
2:35 p.m.
Prince William County officials are working to identify space in eastern section of the county for a cooling shelter. They've opened a cooling shelter at Battlefield High School in Haymarket for those without power.
2:30 p.m. Fireworks show rescheduled
The popular "Not on the 4th of July Fireworks" at Tims Rivershore restaurant in Dumfries are postponed until next Saturday.
Originally planned for tonight, the restaurant told fans on Facebook they lost power and phone service at their eatery on the Potomac River and they would have to reschedule.
1:50 p.m. Stafford County opens cooling shelter 
From press release: "A cooling shelter has been opened at Rodney Thompson Middle School, 75 Walpole Avenue, Stafford, VA 22554. Individuals should bring personal care items such as sleeping bags, pillows, glasses, prescription medication, water and other items that they use on a daily basis."
1: 40 p.m. Utility update, storm photos
Cell phone coverage returns, though spotty in some areas.
Click here for our latest recap
1 p.m. 
Cell coverage restored to PotomacLocal.com office. Report from @scotthirons says cell service in North Stafford service is spotty at best. 
Crowds are taking to restaurants to North Stafford to get out out of the heat and back into areas that have electricity. Those with devices like smartphones and iPads have brought them into a McDoanlds to charge them. All power outlets in restaurant being used.
As for road closures in  North Stafford, Harpoon Drive is closed at Stateroom Drive due to down power lines. 
12:30 p.m. Stafford reports loss of 911 service 
The 911 service in Stafford County is down. Officials urge anyone with a life-threatening emergency to call 540-658-4000.
12:25 p.m.
Dumfries-Triangle Rescue Squad will not hold their regularly scheduled bingo game Sunday night due to lack of air conditioning.
12:15 p.m. 
With no emergency shelters in place, Prince William urges residents to take shelter from heat in libraries, shopping malls, other public places.
12:10 p.m. Still blistering hot, weather service revises forecast
There is relief for residents in Prince William County, but you're still under the gun in Stafford today when it comes to stifling heat.
An excessive heat warning was downgraded to a heat advisory in Prince William County after forecasters at the National Weather Service determined temperatures won't get as hot as yesterday. But hot remains a relative term with temps as high as 98 degrees and heat index values of 108 degrees are still in the forecast.
The heat warning remains in effect in Stafford County until 9 p.m., where temperatures are expected to reach 100 degrees or more.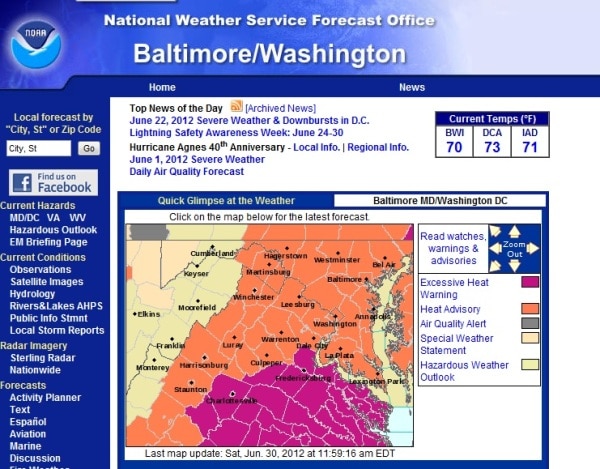 11:45 a.m. Residents urged to go to fire stations, hospitals
Residents in Prince William County without power urged to go to nearest fire station or hospital in event of emergency. No word yet on any shelters set up in Prince William or Stafford counties.
11:45 a.m. 
New power outage numbers just in from the utilities:
Stafford County:
Dominion – 29,241
NOVEC – 2,209
Prince William County:
Dominion – 17,324
NOVEC – 6,961
Report an outage to:
11 a.m. Local state of emergency declared in Stafford County
Stafford County declares local state of emergency after 50,000 lose power. Officials just issued this statement:
The Stafford County Administrator has declared a local state of emergency this morning. More than 50,000 people in Stafford are without power. Power companies are saying that power could be out for a number of days. County officials will open a cooling shelter as soon as an appropriate location is determined. Information will be posted as soon as possible. Please stay away from downed power lines. Call 911 for fires near downed power lines and/or life-threatening emergencies. Please stay safe!
10:20 a.m.
Aquia Landing Park on the Potomac River in Stafford County has reopened. 
10 a.m.
Cell phone service has been out across the area all morning: Verizon issues statement:
The severe storms that hit the Washington metropolitan area Friday night – and the resulting power outages that have affected much of the region – have also affected services for some Verizon customers. Our operations teams currently are assessing the impact and are working to restore service as quickly as possible.
-Harry J Mitchell, Verizon Communications
9:45 a.m.
Prince William County officials issue first post-storm statement warning of dark traffic signals, urging residents to use landlines in wake of widespread cell phone outages.
We're seeing reports of landline outages as well.
-From the press release: 
Due to last night's thunderstorms, 911 service is out in Prince William County and many other Northern Virginia jurisdictions. Anyone experiencing emergencies in Prince William County should contact the non-emergency number: 703-792-6500.
Also, cell phone coverage is greatly hampered through the region. People should be aware that they may not have cell coverage and must rely on land-line connections until service is restored.
Finally, many street lights are out. Drivers should use caution when approaching lights with no signal. Reduce speed at those intersections and be certain there is no on-coming traffic before continuing through the intersection.
 9:40 a.m.
Reports: Traffic signals on Va. 610  in North Stafford are out, along with many in area. Treat dark signals as four-way stops.
This comes as Stafford County officials announced the closure today of Government Island, and Aquia Landing parks.
Transportation officials in the Fredericksburg area say they are working to clear tress from roadways, and urge residents to call the Virginia Department of Transportation at 1-800-FOR-ROAD to report downed trees.
-From press release:
Multiple traffic signals in the Fredericksburg area lack power, and are not operational. If motorists encounter a traffic signal without power, they should come to a complete stop, and then treat the intersection as a 4-way stop.
When power is restored to a traffic signal, the signal will operate in flash mode for approximately 10 minutes. The signal will then automatically reset, and will be fully operational again.
VDOT's Customer Service Center is open 24 hours a day to take reports of debris, downed trees, or other roadway hazards at 1-800-FOR-ROAD (800-367-7623).
9:20 a.m.
A tree fell on a truck outside a Manassas home during the storm on Friday. Resident Katie Draughon said her family is OK, and things could have been much worse.
9 a.m. 
8:55 a.m. 
From PotomacLocal.com reporter KJ Mushung in North Stafford: Traffic on I-95 south is jammed. Also jammed: the line of people waiting for food and internet access at Panera Bread. Power, phone service, remains out in area.
8:50 a.m.
Stafford County officials are working on a contingency plan as high temperatures will bear down the area today, and many are left without power. Details of that plan have not been released.
8:45 a.m. 
Prince William police said 911 call center is out of service. If you have an emergency, please call 703-792-6500. 
UPDATE 8:15 a.m. Saturday
Tree traps, kills woman in home
A 90-year-old woman lying in her own bed inside of her home was killed when a tree fell on her house Friday during the height of the storm.
Fairfax County police said the woman called 911 but emergency crews were unable to reach her in time. The woman lived in the 8100 block of Carr Street, and her call for help came in about 11 p.m. Friday.
A crane and other specialized construction equipment has been brought to the scene to clear damage. The woman's name has not been released.
Man killed after tree hits car
A tree fell onto a car in the area of Old Keene Mill Road and Bauer Drive in Fairfax County about 11 p.m. killing a 27-year-old man. The driver, Khiet Nguyen, was pronounced dead at the scene, said Fairfax County police.
Cell phone service down, Occoquan properties damaged
The storms produced damage to buildings in historic Occoquan. Mayor Earnie Porta issued a statement early Saturday:
Last evening's storm has left some damage in Occoquan. Power, however, seems to be on in most locations and large fallen limbs have been cleared from all public and private roadways. There is some significant tree damage, in particular at 109 Washington Street, 108 East Locust Street, and most prominently at 115 Washington Street, where the beautiful tree on the Wohlleb property has lost several large limbs; thankfully, the limbs missed the main house when they fell. Today is scheduled to be another very hot day with potential thunderstorms. As a result, if you are able, please keep an eye out for the well-being of your neighbors, pets, etc. Wireless phone service is not available everywhere and there are apparently more than 800,000 without power state-wide. Another day of high temperatures and storms may exacerbate the situation, so please be cautious and alert, keeping yourself hydrated, and taking other measures to deal with the heat.
Power outages
The Interstate 95 corridor in Northern Virginia has been hit hard by power outages. Of the 818,000 Dominion Virginia Power customers without power, more than 8,845 of them are in Stafford County. Dominion also has a large number of customers without power in the Woodbridge area.
For the Northern Virginia Electric Cooperative, the utility reports 8,528 customers without power in Prince William, and 1,639 in Stafford.
Weather forecast
Today will be another hot day for the region as an excessive heat warning remains in effect for the area until 9 p.m. Saturday. Expect temperatures to fell like they're in the triple digits, with heat index values reaching up to 107 today, according to the National Weather Service. The actual temperature will be about 100 degrees, it added.
Strong storms are also possible once again this afternoon, and could bring high winds and large hail late this afternoon. We'll track those for you.
Northern Virginia Community College
All campuses closed today.
Stafford County pools
The Woodlands Park Pool in North Stafford, and Curtis Park Pool in the Hartwood section of Stafford County are both closed today due to power outages.
12:20 a.m.
NOVEC reports via Twitter restoration of power in area could take all weekend.
FRIDAY NIGHT POSTS
12:10 a.m.
There is damage to homes from downed tree limbs, trees down, and major power outages right now in Stafford County, but no injuries reported.
"We're going to get a better handle on what the damage is tomorrow morning, but we're responding to calls right now," said Stafford County Fire and Rescue spokesman Mark Doyle.
With widespread power outages and another day with hot temperatures forecast, those without power will get very hot, very fast on Saturday. Right now, there has been no discussion of opening an emergency shelter, said Doyle.
12:05 a.m.
Tree fell onto cars in Aquia Harbour neighborhood in North Stafford. Power remains out in area.
Midnight
Report power outage to Domion: https://www.dom.com/storm-center/dominion-electric-outage-map.jsp
Report power outage to NOVEC: http://www.novec.com/Customer_Services/Outage_Information/index.cfm
 11:50 p.m.
NOVEC reports 14,218 without power in Prince William County, 2,768 without power in Stafford County. This is in addition to outages reported by Dominion Power, a separate utility.
11:40 p.m.
Woman on Shady River Court in Woodbridge said sky appeared to turn red about 11 p.m., following storm.
"My neighbors and i were outside trying to determine what I was. I'm kind of shaken."
11:30 p.m.
Initial reports indicate large house fire at Minnieville and Telegraph roads in Woodbridge.
11:15 p.m.
Sporadic power outages reported in eastern Prince William County. It appears Stafford County took the worst of it when it comes to power outages.
11 p.m.
Prince William County Fire and Rescue Chief Curt Brodie says officials are assessing storm damage as reports continue to come in
10:55 p.m.
Dominion power reports 6,856 without power in Stafford County.
10:50 p.m.
A strong line of thunderstorms moved into the Potomac Communities late Friday night.
High winds knocked down trees on roadways, blew away loose items in yards, and reportedly knocked out power to some homes in the area. Fire crews were called to several reported structure fires that broke out in the area.
The storms came after record-breaking temperatures impacted the Washington region Friday. At one point during the day, the high temperature at Regan Washington National Airport was 103 degrees.
Send your storm reports to news@potomaclocal.com.
Send news and photos to Potomac Local
Subscribe Now for Free!
Get
updates straight to your inbox.
A word from our sponsors...