News

Buffet Buys News & Messenger, Insidenova for $142 Million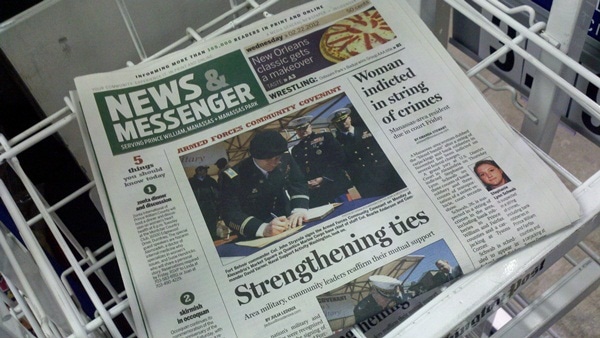 PRINCE WILLIAM COUNTY, Va. — The Manassas News and Messenger newspaper and insidenova.com will now owned by Warren Buffett.
Buffet's investment firm, Berkshire Hathaway, purchased 63 newspapers from News and Messenger's parent company, Media General Inc., which also owns the Richmond Times-Dispatch. The purchase includes community and weekly newspapers in Media General's portfolio of papers in Virginia, South Carolina, North Carolina, and Alabama, according to a press release.
The media properties will now be owned by Berkshire Hathaway subsidiary, BH Media Group which also affiliated with Omaha World-Herald Company. All 63 newspapers and their companion websites were sold. 
For Media General, the deal also means a $400 million term loan to pay off debt due in March, as well as a $45 million revolving line of credit for the company. Media General will also keep its TV stations, which accounted for 77 percent of its total cash flow in 2011.
The sale is expected to be complete by June 25. The company will keep its newspapers in the Tampa, Fla. Market.
In Northern Virginia, Media General owns News and Messenger, Stafford County Sun, insidenova.com, PW Business, as well as publishes Quantico Sentry and Belvoir Eagle.
Send news and photos to Potomac Local
Subscribe Now for Free!
Get
updates straight to your inbox.
A word from our sponsors...