The FREE email packed with local news
The FREE email packed with local news
The FREE email packed with local news
Sign Up
The Latest
Starting today, we're giving businesses and non-profit organizations more ways to reach our readers.
Now Potomac Local users may choose to upload a flier to promote their business, product, or upcoming event to our Submit News Page. Our $49.50 "Flier Post" option allows users to upload a PDF or JPEG flier file to our website where it will be featured on PotomacLocal.com homepage.
Our $99.50 "Flier Plus" option allows users to have their fliers featured on both our PotomacLocal.com homepage and on our social media. That's a reach of more than 150,000 local readers.
People make creative fliers to promote themselves because it's quick, easy, and fun. Now we've made it easy to upload those fliers to our website.
We will also continue to serve those who would rather a written press release posted to PotomacLocal.com instead of a flier because you value our high SEO ranking and the results it can produce for their business or organization.
Our $299 "News Post" option puts your press release on our PotomacLocal.,com website homepage, and on social media. Our $349 "News Plus" option allows you to collect user-submitted emails address right from your press release. We collect the emails and send them to you automatically.
Over the years, our readers and advertisers have used PotomacLocal.com's "Submit News" feature to post their news to our website, which is then reviewed and approved by Potomac Local before it's published to the website. The addition of the Flier and Flier Plus options come in response to many requests from local business owners looking for a faster, more convenient way to reach more local customers.
Uploading your content to our site is easy, and you can choose pay with a credit or debit card right on our site. 
Please email us if you have any questions about how to submit your news and events to PotomacLocal.com.
You may also submit events at no charge to our events calendar, but please remember that these posts show up only on our events calendar and are not featured as individual posts on our homepage, and are not featured on our social media.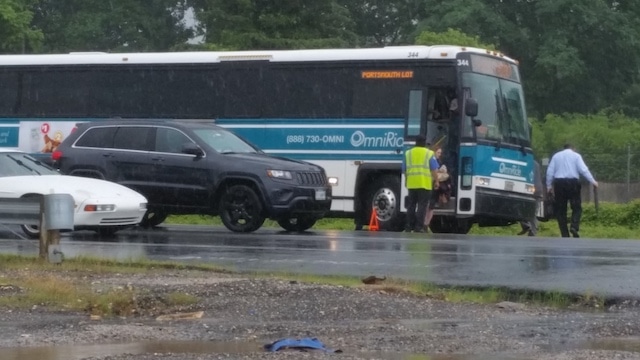 FAIRFAX COUNTY — Some OmniRide passengers had to get off their bus this afternoon at the busy intersection of Interstates 66 and 495 near Tysons Corner.
A commuter coach carrying passengers traveling on I-66 eastbound for the Portsmouth Commuter Lot near Manassas broke down on the highway leaving passengers stranded. A second OmniRide commuter bus was sent to pick up the passengers.
Those passengers exited the bus just before 2 p.m. into the pouring rain and got on the second bus that pulled up behind the disabled bus, which had broken down on the left shoulder of I-66.
"We always check first with [the Virginia Department of Transportation] to make sure roadway conditions are safe enough for us to allow passengers to get off the bus," said OmniRide spokeswoman Katy Nicholson.
Traffic on I-66 where the bus had broken down was slow and congested as passengers de-boarded their bus.
It's unclear how many passengers were on board the bus when it broke down.