School Day Off Music Camp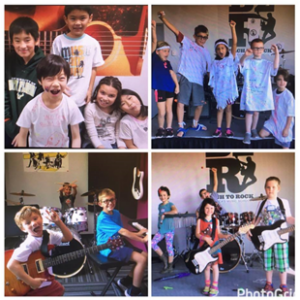 Feb 19, 2018
9:00 am - 5:00 pm
Location
Bach to Rock Bristow
9070 Devlin Rd, Suite 100
Bristow, VA
Become a rock star for the day in our upcoming school day off music camps! Choose from four different camps and from full day or half day options. Camps for ages 4-14. Early drop off and late pick up available. No experience necessary.
Rock Band ( ages 7+)- Campers will learn to play together in a band on the instrument of their choosing
Glee Club ( ages 7+)- Students will explore cool choreography while learning to sing together in an ensemble
Rock City World Tour (ages 4-6) – Campers will explore instruments from around the world and craft their own instruments
Make Your Own Beatz Camp (ages 7+): Students will create original music using beats on midi pads. This is a music production camp.
All campers will participate in a rock star photo shoot, design t-shirts, tour the recording studio, and put on a special performance at the end of the of day.
Full day ( 9am-5pm) – $80
Half Day ( 9am-1pm or 1pm-5pm)- $50
Event Link: https://bristow.b2rmusic.com/camps