Call to Action: Hurricane Florence, volunteer needs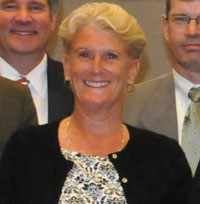 Hello Prince William – Hurricane Florence is at the top of everyone's mind along the east coast. My colleagues at the Cape Fear Volunteer Center in Wilmington, NC will be managing volunteers when it is safe to proceed. If you are interested in clearing debris, serving food, transporting supplies, answering phones and mucking out basements then please register on their website:
http://www.capefearvolunteercenter.org
. PLEASE DO NOT SELF DEPLOY! Keep the first responders safe and wait to be called. This is going to be a very long recovery.
· Youth for Tomorrow is looking for male mentors to share their time and talent with a young man. This promises to be a rewarding few hours per month, providing male youth with a positive role model to emulate. Please fill out the volunteer application at
http://youthfortomorrow.org
.
· Prince William Conservation Alliance needs volunteers for the continuing buffer restoration on Minnieville Road on 9/26, 10/3and10, 20 from 10am-12pm. Please RSVP to:
alliance@pwconserve.org
.
· Prince William Recycles Day on Saturday October 13th from 10am-2pm needs volunteers ages 12 and up to help with all the fun activities. This is a great teen project! Please contact Keep Prince William Beautiful at (571) 285-3772 or via email at:
info@kpwb.org
for all the latest info.
· The Salvation Army is gearing up for their Angel Tree Program this fall. Volunteers are needed to register families for just 2 hours a day on 9/17, 18, 19, 20 October 9, 10, 11 and 15th. at their Lake Ridge location. Please contact Shawnte Brown at (703) 580-8991 to share the joy of the season.
· The SERVE Shelter in Manassas is looking for volunteer groups to purchase, prepare and serve meals to the residents of the shelter. The dates needed are brunch on 10/6and 10/7, dinner on 10/14 and 10/28. Gather up your favorite recipes and friends to share with the families at SERVE. Please call Julie at (571) 748-2674 for more info.
· Meals on Wheels needs volunteers to deliver noon meals to homebound seniors throughout the community. These meals are delivered Monday-Friday, no weekends, holidays and during periods of inclement weather. It takes about 2 hours to do your route and certainly can pick you day. This is a perfect job if you can flex out of work for a little extra lunch period. Please call Melodee at (703) 792-4583 to learn more.
· Soroptimists International of Manassas is hosting Family Night Out events at local restaurants this fall. Visit Jukebox Diner in Manassas through Nov. 22, Foster's Grille in Old Town Manassas Sep. 27 and The Bone in Old Town Manassas Oct. 25 – a portion of your receipt will help this organization with their scholarship fund. It's a great way to get out of fixing dinner and support a worthy cause! Please email
vlatimer6069@gmail.com
for more information.
· Keep Prince William Beautiful needs volunteers to help them at community fairs and festivals by manning their booth for a couple of hours each day. You'll receive all the training and information needed and this is a fun way to get out and meet people. Some of the dates needed are 9/23, 9/29, 9/30, 10/8 and 10/13. Please call Nicole to learn more at (571) 285-3772.
· Give the gift of literacy to local adults! Literacy Volunteers of America-Prince William is seeking volunteer tutors. Previous experience is not necessary. The next Tutor Training Workshop is November 3rd, 8:45 am-4pm and November 17th, 9am-12pm. Attendance both days is required. Please register at (703) 670-5702 or
lvapw@aol.com
.
· Prince William Forest Park is hosting National Public Lands Day September 22, 8:30am-1:00pm at Cabin Camp 2. Volunteers must be at least 10 years old. Please email Kerri at
kerri_syrus@nps.gov
to learn how you can help.
· Hylton Performing Arts Center is hosting Songwriting Series for Military Children, a three-part series of music and songwriting. Scheduled dates are September 22, October 6 and October 20, 1pm-3pm each day. The workshop is Free and open to military children ages 8-17. Kids can create their own song during the series and share it at Celebrating Veterans and the Arts at the Hylton Center on November 10. No prior experience necessary, and what a great way to honor our veterans! Please visit
http://hyltoncenter.org/veterans
for more information and to register.
· The Sweet Julia Grace Foundation needs volunteers to help at the Prince William Half Marathon Sunday, September 30. This super fun event is at Jiffy Lube Live! Tasks include handing out water to the runners or manning the beer garden. This is a family-friendly event for all ages 12 and up. Please visit their website for all the specifics at
http://princewilliamhalfmarathon.com
.
· Mark your calendars for the Walk to End Alzheimer's on Saturday October 20 in Old Town Manassas. Volunteers are needed for set-up, refreshments, advocacy, finish line brigade and route monitoring. You can sign up online at
http://bit.ly/ALZWalkManassas
or email Ben at
bedonnelly@alz.org
to learn more.
· ACTS is seeking volunteer groups of all sizes to assist with ongoing landscaping and beautification of the Beverly Warren Emergency Shelter. Weekday/weekend opportunities are available. It's a wonderful team project for your office, and a great way to give back to the community! Please visit
http://actspwc.org
, click on Volunteer and fill out a group application for consideration, or contact Tamika at
tmartin2@actspwc.org
to learn more.
· The Retired and Senior Volunteer Program is looking for volunteer's age 55+ to deliver noon meals through the Meals on Wheels Program. Shifts are just 2-3 hours and available in throughout the greater area. RSVP members receive a mileage reimbursement and additional insurance coverage at no cost to the volunteer. Please call Jan at (571) 292-5307 to learn more.
· If you're an administrative genius, Streetlight Community Ministries wants to meet you! They have an urgent need for volunteer office workers on weekdays to help with basic admin duties, along with those fun, last-minute projects that always spring up. Not only will you be supporting the staff, you'll also be helping to support the homeless clients Streetlight serves, a win-win all around! Please email
cbenner@thestreetlight.org
to learn how you can make a difference.
If you are looking for other opportunities, please don't forget to call my wonderful team at Volunteer Prince William. Jan can help you with the Retired and Senior Volunteer (RSVP) opportunities at (703) 369-5292 ext. 1, Shelley can help with any individual or group projects and send you weekly updates if you'd like. Shelley is at (703) 369-5292 ext. 2, and Bonnie can help you with opportunities available in Disaster Preparedness at (703) 369-5292 ext. 3. Please visit our website at
http://www.volunteerprincewilliam.org
. Thanks so much for all you do in our community.
Post Your Email Notices, Press Releases, Event Fliers, and Photos
The FREE email packed with local news
The FREE email packed with local news
The FREE email packed with local news
Sign Up