Chick-fil-A Bristow's charity golf tournament will benefit Patriot High School students working to make a better life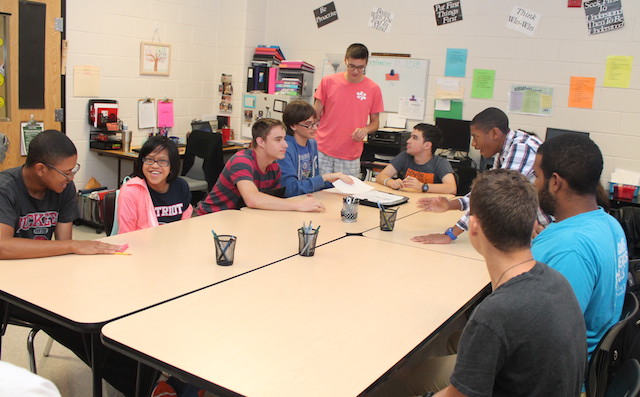 James Newman dreams of becoming a pilot. 
The 17-year-old student at Patriot High School is interested in all things aviation. Like most his age, he's into video games. His favorite — a flight simulator. 
But before he can work is way into a career in the field of aviation, this teenager, like most is working a part-time job. He's a barista at Starbucks. 
But, unlike other students, Newman is getting school credit for his work. 
He's enrolled in a class called EMPLOY and life skills, where as many as 40 Patriot students, all with varying places on the autism spectrum, learn everything from basic life skills to the wherewithal of going out into the real world and working a job. 
"I come in with a smile. Even if its a crappy day, I try to make the customers happy," said Newman.  
He's worked at Starbucks for a year. Thanks to the EMPLOY class and his instructors, he's learned simple tasks like how to make the correct change from a cash register to larger responsibilities, like household budgeting. 
"I knew what a paycheck was. I knew how to spend a paycheck but I didn't know how to budget it," he adds. 
Ryan Carter, 16, is also in the class. He's into cooking food and riding rollercoasters. He's got a YouTube channel of videos dedicated to the more than 80 coasters he's ridden. 
To reach that number, he had to overcome his initial fear of coasters. Now, he hopes he can put that same determination into his future career. 
"I want to be a chef," he said. 
He's known for his own version of shrimp scampi, which includes a mixture of jumbo shrimp and jalapeño poppers. At home, and here at school, he's encouraged to try new things. 
Tricia Weate and Brook Bell run the program at Patriot High School. Some students are enrolled in the life skills program where they get coaching on how to develop social skills and perform regular tasks. 
They learn the basics of kitchen food preparation and cooking, starting with washing hands, wearing gloves, using measuring cups, and it ends with making a meal.
They work the school's mailroom, slotting mail for staff members to 237 mailboxes. They help set up and break down lunch shifts in the cafeteria.
In their classroom, they run a screen printing operation where they make t-shirts to raise awareness for autism.  
Other students in the program leave campus and go to restaurants and retail stores, where they work alongside their fellow employees. At Nando's Peri Peri in Gainesville, some students greet restaurant guests, while others make food. At Fosters Grill, students deliver food. 
"They're brilliant. We just want the community to see what we see," said Bell. 
And some businesses have, like Smoothie King, which began providing their EMPLOY student workers with instructions on how to make drinks using color codes. It makes the process easier for them to understand. 
The instructors work with at least 20 community businesses and are always looking for more on which to partner. Some students are paid, while some work for class credit. 
"It's not free labor. It's also not 'you're so cute, let me help you out," said Weate. "We want them to treat them like they treat their own staff." 

"We don't want sugar-coating. We want the real deal," added Bell. 
The instructors are always looking for more funding for materials to teach their students, whether it be measuring cups or a replacement cash register to use in the classroom, something the program is in need of. 
The Second Annual Chick-fil-A Bristow Charity Golf Tournament on September 22 at Broad Run Golf & Practice Facility aims to do just that. The 18-hole four, four-person team event will welcome players at 8 a.m. for registration, and then they'll take to the course for a 9 a.m. shotgun start. 
Chick-fil-A Bristow is looking for golfers for the event. It's $75 for the public, $60 for cardholders, and $40 for full Broad Run Members. It includes a golf cart, range, and a lunch buffet. 
They're also in need of corporate sponsors for the event. If you're interested in playing or sponsoring, Chick-fil-A's Susan Campbell would love to hear from you.
The proceeds from this charity golf tournament will go to benefit the children enrolled in the EMPLOY and life skills program at Patriot High School. 
"Without them starting this EMPLOY program, I would not have a job," said Newman. "This class shows me there are many options out there for me." 
Post Your Email Notices, Press Releases, Event Fliers, and Photos
The FREE email packed with local news
The FREE email packed with local news
The FREE email packed with local news
Sign Up