New ad campaign aims to change the stigma of senior living centers

The thought of checking mom or dad into a senior living home usually doesn't evoke smiles. 
A new advertising campaign aims to change that.
Thrive Senior Living, the company that owns and operates Tribute at The Glen in Woodbridge and Tribute and Heritage Village in Gainesville, has launched a new tongue-in-cheek advertising campaign to call attention to the changing face of senior care.
Their campaign features cheeky statements like, "They built you a mother-in-law suite. Too bad it comes with a son-in-law," and "There's a very good chance she could leave it all to the dog. We'll give you a leg up."  
"At Thrive, we believe standards for senior living have been too low for too long," said Les Strech, President of Thrive, in a press release. "The benchmark of 'providing great care' causes residents to feel like objects in need of care — rather than individuals with a purpose and a great deal to offer others.  Thrive creates an environment where older adults can build new and meaningful relationships, and 'great care' follows as a natural result. Our new campaign intentionally crosses a line and illustrates our non-traditional approach. While we can grow gardenias and bake a killer cupcake with the best of them, this campaign illustrates our commitment to our residents' greater wellbeing and sense of purpose."
"When I first got involved with the senior living industry, I was honestly mortified, and I started looking into what our competitors were like. There was no life in the building, there was no energy, there was no excitement, you could tell there wasn't a lot of thought put into the design. With that very first community I vowed, I'm going to do this differently," said Jeremy Ragsdale, president and founder, in an interview on the company's

YouTube channel

.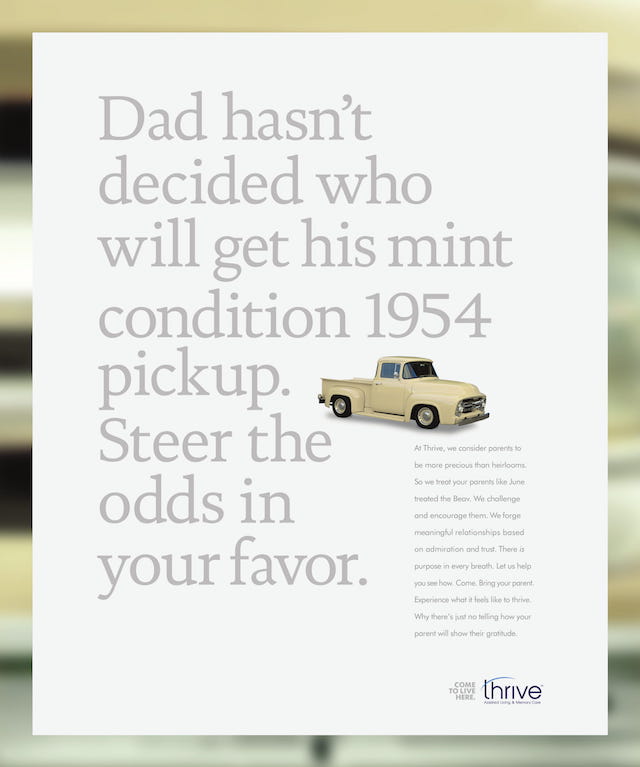 Thrive Senior Living provides assisted living and memory care communities that are disrupting the industry of elder care. Rather than simply providing a care facility, they are creating communities where seniors can thrive instead of just surviving. Seniors enjoy amenities like cocktail hours and fine dining. They promote independence and assist their members 24 hours a day.  
Thrive currently operates communities in Alabama, Florida, Georgia, Kentucky, Maryland, Ohio, South Carolina, Texas, and Virginia.
This post is brought to you by
Home Instead Senior Care of Manassas
whose caregivers work with senior residents at Tribute at The Glen in Woodbridge and Tribute and Heritage Village in Gainesville every day.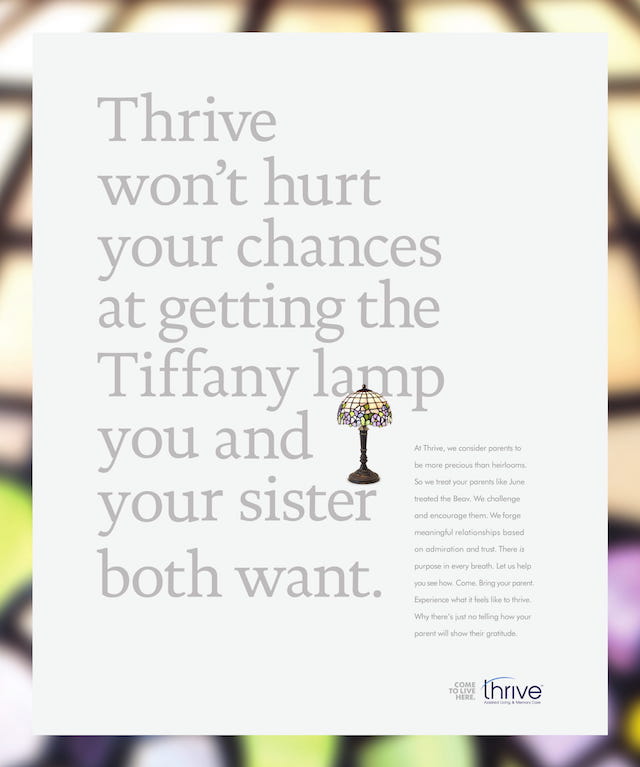 Post Your Email Notices, Press Releases, Event Fliers, and Photos
The FREE email packed with local news
The FREE email packed with local news
The FREE email packed with local news
Sign Up